Hurricane Isaac 2012: Google Provides Tropical Storm Path Maps, Forecasted Track, Shelters, And Emergency Information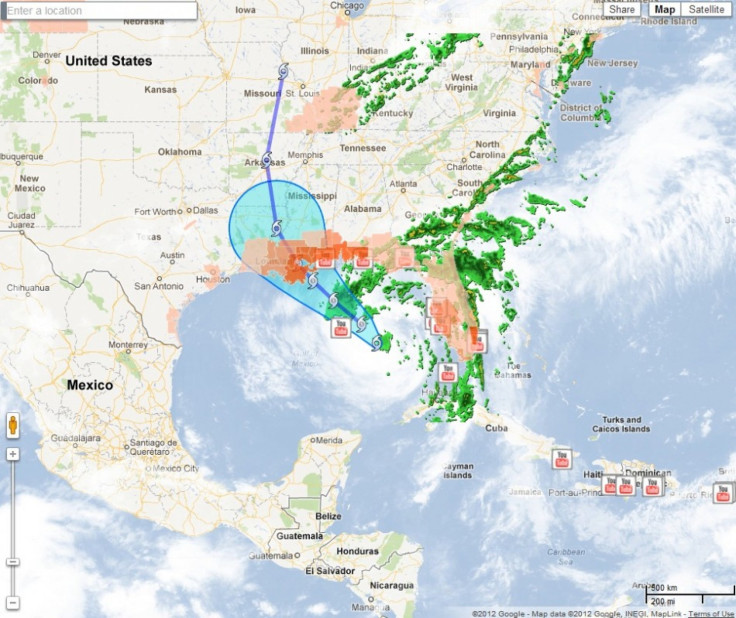 Google Crisis Response, one of Google's thousands of active projects that merges various Google tools like Maps, Docs, Forms and Earth, posted a new webpage dedicated to Tropical Storm Isaac - soon to be Hurricane Isaac - in an effort to disseminate helpful information about the hurricane's path, its forecasted track, and how local residents can stay safe during this emergency situation.
"Tropical Storm Isaac is currently threatening Southern Florida and the Florida Keys, and is predicted to later threaten the northern Gulf Coast of the United States, potentially affecting the Florida Panhandle, Alabama, Mississippi or eastern Louisiana," Google says about Hurricane Isaac, citing Wikipedia.
Google Crisis Response, which was established "to make critical information more accessible around natural disasters and humanitarian crises," has all the information about Tropical Storm/Hurricane Isaac you could possibly want all in one place. The page includes satellite imagery of the hurricane's path and surrounding disaster areas, engineering tools, options to donate to charities and organizations on the ground, and outreach through Google's various Web properties, including YouTube, Google Person Finder, and Google Landing Pages, which help organize information and resources for critical response teams.
In addition, Google's Crisis Map for Hurricane Isaac allows the user to see public alerts from weather.gov, flood gauge forecasts, as well as the forecast track and location of the hurricane from the NOAA National Hurricane Center. Users can even see YouTube videos uploaded by users about Tropical Storm Isaac, as well as find surge zones, evacuation routes, evacuation zones, and barrier resources for each impacted area.
For users that want a way to receive relevant alerts, users can set up a public alert through the Google Alert Hub; if a user gets separated from a friend or family in the affected area, users can use Google Person Finder, which helps individuals coordinate with organizations to update them with information about missing persons.
To see how your city or town may be impacted by Tropical Storm/Hurricane Isaac, just visit Google's Crisis Map and input the name of your city in Google's search bar, located in the top right corner of the map. Once you've entered your location, Google will tell you if there are any weather advisories or warnings.
Google does not always contribute to disaster relief efforts like these, but the company says it picks crises to support by assessing "the severity and impact of a disaster," determining "whether or not Google is able to uniquely contribute tools or content to response efforts."
"Google has donated several million dollars to relief organizations in the wake of many natural disasters, including Hurricane Katrina, Cyclone Nargis and the 2010 Pakistan floods," the company said. "Google also gives people around the world easy ways to donate, through promotions on the Google.com homepage, and links on Landing Pages."
For more information about Tropical Storm/Hurricane Isaac, visit Google's Crisis Map here, and check out a sample of Google's services below.
© Copyright IBTimes 2023. All rights reserved.