Hurricane Sandy Anniversary 2014: Fortifying New York -- How Well Armored Are We For The Next Superstorm?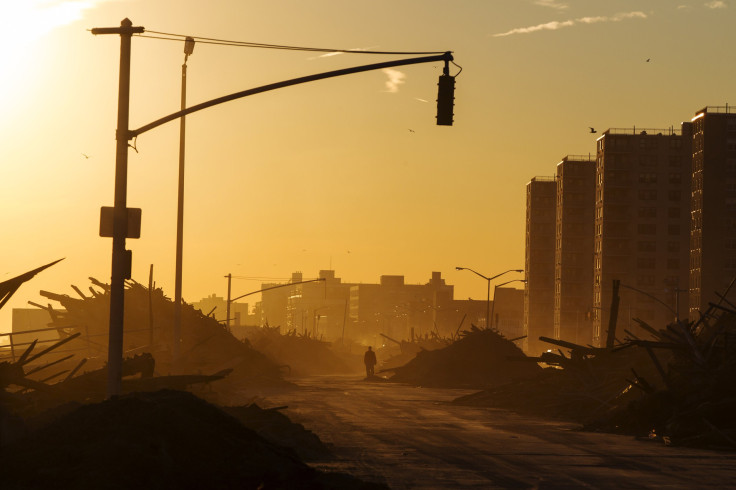 Paris Café has opened its doors for 141 years on the corner of South Street and Peck Slip in Manhattan's South Street Seaport neighborhood. But on Oct. 29, 2012, it wasn't patrons but water that came in, 11 feet to be exact, crashing through the restaurant's windows, carrying its doors two blocks north and racking up some $800,000 in damages.
Superstorm Sandy closed the doors for nearly a year. And while the gleaming interior now boasts new tabletops and a painstakingly restored wooden bar, the café is no safer from coastal storms or floods, both of which are expected to get worse over time. Peter O'Connell, a co-owner, says that "it's a calculated risk" to live or work near the river -- a statement that's true not only for Paris Café but for all of New York City.
City officials expect sea levels to rise by more than 2.5 feet over the next four decades, an increase that -- if not properly addressed now -- could put 800,000 people's homes underwater in the event of another storm. In June 2013, with damage from Sandy still visible, former Mayor Michael Bloomberg's administration released an ambitious 430-page Special Initiative for Rebuilding & Resiliency report, outlining a plan to recover from Sandy's devastation and to build "a stronger and more resilient New York." Of the 257 projects proposed at the time, the city now maintains that most are "in progress," meaning that short-term restorations have largely been completed and more ambitious measures are being studied.
But is New York ready for another hurricane or similar meteorological event? Despite complaints about the low-income housing situation and questions from the scientific community, the city maintains it's better off, though preparation efforts are ongoing.
"Post-Sandy, we are still vulnerable, both people and property," Emily Nobel Maxwell, the New York City program director at the Nature Conservancy, a major environmental group, said in an interview. "But there is great work being done simultaneously. Both of these things are true at the same time."
The mayoral report made it clear that not all of the goals, including the installation of adaptable floodwalls and surge barriers and creating natural areas for wave protection throughout Queens and Staten Island, would be completed during the Bloomberg administration, which ended last December, or even by his predecessor, Mayor Bill de Blasio. Damage and economic loss from Sandy cost the city $19 billion, but an equivalent storm in 2025 could rack up $35 billion and grow to $90 billion in 2055, by the city's estimates. When that much money is at risk, the logic went, there's no better time to start protecting New York's 520-mile coastline than right now.
Some short-term measures have already been put in place throughout the metro region. Repair and restoration efforts are complete at Rockaway Beach in Queens, where the Army Corps of Engineers applied a process known as "beneficial reuse" to utilize sand that would otherwise be discarded after dredging to build tall sand dunes and fortify beaches. The city has so far spread 3.27 million cubic yards of sand on city beaches and 26,000 linear feet of dunes on Staten Island that are expected to better protect areas the next time a major storm hits.
"There's more risk management than has ever existed, especially at Rockaway," Christopher Gardner, public affairs specialist for the New York District of the Army Corps of Engineers, said. "[Rockaway Beach residents] are in a much better position when it comes to storm risk management than they were before the storm and especially after the storm, when they were left extremely vulnerable."
Also finished is the Plumb Beach project, which reused sand from New Jersey's Ambrose Channel to extend the Brooklyn beach into the ocean as well as protect the Belt Parkway, which runs right along the water. The restoration process began before Sandy and, while it wasn't complete when the storm hit, Gardner said it still proved to be "significant and critical" to minimizing damage to the parkway from Sandy. The beach was also bookended with stone jetties to slow flooding and prevent erosion.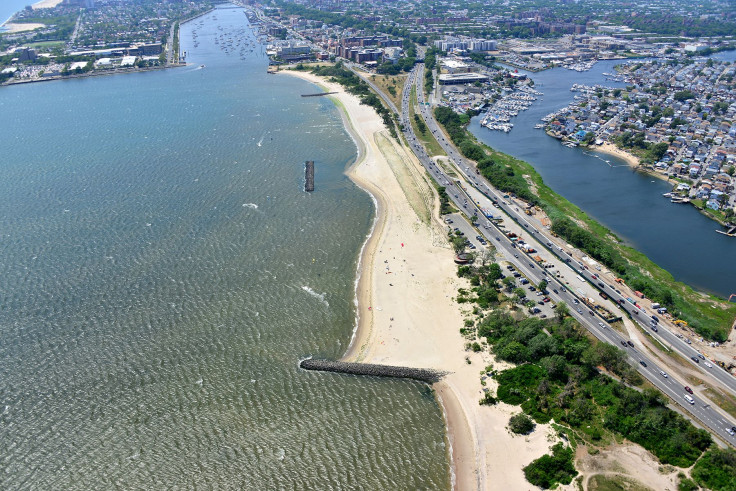 Still, more ambitious protection projects laid out in the city's post-Sandy report have yet to get off the ground. Flood protection systems, including walls and levees along the Franklin D. Roosevelt East River Drive, have yet to be installed, and city researchers are still assessing whether a number of projects deemed essential in 2013, including plans to harden fuel pipelines and to set resiliency requirements for telecommunications providers, are even feasible.
Officials from the U.S. Department of Housing and Urban Development conducted a design contest in the months after Sandy to solicit entries on how to equip New York for another potentially devastating hurricane. Six of 148 applications were chosen, with city officials currently investigating how to install a network of levees, more green space along Manhattan's waterfront and other measures that create obstacles for encroaching sea levels.
The highlight of those redesign plans is known as the "Big U," an 8-mile slope stretching along the sides and across the bottom of Manhattan to stave off storm surges. The first stage of that project, to be completed by the Danish Bjarke Ingels Group architecture firm, is scheduled to break ground in 2017.
A plan to make New York's food supply networks more resilient to disruptions from storms is still being studied, though the city plans to spend $20 million on "additional planning and work" at Hunts Point, a major food distribution center in the Bronx, Dan Zarrilli, director of the Mayor's Office of Recovery and Resiliency, said at an Oct. 20 press conference in Broad Channel, Queens.
At the same event, Mayor de Blasio said improvements for storm drains and sanitary sewers as well as flood-retaining walls are still in the idea stage two years after Sandy left that area's residents knee-deep in ocean water. Coastal protection plans for Newtown Creek in Queens and Gowanus Canal in Brooklyn also have yet to make the leap from proposal to action.
"It's something being analyzed as part of a study going on now," Gardner said of proposed surge barriers at the two vulnerable waterways. "We'll be out there later this year examining the pros and cons, but [surge walls] tend to be very expensive."
Families are stuck in the bureaucratic process, too. Exact estimates on the number of people displaced by the storm are hard to pin down -- no city agency tracks the figure -- but Adam Gordon of New Jersey Fair Share Housing Center estimated that tens of thousands remain in flux between both states.
"A lot of the most basic tasks are still unfulfilled," he said of rebuilding efforts. "If you had enough money to rebuild on your own, you're probably fine now, but people who didn't have that money are still waiting for federal aid to reach them."
Yet, even if the city can manage to fund and build all the coastal protection projects outlined by the ambitious resiliency plan, New York could still be vulnerable to the long-term effects of climate change -- namely, sea level rise. By the end of the century, the waters surrounding New York could rise by as much as 5 feet, making the city far more vulnerable to damaging floods and deadly storm surges, Klaus Jacob, a geophysicist at Columbia University's Earth Institute and a member of New York City's Panel on Climate change, said.
He said that while the city's report is a "huge step forward from where we were before Sandy," it relies too heavily on temporary engineering fixes such as seawalls and storm surge barriers, which are expensive to maintain over the long run and could be rendered useless as sea levels continue to rise.
"Whenever you protect something with fixed-height sea walls, levees, dams and so on, then you create false sense of safety," Jacob said, pointing to New Orleans' method of surrounding itself with walls and dams that were overtaken by Hurricane Katrina's floodwaters in 2005.
A more effective plan, he added, should include projects that would accommodate floodwaters during storms and heavy rain events. Elevated bridges, for instance, would allow New Yorkers to move between buildings even when the streets are underwater. Buildings could store critical equipment like heating and electrical systems on the rooftops so that when waters flood the basement, the lights stay on. Jacob also supports "strategic resettlement," which involves relocating housing and development away from the waterfront and toward higher elevation areas such as Upper Manhattan -- a so-far unpopular strategy in a city devoted to developing its coastline.
For now, however, many New Yorkers are growing accustomed to the fact that, in an era of climate change, living in a coastal city means dealing with the unexpected. Paris Café owner Peter O'Connell is among them, admitting from his restored restaurant that another storm like Hurricane Sandy will be "very hard to protect against."
© Copyright IBTimes 2023. All rights reserved.