Ian Somerhalder Upset Over NY Post Cover Of 'Vampire Diaries' Ricin Letter Suspect Shannon Rogers Guess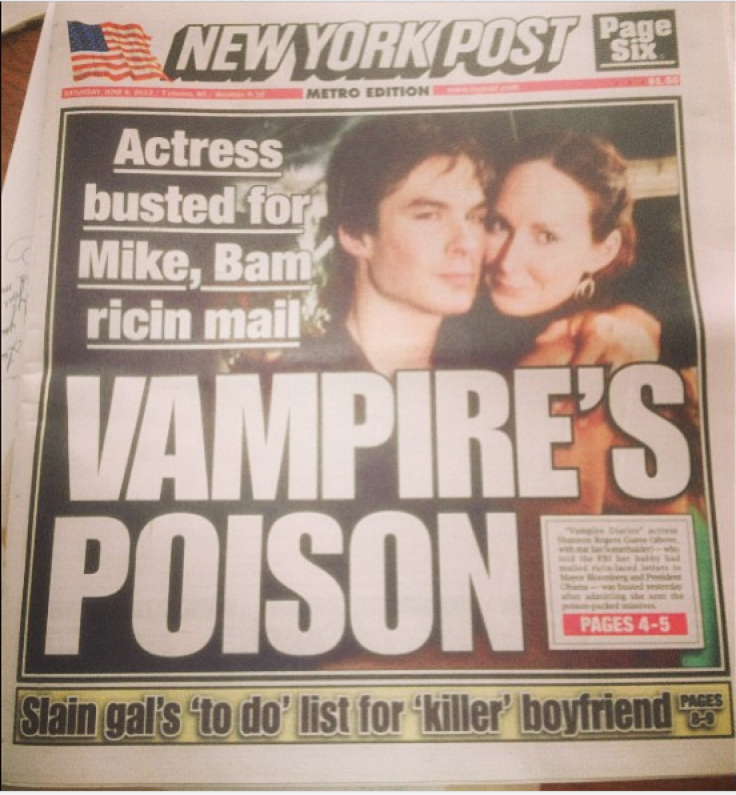 "Vampire Diaries" actor Ian Somerhalder is no stranger to making headlines. However, the 34-year-old wants to make it clear that he had no involvement with ricin letter suspect Shannon Rogers Guess. The actor took to his Twitter on Saturday to share his surprise upon discovering that the New York Post used his photo on the front page of its paper.
"Vampire's Poison," the cover of the NY Post read. "Actress busted for Mike, Bam ricin mail." Behind the text is a photo of Guess, an actress that has had small parts in series like "The Vampire Diaries" and "The Walking Dead," with her arms around Somerhalder.
Addressing friend and photographer Butch Hogan on Instagram, Somerhalder posted:
"B-WTF?! Have I been living under a rock? How am I just finding out this is real???Is this real? Insane! Thanks for using MY Photo NYPost, couldn't you have used a werewolf or something? I HAVE NOTHING TO DO WITH THIS! Mayor Bloomberg and President Obama are my friends..."
Guess, who played a student in an episode of "The Vampire Diaries," was arrested last week for her connection in the ricin letter cases. The 36-year-old initially reported her Army veteran husband, Nathaniel Richardson, to authorities when she claimed to have discovered a container of ricin in her Texarkana, Texas, home. She also told the authorities that searches on the couple's home computer also turned up an order for castor beans and "how to make ricin."
"She thought he was injecting it into her food and drinks," Branden, Guess' 19-year-old son, told the New York Post. "She told me she was trying to be as careful as possible. She didn't eat unless it was straight from the store to her hand, basically."
Richardson was unable to be held due to lack of evidence, and Yahoo TV reported that Guess was later brought in for questioning after her husband insisted that he doesn't use credit cards. The credit cards were allegedly used to purchase the castor beans.
Guess claimed to have no involvement in the ricin-laced letters that were sent to Mayor Mike Bloomberg and President Barack Obama. One letter, sent from Shreveport, La., read that, "You will have to kill me and my family before you get my guns. Anyone wants to come to my house will be shot in the face. The right to bear arms is my constitutional God-given right, and I will exercise that right 'til the day I die. What's in this letter is nothing compared to what I've got planned for you." Wetpaint.com reports Shreveport, La., is approximately 100 miles away from Guess and Richardson's home.
Somerhalder isn't the only one confused over being linked to Guess. "Walking Dead" Executive Producer Glen Mazzara took to Twitter last week to ask who she was.
"Some actress from 'TWD' sent ricin letters to the prez? Never heard of her. Anyone know what role she played?" he questioned.
"Vampire Diaries" Executive Producer Julie Plec responded, "If she played an equivalent part to one she supposedly played on 'TVD,' she was third background from the right or something."
© Copyright IBTimes 2023. All rights reserved.