IBM Needs Watson A.I. Moonshot To Pay Off Soon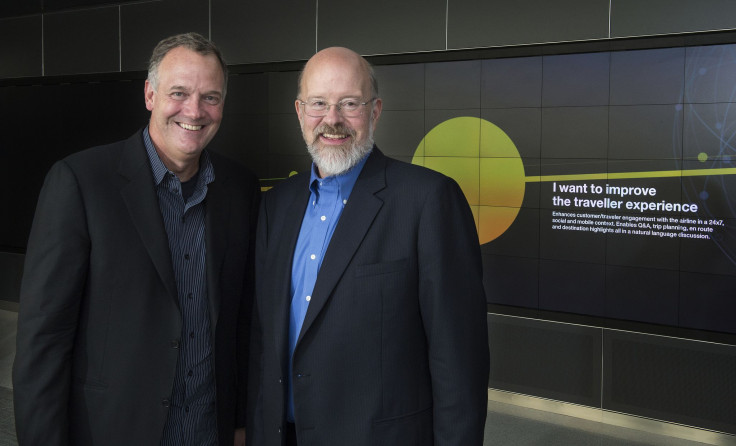 Travelocity founder Terry Jones simplified travel planning by creating a site that makes it easy for consumers to find and book hotels, plane tickets and rental cars. Now, Jones has launched a company that will help travelers find things to do when they arrive -- and he's turned to IBM's groundbreaking Watson cognitive computing engine as a foundation.
Travelocity was so successful it fully disrupted the travel industry. IBM is hoping that Jones' new venture, along with numerous other Watson-backed initiatives, is equally transformative. Big Blue needs a big hit in a big way. Revenue has stagnated for the past several quarters as businesses turn to the cloud for much of their computing needs.
Jones' new venture, WayBlazer, will tap Watson's ability to assimilate vast amounts of data to provide "a set of curated recommendations" to tourists, the entrepreneur said Wednesday at an event to mark the opening of IBM's new Watson headquarters -- a tall, glassy edifice that stands out in Manhattan's leafy Greenwich Village neighborhood.
Beyond simply suggesting, say, a visit to the race track, WayBlazer will use Watson to digest social-media data to make highly specific recommendations. For instance, it might say which room in a particular hotel is best for a family with two children. "If you drill down, that's where the magic happens," Jones said.
WayBlazer already has a deal in place with the city of Austin to power an online portal for visitors to the Texas capital. The company is looking to do similar deals with hotels, where it could act as a virtual concierge, and other travel and hospitality industry customers.
IBM is hoping Watson can seed more such startups. To date, the company has signed more than 100 partnership deals since it opened the platform to third-party developers last year in an effort to build an ecosystem. "Our partners are going to take us to a different dimension … things we've never even thought about," Steve Gold, a vice president in the Watson group, said at Wednesday's event.
Watson has also attracted some big health care industry customers. Sanofi is using it to comb through millions of pages of scientific literature to spot obscure correlations that could be key to developing new pharmaceuticals. Similarly, Johnson & Johnson is employing Watson to digest petabytes worth of data on clinical drug trials to help physicians quickly find the best treatment regimens for patients. This week, IBM announced several new wins for Watson, including ANZ Global Wealth, Australia, South Africa-based Metropolitan Health and Spain's CaixaBank.
But will it all be enough? Questions remain whether IBM can mainstream the technology to the point where CEO Ginni Rometty's multi-billion dollar bet on artificial intelligence and cognitive computing will pay off on the bottom line.
IBM needs the boost. Revenue has been flat (down 2 percent in the most recent quarter) even as earnings per share have increased through cost reductions and share buybacks.
IBM doesn't break out sales figures for Watson, but Rometty earlier this year told execs at the company she hopes the unit will be bringing in $10 billion annually within 10 years, according to a transcript cited by The Wall Street Journal. That's about 10 percent of the company's current revenues.
Rometty said that, as of last October, Watson had brought in less than $100 million, according to the report.
IBM's challenge is to position Watson as a virtual consultant for high-end research and development, while at the same time creating more mainstream applications that will see broad use by everyday businesses and consumers.
© Copyright IBTimes 2023. All rights reserved.