IE9 Release Candidate Attracts 2 Mln Downloads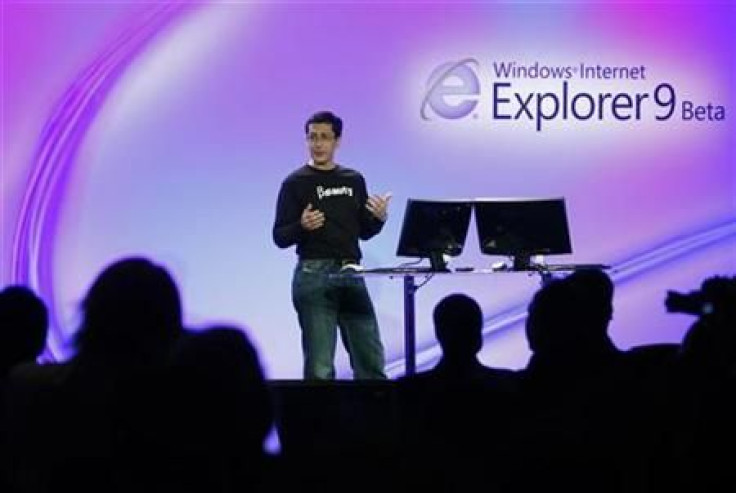 Microsoft said its release candidate (RC) of Internet Explorer 9 (IE9) have hit 2 million downloads, just few days after its launch.
Just a few days after its public availability, customers have already downloaded Internet Explorer 9 Release Candidate two million times and taken it for a spin, Roger Capriotti Director, Internet Explorer Product Marketing, said in a blog post.
We continue to be humbled by the enthusiasm and uptake of IE9, Capriotti said.
The current IE9 Beta users will be prompted to download RC via Windows Update this month.
Software giant Microsoft (Nasdaq: MSFT) recently launched the release candidate (RC) of Internet Explorer 9 (IE9) with enhanced privacy features.
The IE9 RC is faster with real world sites and a user will find that Gmail, Office Web Applications, and many other sites are faster as a result of scenario tuning, network cache tuning, and new compiler optimizations.
IE9 RC supports additional emerging Web standards including CSS3 2D Transforms, HTML5 Geolocation and a set of HTML5 semantic elements. It also provides accessibility to the HTML5 audio and video controls, allowing developers to experiment with new and emerging specifications through Microsoft's HTML5 Labs.
On the security front, IE9 now includes Tracking Protection, which enables users to express their preference for privacy, and also gives them a mechanism to enforce specific aspects of that preference.
Users can do this by choosing Tracking Protection Lists from organizations they trust. These lists can block and allow third-party content in order to control what information users share with sites as they browse the Web.
By controlling the flow of information to sites, these Tracking Protection Lists help users protect their privacy.
Meanwhile, the New Tab page has been revamped in IE9 to display the websites that users visit most, so that navigation is simple and easy. Each site's icon and primary color is used on the New Tab page to help a user identify sites more easily.
Also, a site indicator shows if the site is visited often or not. From the New Tab page, one can also reopen closed tabs, reopen the last browser session, clear the site indicators, or start InPrivate Browsing.
In addition, IE9's download manager will now display the download speed, and download notifications are animated and more noticeable.
In IE9, a user can pin down his favorite websites that can be accessed directly from the Windows taskbar without having to first open the browser. Pinned sites now support multiple home pages.
Microsoft debuted IE9 last March and unveiled a public beta version in September 2010. Over 25 million copies of IE9 beta version have been downloaded to date, Microsoft claims.
© Copyright IBTimes 2023. All rights reserved.