iHeartRadio Joins Snapchat Discover: Why Big Media Is Battling For Real Estate On The Disappearing Messaging App
The largest hub of U.S. radio stations and a concert series powerhouse has taken one of the most coveted spots on your smartphone: a place on Snapchat Discover. IHeartMedia Inc., a mass media company that oversees more than 850 radio stations, formerly Clear Channel Communications, and led by MTV founder Bob Pittman, premiered on the 1-year-old Discover page Monday.
Snapchat has won the attention of at least 100 million daily users -- 37 percent of them ages 18 to 24 -- and the praise of advertisers, corporations, entertainers and politicians. There are only 11 spots on Snapchat's media network in the United States, and they have come to represent some of the most coveted real estate in media as outlets look to connect with millennial audiences on their smartphones.
There's already been turnover: Yahoo and Warner Bros. are out after a year on the service; now BuzzFeed and iHeartMedia are in, joining 11 other media outlets like Cosmopolitan, Comedy Central and ESPN. Not all Snapchat active users are engaged in Discover, which until two weeks ago was hidden within the app. But now, with a redesign that gives more of a spotlight to the content along with new partners, Snapchat Discover may be blossoming.
"We have the access to the artists," said iHeartMedia's Chief Product Officer, Chris Williams. "As a brand, we feel like we are extremely qualified to be on Discover. We can take the same access we already have through music curation and apply that to Snapchat every day."
What To Discover
IHeartMedia's Snapchat channel will broadcast content on music, pop culture and entertainment news with slides dedicated to behind-the-scenes artist videos, celebrities interview and photo galleries. In the last few days, iHeartMedia's channel has shown about 14 slides of interactive content -- a number that trumps nearly every other partner, averaging fewer than 10.
IHeartMedia with radio personality Ryan Seacrest Thursday will use the Discover channel to announce the lineup for the 2015 iHeartRadio Music Festival, an annual two-day event in Las Vegas.
"Our goal is to be everywhere where our audience is," Williams said. "Things that will make it into the Discover channel will be bigger, larger-than-life opportunities to experience and see artists."
The channel will also feature new artists from iHeartMedia's "On The Verge" program, where the network brought attention to now well-known names Iggy Azalea and Sam Smith. "Radio remains the No. 1 music-discovery platform," said iHeartMedia's Senior Vice President of Brand Partnerships Vanessa Adamo. "We believe in new artists, and now we can capture and show new content from them."
IHeartMedia isn't new to so-called content creation. The network produces hundreds of hours of live content on radio and online. In July, Seacrest signed a three-year deal with the company to host his morning radio show and other digital broadcasts. The Discover channel will air videos from their radio personalities, including Seacrest and Elvis Duran.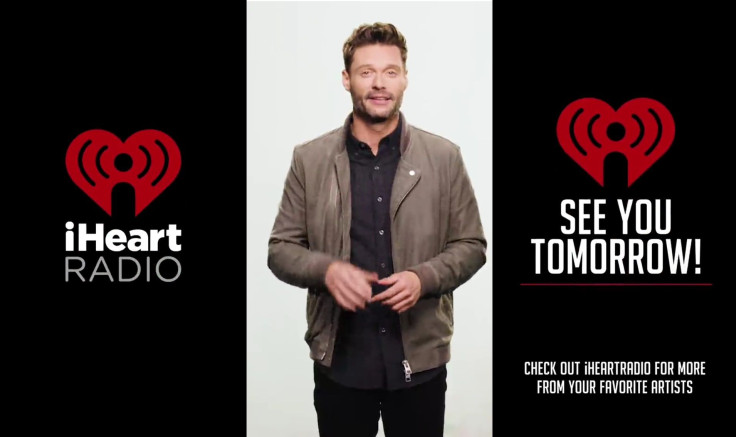 While Yahoo is out of Discover, Williams noted iHeartMedia has partnered with Yahoo to produce short-form videos in the past and could do so again.
Snapchat launched TrufflePig, its own digital creative agency, at Cannes Lions International Festival, and offered to sell ad spots on behalf of the network. But, iHeartMedia will be doing everything in-house. "Our sales team is in very active conversation with certain brands," Adamo said.
IHeartMedia made several hires to support its growing editorial, graphic design and social media teams, but no new employee was hired specifically to oversee Discover, Williams said.
Beyond The Honeymoon
IHeartRadio is not new to Snapchat itself. In September 2014, iHeartMedia was one of the first partners to launch a "Live Story" -- a collection of submitted photos and videos available to view by all of Snapchat's users -- for the 2014 iHeartRadio Music Festival.
"We're not new to the party or in the Honeymoon period," Williams said. "Live Stories have given the opportunity for fans to experience a show that they might not have been able to attend for geography. Even if you're there, you get a 360-degree experience."
Live Stories, which stay visible during the concert and sometimes for a few hours after, are a "collaborative" effort between iHeartMedia and Snapchat, Williams said. A certain number of "snaps" will come from attendees while others are submitted by artists and crew members, which are flagged in the content management system.
"Some [of the Live Story] is choreographed. We know where moments are taking place. We know when Madonna's about to take the stage with Taylor Swift," Williams said. "We're always looking for those moments, and if we see them, we give Snapchat a heads up."
Many of the participating acts are Snapchat users themselves and asked to be involved in the creation, Williams said. "The artists recognize who the Snapchat audience is and many of them raise their hands to be involved with us," Williams said.
IHeartMedia also launched its own Snapchat account. "That's for doing the goofy stuff. You don't have the pressure of the channel. It's kind of like the minor leagues. And hey, if there's great reaction, maybe it's something we'll do on Discover."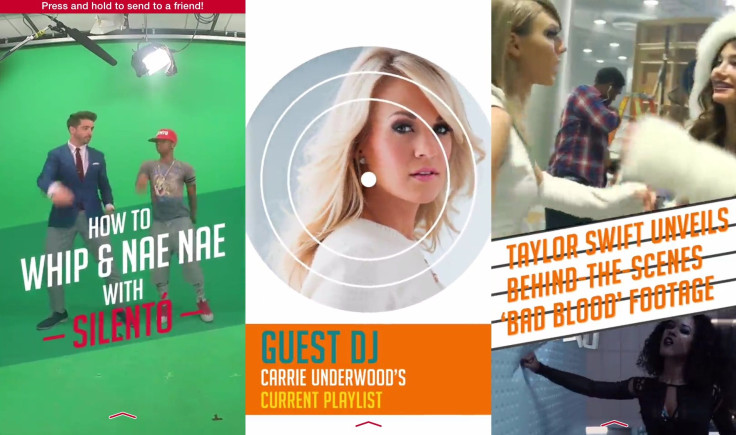 IHeartMedia has access to the number of viewers and snapshots taken on the channel, and as Williams implied, could be used to surface good content for the next day. While some advertisers have taken issue with the lack of data -- Snapchat doesn't provide user analytics or as much targeting as Facebook -- the network offers a clearly engaged audience.
For Snapchat, with Evan Spiegel, 25, at the helm, music has been an important genre to grow his 4-year-old company. Indeed, Snapchat has worked with artists like Goldroom to create and premiere new music videos. "We have a great relationship with Evan [Spiegel]. We've shared what we can do with their company. We have similar values and goals," Williams said.
© Copyright IBTimes 2023. All rights reserved.