Is Snapchat Ready For The Big Leagues Of Advertising?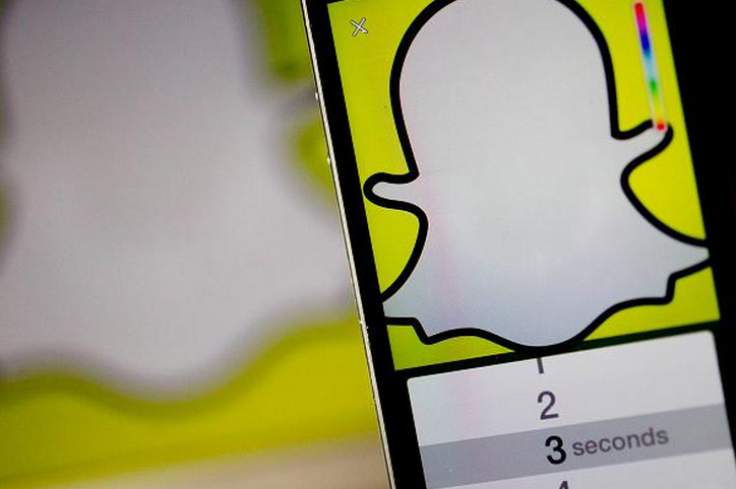 These days companies can be valued at millions, even billions, with little revenue to show for it. That's not the case for Snapchat. Just three years in, the disappearing messaging app has the attention of Fortune 500 advertisers desperate to connect with young audiences that are moving away from TV.
Over the past year, the company, valued at $16 billion, has worked with early partners to experiment with money-making strategies. But now, Snapchat -- with 25-year-old CEO Evan Spiegel at the helm -- thinks it's ready to pitch the world's biggest advertisers and has supplanted Facebook and Twitter as the shiny object the ad world is obsessing over.
On Monday, Snapchat unveiled a website explaining its user demographic and advertising options. This week, Spiegel has paraded around the Cannes Lions International Festival in the south of France, wooing the world's biggest brands.
But Snapchat isn't just selling ads to brands; it would like to make the ads as well. On Tuesday, Speigel announced Truffle Pig, a new digital creative agency led by Snapchat, the Daily Mail and British ad company WPP where the companies will help develop and analyze ad products.
Just as the app quickly attracted a devoted network of now 200 million users who watch 2 billion videos each day, Snapchat has garnered the close attention -- and now the spending dollars -- of top ad networks and brands. "The reason why advertisers are interested in Snapchat is that they've broken through the escape velocity in terms of their millennial penetration," said Rob Norman, chief digital officer of GroupM. "I think Snapchat will have terrific velocity, but no one knows what the terminal velocity will be."
Dat Millennial Market Tho
Advertising made its debut on Snapchat in October 2014, when NBCUniversal placed a 20-second trailer for the film "Ouija" on the app's public video feed. But that wasn't the first conversation the massive entertainment network had with the young network -- nor has it been the last.
Doug Neil, Universal Pictures' executive vice president of digital marketing, was initially introduced to Snapchat by watching his teenage daughters use the app at the dinner table. "It wasn't anything that had been promoted from a paid perspective but grew organically and seemed to be something that the millennials really enjoyed," he said.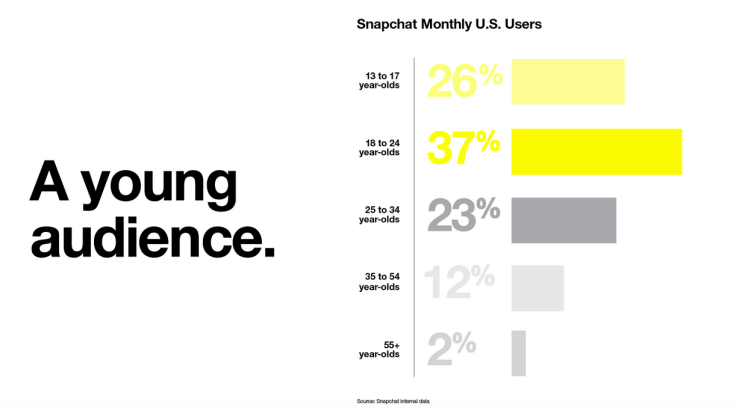 Neil arranged meetings with Snapchat before there was even a designated advertising team. At the time, there were a few brands that had their own accounts on the network, where users could choose to follow them. Universal Pictures tested that method with a "Pitch Perfect" channel. That effort gained 50,000 followers within a few days.
Many of the early adopters of Snapchat were entertainment companies. For example, HBO's "Girls" created a Snapchat profile that sent backstage photos to fans via creator Lena Dunham. Early interest from media networks, notably NBC, is a pattern that other social networks have experienced. In 2012, Twitter teamed up with NBC Sports for Olympics coverage, and Pinterest had a partnership with NBC's "The Biggest Loser."
Snapchat had guaranteed access to a network of youth, a demographic companies are constantly trying to attract. "Any brand that needs to reach consumers between the ages of 13 and 35 is starting to pay a lot of attention," said Marcus Krzastek, vice president of core product at VaynerMedia, in an email. "While brands that skew on the younger end are paying a bit more attention, the rest are starting to catch on."
Snapchat, As Explained By Its 25-Year-Old CEO
But Snapchat required advertising content that neither NBCUniversal -- nor any other advertisers -- were familiar with. First off, the Snapchat ads are bigger and vertical, unlike banner ads or typical videos. They require a creative investment that some brands and agencies are reluctant to make for an unproven medium.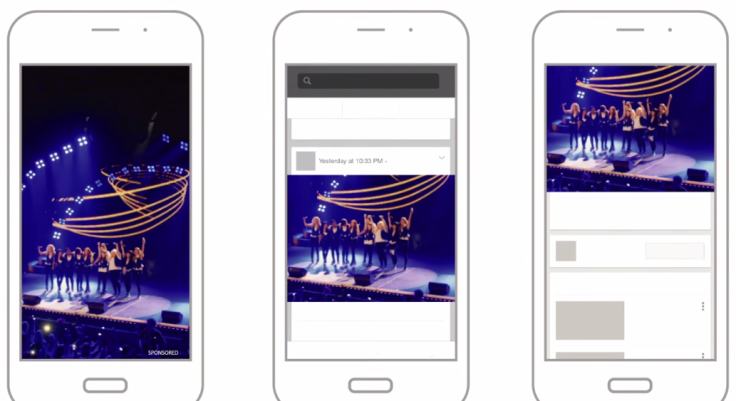 Snapchat ads all faced the same hurdle with Facebook, Twitter, Instagram and Pinterest, which asked advertisers to break out of banner ads and repurposed TV ads. But mobile, and indeed vertical, is a different animal, and Snapchat thinks it's a sector it can win. The company claims vertical videos are nine times more engaging than horizontal ones. People, it would appear, are too lazy to even reorient their phones. Even Facebook is taking the hint by experimenting with full-screen video ads.
"Part of Snapchat's appeal is that they're not like everybody else, but that's constantly a challenge when it comes to advertisers. Advertisers will do little to work more," said David Berkowitz, chief marketing officer at global advertising agency MRY. "It has that added challenge that they're not trying to be the typical publisher. There are things like [Spiegel's videos] that other tech companies would never need to do."
While Facebook and Google have had to adapt their ads to the smallest screen, Snapchat has only one screen to worry about -- your phone's. "We've been lucky," Spiegel said in his keynote speech in Cannes. "We didn't have any legacy, Internet ad-serving infrastructure." Snapchat's mantra is its so-called 3V pitch -- vertical, video and views.
With A Little Help From Friends
Snapchat's current ad pitch has three main offerings. Brands can pay for 10-second ad spots in Live Story (public reels of real-time events) or on the Discover network (content produced by 11 media partners). Last week, Snapchat introduced sponsored geofilters, essentially stickers that users can overlay on images or videos. Each of these options can be targeted by location and/or gender.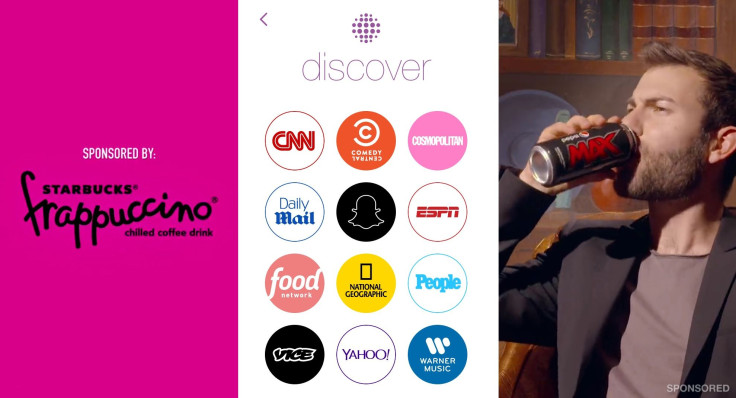 While the Discover network may not be a priority for Snapchat users, advertisers say they see it as a smart way for Snapchat to persuade an audience to test the app. "When you look at Snapchat Discover in particular, the advertisers share a voice in content that's pretty impressive. Even though it's ephemeral, it's impactful," GroupM's Norman said. "It takes content providers that advertisers trust. If you're comfortable with Cosmopolitan, then you're more comfortable with being on Snapchat."
For example, earlier this month Universal Pictures purchased video ad spots to promote "Jurassic World" in nearly all of the 11 networks, adapting each ad to the specific publication. Snapchat's Spiegel has repeatedly touted the power of the editor, in contrast to relying on the data tracking and algorithm boosts that other networks have taken. "There's a sort of weird obsession with the idea that data can solve anything," Spiegel told Bloomberg in May. "I really haven't seen data deliver the results that I've seen a great editor deliver."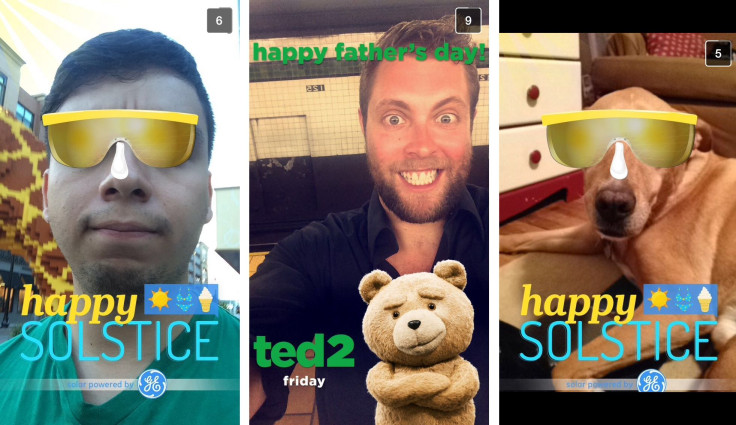 For geofilters, Universal's Neil cited the "millions" of snaps that were taken with the company's ad for the film "Ted 2" that ran over Father's Day weekend.
While Snapchat sells its "filters" to brands, it uses them to send positive messages that resonate with its user base, such as a memorial to the victims of the shootings in Charleston, South Carolina.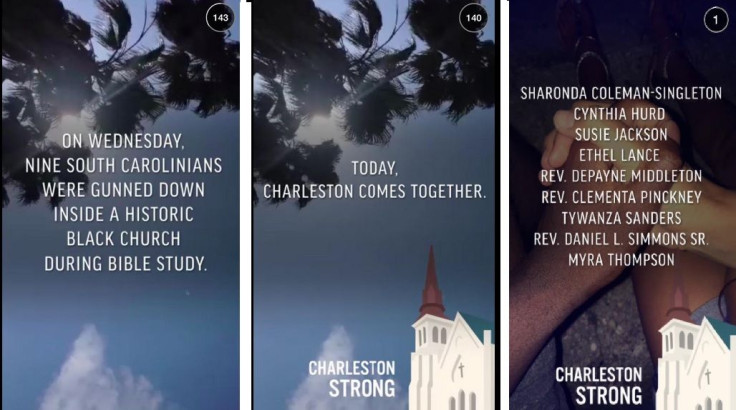 General Electric, one of VaynerMedia's clients, also signed on as one of the first movers there with a "Summer Solstice" filter last weekend. Other big brands, including Tide, Dove, Sour Patch Kids and Pepsi, have taken video spots. "Brands that skew a bit older or don't have a voice or assets that fit well into the current Snapchat climate are still on the sidelines, although even they are starting to test, if only to understand," VaynerMedia's Krzastek said.
The Good, The Bad And The Data
While other sites face criticism for auto-play videos some consider intrusive, Snapchat provides a network where videos with sound are expected. As a Snapchat user, you can't skip or block the ads.
Snapchat has a long way to go to match the tools and data that a Facebook or even Twitter can provide advertisers. On those sites, brands can participate in trending topics and see recirculation from users through comments and resharing. While Snapchat can count views, it doesn't provide data or analysis on the aftereffect. For example, to test the effectiveness of the "Ouija" ad, Universal Pictures held a traditional exit poll as viewers left theaters.
"As Snapchat evolves, they'll realize that they do need to provide more data. Advertisers will continue to push for more information on demographics, some usage profiles," Neil said.
Today, Snapchat is advertising's shiniest object. The question is whether it can build a business as fast as it has its user base. "They've had to make sure that people appreciate how much activity there is," MRY's Berkowitz said. "Now what Snapchat needs to do is figure out what are those ways that they're going to be able to scale."
© Copyright IBTimes 2022. All rights reserved.
FOLLOW MORE IBT NEWS ON THE BELOW CHANNELS