Snapchat Update Redesigns Stories Page, Puts Discover And Live Content Above Your Friends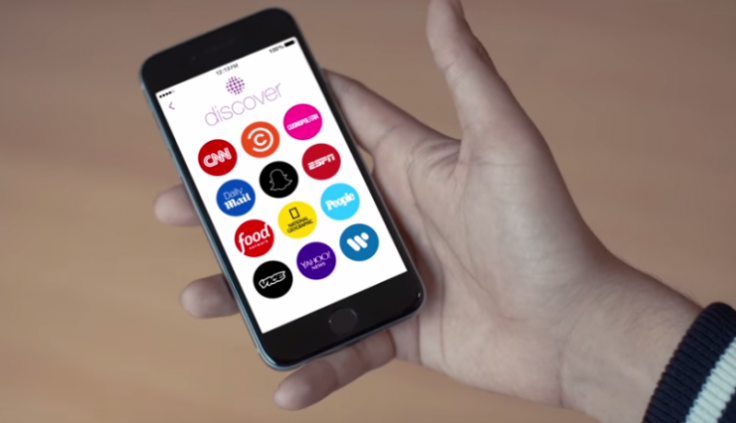 Snapchat redesigned its Stories page with an app update released Monday. The layout now places Snapchat's media partners' content and own curated feeds above recent updates from accounts that users choose to follow.
"New Stories screen, now with a little more to Discover :) Enjoy!" the update's description reads on the iTunes App Store. The update is currently only available for Apple iOS.
Under the Stories tab, users will first see the Discover section in one bar, listed vertically. Swipe to the left to see them all. The partners appear to be in order of most recently updated. A Snapchat representative clarified that the channels a Snapchat user visited the most in the last seven days appear first.
Snapchat Discover is a news network that features content from media partners, including CNN, Cosmopolitan and ESPN, and the company's own feed. Previously, Discover was visible to users only if they clicked the purple dot in the upper right corner of the Stories page, which is still accessible.
Below the Discover content is another vertical section for Snapchat's "Live Stories." Prior to Monday's update, these feeds were listed below recent updates from friends as well as in alphabetical order within the list.
Stories on Snapchat allow users to stitch together photos and videos taken with Snapchat and create content visible for 24 hours. Snapchat introduced that feature in 2013. Snapchat also curates its own stories by allowing users to submit content for events in their area. These feeds were previously referred to as "Our Stories" but are now called "Live Stories."
Snapchat is attributing the move in part to making the content a more "natural" fit. "Discover is a platform for publishers to tell great stories. Since we launched six months ago, we have been experimenting and learning what content worked well. We're very excited about where we are today and making Discover accessible on our Stories page feels like a natural fit," a Snapchat representative wrote in an email.
Monday's update follows closely with Snapchat's push into advertising, as the three-year-old company slashes ad prices on Discover and debuts new branded content options, and further expands from much more than its origin as just a one-to-one messaging app.
The redesign makes the Discover and Live sections more visible to Snapchat's reported 100 million-plus daily active users. Both sections are where advertisers can pay for 10-second video ad spots or sponsor feeds.
© Copyright IBTimes 2023. All rights reserved.
FOLLOW MORE IBT NEWS ON THE BELOW CHANNELS