Illegal Immigration 2015: NYC To Protect Immigrants From Phony Legal Services And 'Notario' Fraud With New Task Force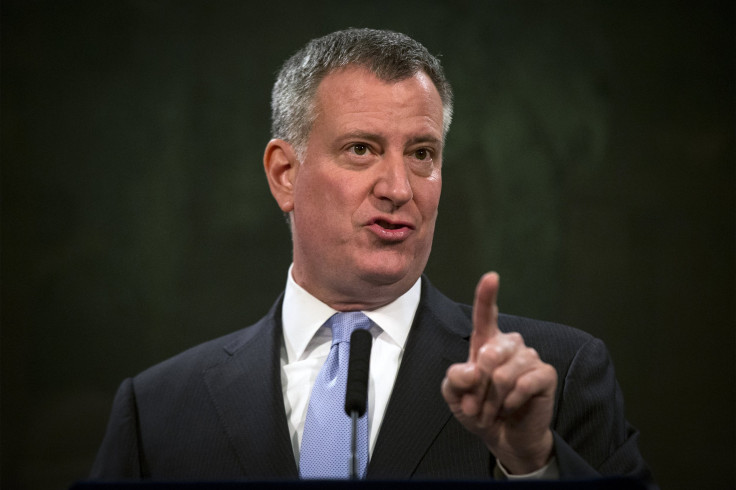 New York City Mayor Bill de Blasio and New York State Attorney General Eric T. Schneiderman announced a new joint task force Thursday to target individuals who defraud immigrants and their families and make it easier for victims of fraud to come forward. President Barack Obama's latest immigration action opens the path to citizenship for "thousands of New Yorkers," according to Immigrant Affairs Commissioner Nisha Agarwal, but also opens up new ways for fraudulent "legal advisors" to defraud immigrants with phony legal services.
A New York law stiffening penalties for perpetrators of "notario fraud" and "immigrant service provider fraud" came into effect in February, adding civil and criminal penalties for those convicted of fraud. Many notario fraudsters paint themselves as certified experts on immigration and citizenship law and charge victims thousands of dollars for their legally baseless "expertise."
"Together we are sending a powerful message that New York has zero tolerance for anyone who seeks to prey on immigrants and their families," said Schneiderman, according to a press release announcing the decision. "As the president's executive action goes into effect, New York is taking the lead to root out fraud against those looking for a better life. Through this strategic partnership, we will hold accountable those who take advantage of vulnerable immigrants."
De Blasio and his team hope that the task force program will serve as a blueprint for cities and states across the country. Around 4.3 million of New York State residents, or 22.2 percent of the state's population, are foreign-born immigrants. New York is a premier destination for immigrants, alongside California, Texas and Florida. Many could earn citizenship and/or avoid deportation through Obama's November executive action, which washes undocumented parents of U.S. citizens and residents who have been in the U.S. for five years of certain legal issues and expands the Deferred Action for Childhood Arrivals program to include more immigrants who came to the U.S. as children.
Many will need lawyers to navigate the intricacies of the legalization process, which is where fraudsters come in. The joint force framework will allow independent agencies to share information and jointly investigate those suspected of fraud. The task force will work directly with community organizations to gather information on potentially fraudulent businesses. It will also run a public education program.
© Copyright IBTimes 2023. All rights reserved.
FOLLOW MORE IBT NEWS ON THE BELOW CHANNELS