India To Open $1 Billion Credit Line To Finance Infrastructure In Mongolia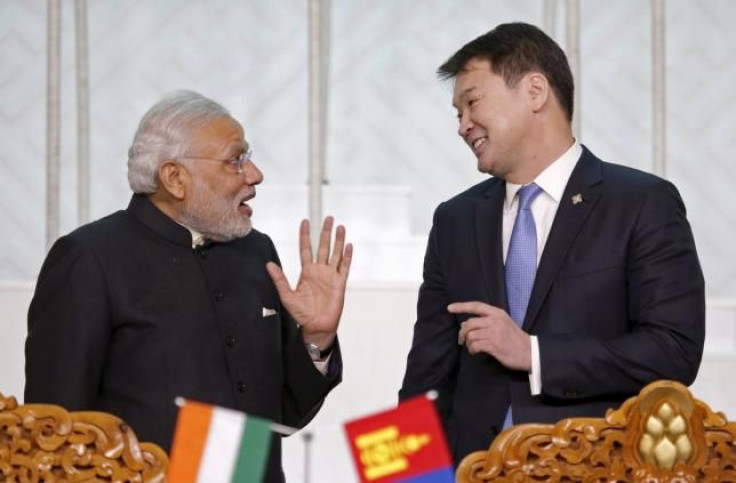 India will open a $1 billion credit line to bolster Mongolia's "economic capacity and infrastructure", the Mongolian and Indian prime ministers announced on Sunday.
Mongolia is seeking investment in infrastructure for the transport of its minerals as well as in generating energy. Money has been tight for the Mongolian government since the coal market in China weakened and growth has slowed.
Indian Prime Minister Narendra Modi said he hoped his visit would bring closer economic relations that could lead to cooperation in Mongolia's minerals sector. India has no investments in Mongolia's mines, although Indian companies have expressed interest in its coal.
Modi said economic relations between the two countries had been modest though that would change as India grew.
"As the Indian economy adds strength to our region and the world, it will also benefit Mongolia," he said.
Modi began a three-nation Asian tour on Thursday with a focus on economic ties.
Before Ulan Bator, Modi visited the Chinese cities of Shanghai and Beijing. He is next scheduled to go to South Korea.
Mongolian Prime Minister Chimed Saikhanbileg said India would be opening a $1 billion credit line that could be used for expanding the landlocked nation's railway system.
Mongolia is building a rail link from its coal mines in the Gobi desert to overcome bottlenecks in deliveries to China, but it is seeking funding to finish the job.
Saikhanbileg also mentioned establishing a "joint investment fund" but he did not elaborate.
Indian and Mongolian officials signed 14 agreements in areas such as renewable energy, cyber security and dairy production.
Modi's visit to Ulan Bator was the first by an Indian prime minister although India was the first country to open diplomatic relations with the north Asian country outside of the Soviet bloc, in 1955.
Modi said India and Mongolia shared friendly connections, recalling how millennia ago, Indians helped bring Buddhism.
"We have a strong convergence of views," Modi said, adding: "We are starting a new era in our partnership."
© Copyright Thomson Reuters 2023. All rights reserved.