Indian High Court Reinstates Criminal Proceedings Against Monsanto And Its Partners In India's First Case Of Bio-Piracy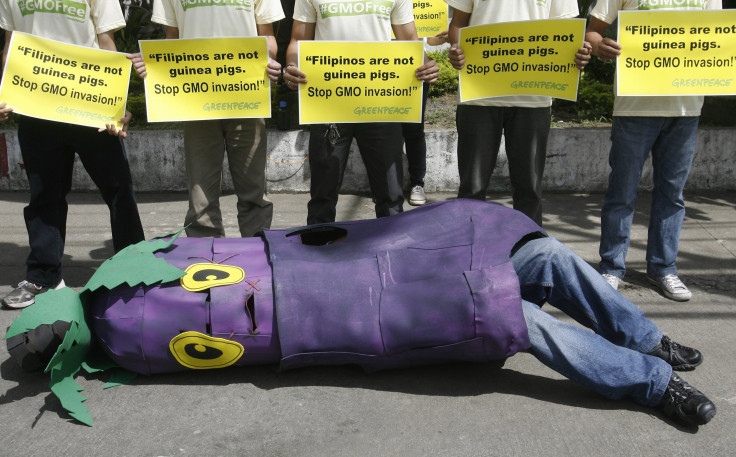 The apex court in India's southern state of Karnataka dismissed pleas last week to halt criminal prosecution against senior representatives of Monsanto's subsidiary Mahyco, University of Agricultural Sciences, a local university, and a partner company for violating provisions of India's Biodiversity Act, paving the way for a continuation of India's first ever bio-piracy case that could set a precedent for the induction of genetically modified, or GM, crops in the country.
Senior officials of Mahyco-Monsanto, UAS Dharwad and Sathguru Consultants were accused by the National Biodiversity Authority, or NBA, and the Karnataka State Biodiversity Board, or KSBB, of using seeds of at least six local varieties of eggplant in creating a GM eggplant breed, known as Bt Brinjal, without mandatory approvals required under the Biodiversity Act 2002.
"Bt Brinjal is a clear case of bio-piracy, perhaps the first of that sort in India. Ms. Monsanto-Mahyco company has used local variety of brinjal (that too with no prior approval of concerned authorities) to develop Bt Brinjal. As per the Biodiversity Act it's a criminal case. It is a cognizable offence," V. Gayathri, an activist against GM crops in India and the editor of Sahaja Saaguvali, an agricultural magazine, told International Business Times.
The Karnataka High Court on Oct. 11 asked the NBA and KSBB to pursue criminal proceedings against the accused after hearing a public-interest petition filed by Environment Support Group, or ESG, a Bangalore-based charitable trust, in 2012, accusing authorities of delaying criminal prosecution against Monsanto and other accused in the case.
Leo F. Saldanha, coordinator of ESG, told IBTimes in an email, that "there were several efforts to impede investigation of NBA and KSBB" and added that the latest ruling is significant because it is the first-ever criminal case on biopiracy in India based on the Biodiversity Act.
"A decision in this will serve as a precedent in such cases in future. Besides considering the fact that there is extensive loot of our bio resources for commercial gain by corporations, the manner in which this case is handled will serve as a test of rigor of our regulatory agencies in tackling such crimes and securing India's biodiversity," Saldanha told IBTimes.
According to the Biodiversity Act, genetic modification is not permitted in endemic breeds of a plant. But, the eggplant varieties used by Monsanto and its partners in creating Bt Brinjal were native breeds of Karnataka. And activists claim that Mahyco and others involved in the development of Bt Brinjal used the country's biological resources without proper permission.
"In this case, even if they had approached the concerned authorities, they would not have got clearance for modifying the native varieties of the crop they used, as it is against law… so they did it clandestinely without divulging details about the local breeds used or the research they conducted," Gayathri said.
Bt Brinjal is India's first GM food crop and it was developed by inserting a crystal protein gene, developed by Monsanto, from the soil bacterium, Bacillus thuringiensis, into the genome of various local eggplant cultivars, which, according to the manufacturers, can withstand pests and yield a bigger, healthier crop.
The Genetic Engineering Approval Committee, the country's biotechnology regulator approved commercialization of Bt Brinjal in October 2009, triggering countrywide protests and a debate on the use of GM crops. Following representations from environment protection groups and opposition to GM from various state governments, the Ministry of Environment and Forests imposed a moratorium on Bt Brinjal in February 2010 and called for public consultations across the country. The final decision on the issue is pending.
Critics of the GM eggplant claim that Bt Brinjal can result in the extinction of the crop's native varieties, which are believed to be cultivated across the nation. They also allege, by citing the example of GM cotton, known as Bt Cotton, that Monsanto's claim that GM crops can increase yield is misleading and false.
"The spurious Bt cotton seeds sold by Mahyco-Monsanto to the farmers during the current season in Karnataka have totally failed. Farmers are heartbroken to see the yield failure after spending hugely on crop," Gayathri said, adding that, "Bt cotton yield has been steadily decreasing as the area of cultivation is increasing," while Monsanto has almost monopolized seed sales.
According to data compiled by Sahaja Saaguvali, Monsanto has entered into licensing agreements with most seed companies in India. And, out of 22.5 million acres of GM cotton, 21 million acres are planted with its seed - Bollgard. The company now controls nearly 93 percent of the market share of cotton seeds in India, threatening the existence of local cotton varieties, critics claim.
Monsanto did not respond immediately to questions from IBTimes.
© Copyright IBTimes 2023. All rights reserved.