Internet Archive Partners BitTorrent To Serve 1 Petabyte of Classics, Modern Favorites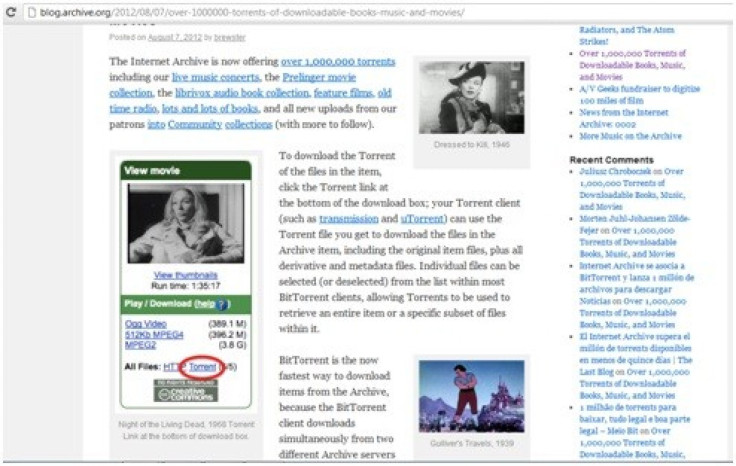 Internet Archive, a non-profit project established to act as online library for digital information has to date promoted nearly a petabyte
data of content via the controversial file-sharing site, BitTorrent, Computerworld reported.
The Internet Archive is offering 1.5 million torrents including live music concerts, the Prelinger movie collection, the librivox audio
book collection, feature films, old time radio, more than 1.2 million books and "all new uploads from patrons who are into community
collections," in the BitTorrent site, a blog post on Internet Archive stated.
Apparently, the Internet Archive intends to continue offering the content it serves from the BitTorrent file sharing site, ComputerWorld added.
The California-based non-profit organization set up the site to store Internet images, video, audio and webpages. BitTorrent on the otherhand, is in the center of copyright infringement lawsuits.
"I supported the original creation of BitTorrent because I believe in building technology to make it easy for communities to share what they
have. The archive is helping people to understand that BitTorrent isn't just for ephemeral or dodgy items that disappear from view in a
short time," John Gilmore, Founder, Electronic Frontier Foundation stated in the non-profit's blog post.
BitTorrent is the fastest way to download items from the archive because the BitTorrent client downloads simultaneously from two
different archive servers located in two different data centers, and from other archive users who have downloaded these torrents already,
the site stated.
The Internet Archive has web pages hosting varying content. For instance, the archive's Wayback Machine shows what websites looked like in the past, such as what The New York Times looked like in the year 2000.
Besides, the archive also showcases television coverage of important news and events including 9/11. It hosts over 3000 hours of 9/11 coverage comprising 20 channels of international television news.
© Copyright IBTimes 2023. All rights reserved.