iOS 11 Compatible Devices: What Devices Work With Latest iOS Update?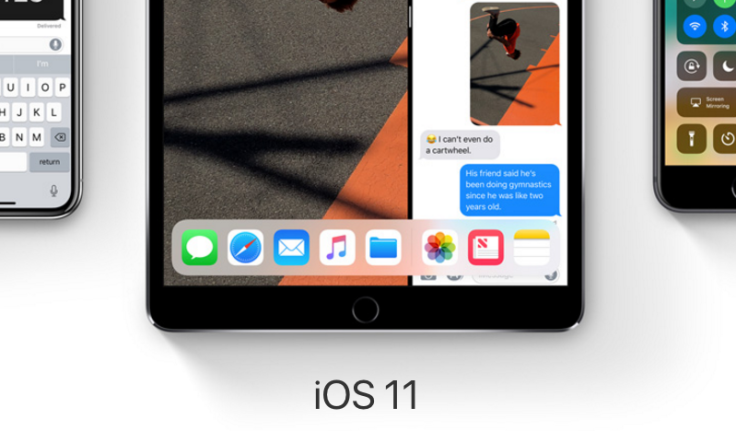 iOS 11 brings the best out of the iPhone X, iPhone 8 and other iOS devices. The software update includes multiple features like support for augmented reality apps and Apple Pay Cash.
To upgrade to iOS 11, users can go to the Settings app, tap General and select Software Update. The device should have a good battery percentage and must be connected to Wi-Fi.
Devices Compatible With iOS Devices
iOS 11, which was released in September to coincide with the iPhone 8, works with iPhones, iPads and the iPod Touch.
Here's the complete list of compatible devices for iOS 11:
iPhones: iPhone 5s, iPhone SE, iPhone 6, iPhone 6 Plus, iPhone 6s, iPhone 6s Plus, iPhone 7, iPhone 7 Plus, iPhone 8, iPhone 8 Plus and iPhone X.
iPads: 12.9-inch iPad Pro (second generation), 12.9-inch iPad Pro (first generation), 10.5-inch iPad Pro, 9.7-inch iPad Pro, iPad Air 2, iPad Air, iPad (fifth generation), iPad mini 4, iPad mini 3, iPad mini 2.
iPod: sixth generation iPod Touch
iOS 11 Features: Apple Pay, AR, Design Changes
iOS 11 brings numerous features and improvements to Apple devices, including Apple Pay Cash, augmented reality, a new Control Center and Live Photos. Updates to iOS 11 also brought some changes.
Apple Pay Cash
iOS 11 was released a few months ago, but the Apple Pay Cash features were recently launched this month with iOS 11.2. Apple Pay Cash brings person-to-person payments on iOS devices. Users can send and receive money directly on iMessage. The funds users receive are stored in the Apple Pay Cash card in the Wallet app. That money can then be used to send money to contacts on the iMessage app, to make purchases in stores or online, or users can transfer the money to their bank account. Apple Pay Cash transactions can be viewed on the Wallet app. More tips on how to use Apple Pay can be found here.
Augmented Reality
Apple introduced the ARKit in June during its Worldwide Developer Conference. The kit allows developers to create augmented reality apps for iOS 11. AR apps are currently available in the App Store and can be used with iOS devices on iOS 11. Here are some AR apps to check out.
More iOS 11 Improvements
iOS 11 brought a revamped Control Center that includes more options when using 3D Touch. The update also introduced the Files app, which allows users to organize their documents.
iOS 11 also brought other helpful settings, like the Do Not Disturb option for drivers and True Tone for the iPhone X.
Although the update brought improvements, iOS 11 also came with some bugs and required fixes. The update also tends to drain the battery on some devices. The bug list for iOS 11 can be found here, while tips for a better battery life can be accessed here.
© Copyright IBTimes 2023. All rights reserved.