iOS 6/6.0.1 Jailbreak: Sn0wbreeze Updated To v2.9.7; How To Jailbreak iPhone, iPod Touch (Pre-A5)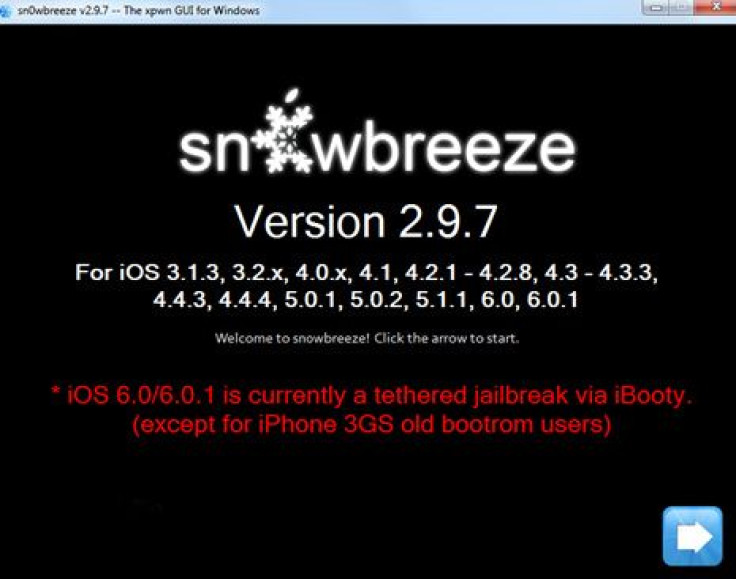 iOS jailbreak developer iH8Sn0w announced Monday via his Twitter account that popular jailbreak tool Sn0wbreeze had been updated to version 2.9.7 that brings support for both iOS 6 and iOS 6.0.1 on Pre-A5 powered devices; i.e., the iPhone 4, iPhone 3GS and the 4th-gen iPod touch.
Have a look at the release note of Sn0wbreeze v2.9.7 below:
What is New?
· Added 6.0 (10A403)/6.0.1 (10A523) support. (Only includes iPhone 3GS & A4 devices).
· The 6.0/6.0.1 is currently a tethered based jailbreak via iBooty (except for iPhone 3GS old bootrom users).
· SAM is built-in for iOS 6 hacktivations. (Hacktivated phones can reboot to a semi-tethered state after being activated [rather than just hang at the Apple Logo]). Kudos @sbingner!
Downgrading
· Use iFaith mode after selecting/downloading the appropriate IPSW for your device. You will then be prompted to browse for SHSH blobs for the IPSW you have selected.
· Remember to enter a PWNED DFU state with sn0wbreeze's iREB button in the top bar of sn0wbreeze prior to (SHIFT + Restoring) the custom signed IPSW!
iREB & iOS 6
Due to some changes in iOS 6, the current public standalone version of iREB will NOT enter a proper PWNED DFU state for restoring to custom iOS 6 IPSWs. An update for the standalone version should come sometime this week. In the meantime, use the iREB tab located in sn0wbreeze's top status bar to enter a proper PWNED DFU state.
A5(X)/A6(X) Support?:
As stated many times in the past, sn0wbreeze cannot be updated to work on A5(X)/A6(X) devices until a low level exploit in DFU or iBoot is found and made public.
A5(X)/A6(X) Baseband Preservation/Hacktivation?
For those running A5(X)/A6(X) devices and need to preserve your baseband, there is nothing you can do at the moment. For those wanting to hacktivate, the only advice I can give is to buy the carrier's SIM (the one its locked to obviously) on ebay. The SIM does not have to be active with the carrier to activate the phone.
Known Bugs/Issues
· Windows 8 users currently need to use this workaround to run sn0wbreeze.
· iPad baseband will fail to flash on iOS 4.0 --> iOS 4.2.1 restores.
· iPod Touch 2G 4.x.x restores fail.
Steps for achieving a tethered jailbreak on iOS 6.0.1 using Sn0wbreeze v2.9.7:
Step 1: Download the latest version of Sn0wbreeze for Windows and save it. Now, download iOS 6.0.1 for your device.
Step 2: Connect your iOS device to the computer with the USB cable.
Step 3: Run Sn0wbreeze on your Windows PC.
Note that Windows 8 users will have to download and install Microsoft .NET Framework 3.5 on their computer. For more details, click here.
Step 4: Click the next blue arrow button to proceed. Now, select Browse for an IPSW to point Sn0wbreeze at the related firmware file for your device.
Ensure that the Sn0wbreeze program doesn't show errors and detects and verify the device properly.
Step 5: Select the Simple Mode option from the available list of modes and click the next button to build a custom firmware.
Sn0wbreeze will create a custom built firmware file. When finished, the firmware file will be placed on the Desktop.
Step 6: Now it's time to restore this custom firmware to your device through the iTunes method. But before doing that, put the connected iOS device into Pwned DFU mode using iREB option found on the top of Sn0wbreeze's File Menu status bar.
Step 7: After the device is in Pwned DFU mode, close Sn0wbreeze and start iTunes.
Step 8: Select the connected device from the left hand menu. Press and hold SHIFT key + click the Restore button in iTunes. This is will prompt iTunes so that you can select the desired IPSW file. Select the custom built firmware file from the Desktop and wait till iTunes restores it to the device.
After the restore is complete, your device will be jailbroken.
Boot Tethered
During the jailbreak process, Sn0wbreeze will also create an extra folder on the desktop called "iBooty." This particular folder is needed to boot the device into a tethered jailbreak state so that it can run apps and tweaks from Cydia.
Here's how to do that:
Step 1: Start iBooty and select the device you want to boot into tethered mode and click on the Start button.
Step 2: Follow the onscreen instructions on iBooty to enter Pwned DFU mode on your device.
Step 3: Once the device is in DFU mode, iBooty will automatically boot your device into tethered jailbreak mode.
After the device is booted into tethered jailbreak mode, you can start installing Cydia apps and tweaks.
[Source: Redmond Pie]
Check out the video below, provided by iDownloadBlog:
© Copyright IBTimes 2023. All rights reserved.