iOS 8 Untethered Jailbreak: Pangu Team To Release 0.4 Update Soon With Safari Bug Fix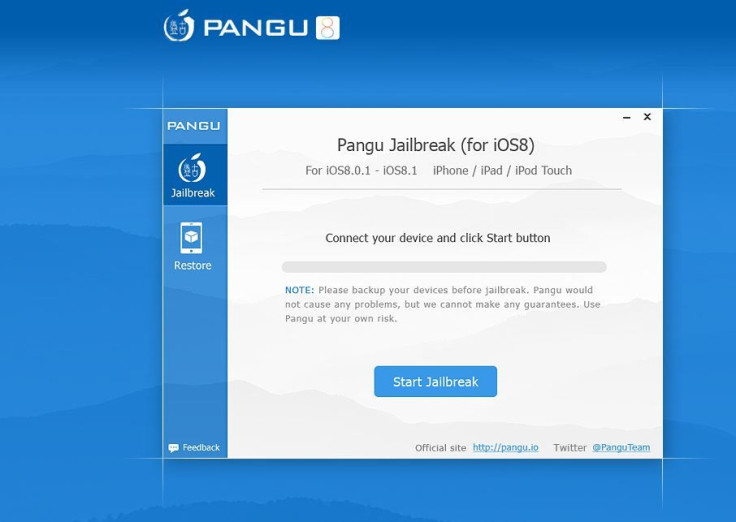 The Chinese jailbreaker team Pangu is currently working on an update to its iOS 8 jailbreak tool, which was released by the iOS hacker group nearly two weeks ago.
Ever since the release of the Pangu iOS 8 jailbreak, the tool has received several updates to fix performance related bugs. After rolling out a 0.3 update to the jailbreak tool, to fix overheating issues in 32-bit devices, Pangu announced Sunday it is working on a 0.4 update of the Windows version of the jailbreak tool, which is expected to be available soon.
While many users have been reporting that the Safari browser crashes while playing videos, despite installing the 0.3 update of the iOS 8 jailbreak tool, Pangu said that it will address the issue with the new 0.4 version.
In addition to the Safari issues, some users have also said that they have faced problems while rebooting their devices. Addressing the glitch, the Pangu team took to Twitter and said that for those on the 0.3 version and experiencing rebooting glitches, the issue could be caused by a backup restore.
According to the Pangu team, the reboots can be caused by incompatible tweaks, or any other issues not related to the untethered jailbreak tool or Cydia, iDownloadBlog reported, adding that the OS X version of the Pangu iOS 8 jailbreak is unlikely to be released any time soon.
The Pangu team had also said earlier that it would focus on an OS X version only after the Windows version of the tool is stable.
Last week, the Pangu team updated the iOS 8 jailbreak tool with the Cydia Installer, which adds the latest version of Cydia directly to the Pangu jailbreak tool. The incorporation of the Cydia Installer to the Pangu tool means that users no longer have to restore any Secure Shell or terminal commands to jailbreak iOS 8 or install Cydia on their devices, as it can be done from the Pangu app itself.
© Copyright IBTimes 2023. All rights reserved.