iPad Mini Release Rumors: 'Smaller, Cheaper' iPad Launching By Year End To Challenge Google Nexus 7, Says Bloomberg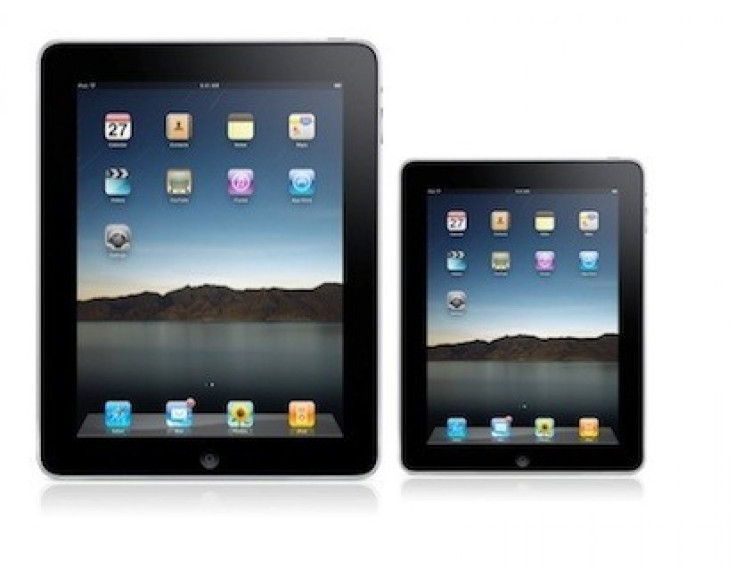 Despite an earlier dismissal of a 7-inch iPad by late Apple CEO Steve Jobs, rumors of an iPad mini have been around for quite some time now. Adding to the already churning rumor-mills, a new report surfaced Tuesday, saying that the Cupertino tech giant is indeed planning to launch a smaller and cheaper iPad by year-end.
The news came from Bloomberg citing two people with knowledge of the plans, that Apple would unveil a 7 to 8-inch tablet later this year to help maintain dominance of the tablet market as Google Inc. (GOOG) and Microsoft Corp. (MSFT) prepare competing handheld devices.
The anonymous sources revealed that Apple might announce the so-called iPad mini by October. They also said that the device won't feature the high-definition Retina display found on the existing third-generation 9.7-inch iPad that was released in March.
Bloomberg also quoted Shaw Wu, an analyst at Sterne Agee & Leach Inc, saying that a smaller, lower priced version of the iPad could challenge rival players like Google, Microsoft and Amazon to gain a toehold in the growing tablet market.
It would be the competitors' worst nightmare, Wu said in an interview. The ball is in Apple's court.
Where the cost is concerned, the smaller iPad is expected to have a price closer to that of Google's Nexus 7 and Amazon's Kindle Fire. Both tablets have 7-inch screens and cost $199.
The Verge explained why Apple might be interested in the smaller and cheaper tablet market segment. The success of the Kindle Fire tablet proved that there's a promising market for smaller, cheaper tablets, in which the 9.7-inch iPad, costing $500 and up, doesn't fit.
Apple has a reputation for avoiding markets where it can't keep the product's standards in line with its brand image - famously avoiding netbooks for years before launching the higher-end Air range - so it's reasonable to assume that any 7-inch iPad is going to be an attractive product with some aluminum involved, said the report.
Sharp Supplying Panels?
Meanwhile, Slashgear came up with another report, in which it cited Chinese website MyDrivers saying that the display size of the iPad would be 7.85-inch with Sharp supposedly doing the honors supplying the panel and using its IGZO technology for speedier response rates and/or greater pixel density.
According to the report, the company said that it had a 7-inch display with 1280 x 800 resolutions in production, which is slightly under the 7.85-inches as ongoing rumors suggest.
The Chinese website even said that the iPad mini would be priced at between $249 and $299, $100 more than the entry-level model of the Nexus 7.
The October release of a smaller iPad was first reported by iMore in May. The report said that Apple would launch a 7-inch iPad in October, alongside the next iPhone, aka iPhone 5, at a $200 to $250 price point.
In April, technology news website TechnoBuffalo cited John Gruber of Daring Fireball, who revealed during a 5by5 podcast with Dan Benjamin that Apple was not only mulling over a smaller version of iPad, but also had a 7.85-inch iPad in its labs.
In March, MacRumors tended to analyze the possibility of a mini iPad and said that it would make sense for quite a few reasons. First of all, a smaller iPad could compete against Amazon's Kindle Fire and Barnes & Noble's Nook Tablet. Secondly, a 7.85-inch 1024x768 display with 163 ppi would give the mini iPad a pixel density that would be in line with the pre-Retina iPhone and iPod Touch.
© Copyright IBTimes 2023. All rights reserved.