iPhone 6S Rumors: 11 Details We Know So Far About Apple Inc.'s Next Smartphone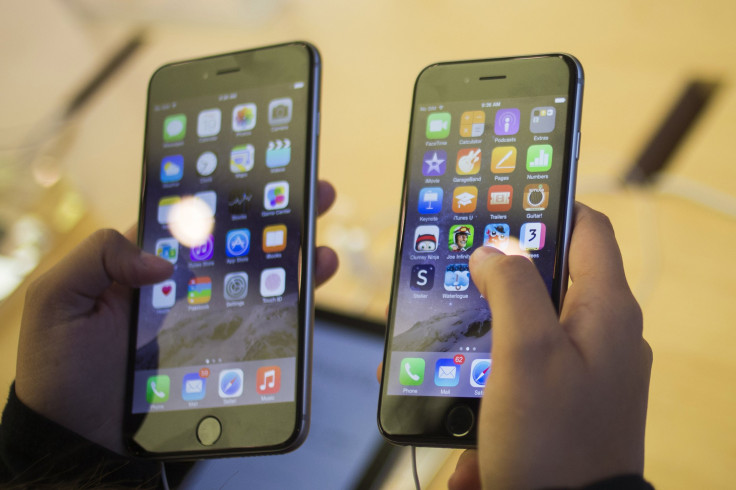 Nine months after the launch of the iPhone 6 and 6 Plus, fans are already looking for what Apple's will come up with for its next iPhone. And the rumor mill has responded in kind with what they believe the company has in store for its smartphone, the anticipated iPhone 6S.
Officially, Apple hasn't said anything about its next iPhone -- or phones for that matter. But as with most Apple products, details have begun to leak to the public. Here's a closer look at all those details so you'll know what to expect from Apple when it unveils its next iPhone later this year.
Force Touch
The feature that debuted in the Apple Watch and the latest Macbooks may also find its way into the iPhone 6S. Force Touch technology enables a touchscreen or trackpad to detect the difference between a light tap and hard press. This could pave the way for new touch gestures and controls, such as a contextual menu that pops up during the hard press.The displays are expected to maintain their current sizes at 4.7-inch in the iPhone 6 and 5.5-inch in the 6 Plus.
Home Button
The home button, which has remained in place since the first iPhone, could find itself retired in favor of a virtual button capable of reading fingerprints, according to Taiwan-based DigiTimes. Apple has several patents related to such a feature, including one related to embedded buttons under a flexible display and Touch ID scanning built into the display itself.
Camera
Apple's thinner iPhones have left little room for a larger camera, as seen in the iPhone 6 and 6 Plus with their protruding lenses. To get around this, the company may employ the use of a camera that uses multiple lenses to capture DSLR-quality images in a smaller package. Apple has several patents related to a multi-lens design and its acquisition of Israeli camera startup LinX may also help its efforts to develop a new iPhone camera.
The iPhone 6S' FaceTime camera may also receive an upgrade to 1080p resolution, support for 240 frames-per-second slow motion, panoramic capture and flash, according to code found within the iOS 9 beta software.
Processor
Apple's iPhone 6S is expected to come with an A9 chip, the successor to the A8 found in the iPhone 6 and 6 Plus. So far, few details have spilled about its specs. Samsung is expected to handle the bulk of chip ordered with Taiwan Semiconductor Manufacturing Company handling up to a third of A9 production, according to Apple Insider. Memory is also expected to double from 1GB to 2GB.
Stronger Body
Apple may also employ the use of stronger 7000 series aluminum in the next iPhone, the same material used for the body of the Apple Watch Sport, according to a research note issued by KGI Securities analyst Ming-Chi Kuo, obtained by Mac Otakara. Instead of creating a thinner iPhone, the iPhone may become 0.2 mm thicker to account for the addition of the Force Touch display.
Alternatively, Apple could strengthen the iPhone body by embedding a stiff material -- such as a carbon fiber sheet-- on the inside of the device, while etching circular or triangular pockets to reduce its weight.
Waterproofing
Apple is also toying around with ways to waterproof future iPhones, according to a patent application published by the U.S. Patent and Trademark Office. Apple's invention coats device internals components with a hydrophobic layer to protect them from moisture, instead of sealing it entirely from the outside. Individual connectors would be protected with silicone seals. But as with many of Apple's patent and inventions, it's unknown if or when it plans to use the invention in its future iPhones.
Colors
Apple may also roll out a Rose Gold color option to add to its current lineup of Space Gray, Silver and Gold iPhones. This would put the phone in line with the finish options available on the Apple Watch.
Storage
The return of a 32GB storage option for the iPhone 6S may also be in the works, according to market research firm TrendForce. This would kill off the 16GB base option leaving customers with 32GB, 64GB or 128GB to choose from.
Third iPhone Model
Apple may also be working on a third iPhone model, the so-called plastic "6C." The phone may feature a 4-inch screen similar to the 5C and a few features from the iPhone 6, such as Touch ID and a near-field communication (NFC) chip for Apple Pay. But Apple may not debut the plastic phone until 2016, according to China's Economic Daily News.
No Antenna Lines
Apple is also developing new materials that can look like the anodized aluminum of the iPhone, but allow radio frequencies to pass through, according to a U.S. patent application published on Thursday. Whether or not this makes it into the iPhone 6S has yet to be seen. But by implementing the invention, Apple would be able to get rid of the plastic antenna lines currently found in its iPhone 6S and 6 Plus.
Release Date
Officially, Apple hasn't announced a new iPhone. But if it continues the trend of previous releases, fans are likely to see one unveiled in September along iOS 9, followed by sales a few days later.
According to a Vodafone memo obtained by Mobile News, Pre-orders could happen as early as September 18, followed by sales on September 25.
le iPhone 6 Plus vs Apple iPhone 6 | SpecOut
© Copyright IBTimes 2023. All rights reserved.
FOLLOW MORE IBT NEWS ON THE BELOW CHANNELS