iPhone 8 Vs Galaxy S8 Vs Galaxy Note 8: Rumors And Specs Comparison For Samsung And Apple 2017 Flagship Phones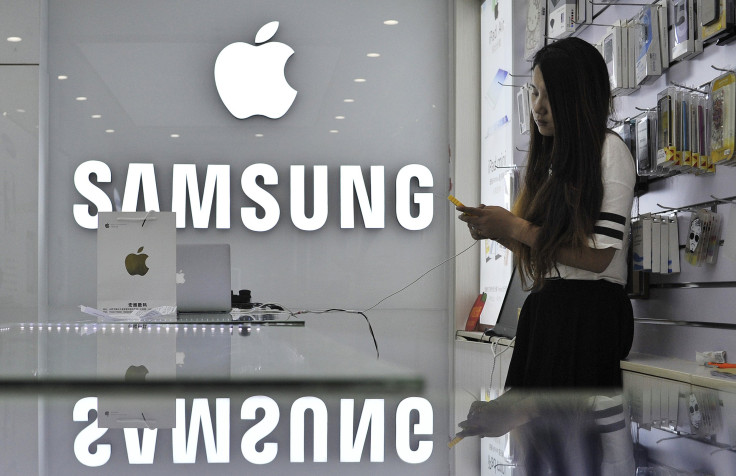 The 2017 battle of the flagship smartphones begins March 29, when Samsung unveils the Galaxy S8. Consumers will have wait several months before the Galaxy Note 8 and iPhone 8 launch, but once all devices are on the market they will heavily scrutinized against one another.
There are a considerable amount of rumors circulating for all the devices, giving an interesting idea of what the smartphones look like, weeks and months before launch. Here is a detailed comparison of what we know about the iPhone 8, Galaxy S8 and Galaxy Note 8 so far.
Display
Apple may take an interesting spin the with iPhone 8. Rumors suggest three models of the flagship will release in 2017. There may be two models, a 4.7-inch and 5.5-inch, with Apple's standard LCD display. There may also be a third, 5.8-inch smartphone with a curved OLED display. Such a model would be a first for Apple, though they have been popular on many premium Android smartphones for some time. OLED displays are known for better color accuracy and contrast, while LCD displays are considered more power efficient. Recent reports indicate Sharp is currently investing heavily in OLED displays. Apple is also partnering with Samsung to provide OLED displays. Consumers can possibly expect all iPhones to feature OLED displays by 2019.
Meanwhile, Samsung may be gearing up to introduce two phablets in spring 2017. The manufacturer may release a 5.7-inch or 5.8-inch Galaxy S8 and a 6.2-inch Galaxy S8 Plus, both with dual-edge curved displays. However, the devices are expected to be not much larger than the 5.5-inch Galaxy S7 Edge and the 5.7-inch Galaxy Note 7 respectively. Samsung has been using Quad HD AMOLED displays on its flagships for some time and this likely won't change on the Galaxy S line for now.
While specs rumors for the Galaxy Note 8 have not officially commenced, there is a possibility the 6.2-inch Galaxy S8 Plus is a preempt before a new Note model with a larger display and a smaller frame. The Galaxy S8 and Galaxy S8 Plus are expected to have no home button with thin bezels and an 18:9:5 aspect ratio, which expands functional screen area on a device. The Galaxy Note 8 may take on a similar form. There have been some murmurs than Samsung might use a 4K display on the Galaxy Note 8.
Hardware
Internal specifications for all the 2017 flagships remain fairly standard. The iPhone 8 will likely lead with a new A11 processor, marketed as faster and more power efficient than the prior A10 chip. After introducing 3GB of RAM on the iPhone 7 Plus, it is possible one or more of the iPhone 8 models may also include 3GB of RAM. Apple may retire the 32GB internal storage option in favor of a 64GB model, in addition to offering the standard 128GB and 256GB models. Battery rumors remain vague, with recent reports suggesting the iPhone 8 may have the ability to charge within minutes. Some preliminary rumors have suggested a 2,700mAh L-shaped battery for at least one iPhone model.
Samsung recently announced its Exynos 8895 chip, which could be a component for the Galaxy S8. The Snapdragon 835 could also be included in some Galaxy S8 models, as it is a collaboration between Qualcomm and Samsung. Rumors largely agree that the smartphone will likely include 4GB of RAM and 64GB of internal storage; however, there may be a model with 6GB of RAM and 128GB of internal storage available in China. Battery rumors have been conflicting, with some reports suggesting 3,250mAh and 3,750mAh batteries for the S8 standard and S8 Plus respectively, while others have suggested 3,000mAh battery and 3,500mAh cells.
Consumers can likely expect the Galaxy Note 8 to take after the Galaxy S8, with the Exynos 8895 and Snapdragon 835 chips. Some murmurs suggest the smartphone could feature 6GB of RAM and up to 256GB of internal storage. Battery details have not surfaced, but the Galaxy Note devices typically commands more power than the standard Galaxy S devices. The Note 8 could have a battery capacity similar to that of the Galaxy S8 Plus. Similarly, the Galaxy S7 Edge hosted a 3,600mAh battery and the Galaxy Note 7 a 3,500mAh, with the latter cell being smaller, due to the Note 7 S-Pen.
Design
The iPhone 8 will be Apple's 10th anniversary device, and long standing rumors suggest the smartphone will have a completely revamped design, with glass paneling and a metal frame. The device will likely have an updated look, comparable to older glass-and-metal iPhones, but the iPhone 8 is expected to feature a curved display. Rumors suggest the 5.8-inch OLED display model may actually have a similar size to the 4.7-inch iPhone 7, which could made the device quite small. The iPhone 8 may introduce new color options, such as red, or may include only a few from Apple's past and current color lineup, which includes silver, space gray, gold, rose gold and jet black.
Renders and live leaks have all but confirmed the Galaxy S8 design, which largely includes, a glass-and-metal exterior with no home button and thin bezels. Samsung's teaser for the March 29 Unpacked event also hints at a device with home button and thin bezels, solidifying rumors further. The Galaxy S8 may also feature new color options, such as Orchid Gray. Samsung could bring back the Blue Coral option, which was first introduced on the Galaxy Note 7 and then transferred to the Galaxy S7 Edge. The manufacturer also released a Black Pearl color option, similar to Apple's glossy Jet Black model.
Much like the Galaxy Note 7 favored the Galaxy S7 Edge in design, the Galaxy Note 8 may in particular favor the Galaxy S8 Plus in design. Murmurs suggest the devices could have similar display sizes, with the addition of an internal S-Pen on the Galaxy Note 8. The early-fall flagship may similarly feature no home button and thin bezels, after they are confirmed on the S8. The Galaxy Note 8 may also share some of the Galaxy S8 color options, while also introducing some new color options to Samsung's line.
Camera
Rumors have not pinpointed how many megapixels may be in the iPhone 8 cameras, but there are several other camera feature claims circulating for the device. Analysts suggest the 4.7-inch iPhone 8 may have a single-lens camera, while the 5.5-inch and 5.8-inch models may have a dual-lens (wide-angle and telephoto) shooter. Apple introduced the dual-lens camera on the iPhone 7 Plus to allow for special camera effects, such as bokeh, and to increase the popularity of the larger, pricier iPhone. It wouldn't be surprising to see the manufacturer make a similar move with the iPhone 8. Rumors also suggest the iPhone 8 may include 3D photography aspects for the device's rear camera and a dedicated 3D FaceTime front-camera, to be used for enhanced selfies and other image related features.
Rumors have been undecided about whether the Galaxy S8 will feature a single-lens or dual-lens camera. Currently, there is surmounting evidence in favor of the latter. Reports indicate Samsung has been marketing the dual-camera capabilities on the Exynos 8895 chip. The Snapdragon 835 chip also supports dual-camera lenses up to 16-megapixels. Rumors suggest a 12-megapixel rear camera and 8-megapixel front camera. Both will likely have a wide aperture and some Galaxy Note 7 camera features, such as HDR OIS and the up or down swipe to flip between the rear and front camera mechanism.
Nothing is known about the Galaxy Note 8 camera; however, the shooter is likely to favor the Galaxy S8's feature. Or if the Galaxy S8 does not feature a dual-lens camera, the feature could be saved for the Galaxy Note 8. Either option is possible, especially if the Note 8 features the Exynos 8895 and/or Snapdragon 835 chip.
Software
Apple is expected to announce iOS 11 during WWDC in June, which would be the native operating system for the iPhone 8 and other 2017 Apple devices. Rumors suggest the OS may include an Apple-centric social media application similar to Instagram or Snapchat and a dark mode interface. Rumors also suggest an on-screen home button or a new mechanism called the Function Bar, which may be similar to the MacBook's Touch Bar. The Function Bar feature may be software-based and be a hub for several different task including fingerprint scanner authentication. Rumors also suggest upgrades to the Siri personal assistant software to allow for more contextual responses.
The Galaxy S8 is expected to run Android 7.0 Nougat as its native operating system, which includes new emoji, multiwindow, 3D graphics, Doze on the go battery control, customizable quick settings, notifications controls and update optimizations among many other features. The Galaxy S8 may also have on-screen navigation buttons in lieu of the capacitive buttons that previously resided in the bottom bezel of Samsung's devices. The smartphone may also feature computer station software called Samsung DeX, an AI assistant feature called Bixby and a super-computing function called Beast Mode.
The Galaxy Note 8 may also include these software features, particularly Android 7.0 Nougat. The Note 8 may release in the late summer or early fall, similar to the Galaxy Note 7 and Galaxy Note 5. This time frame could be too soon after the release of Android O for the new software to make it onto the Galaxy Note 8. In 2016, Google released Android Nougat in July, while the Galaxy Note 7 released in August running Android 6.0.1 Marshmallow. However, the Galaxy Note 8 would likely be the first Samsung smartphone to update to Android O after its release. The Galaxy Note 8 would likely also feature Samsung DeX, Bixby and Beast Mode; however, software features specific to the smartphone remain unknown. The Galaxy Note 8 could include new Air Command features to go with its built-in S-Pen stylus.
Special Features
The iPhone 8 may include several new features, including an upgrade to IP68 water resistance and wireless charging. Apple is expected to do a mostly-glass design on the iPhone 8 to allow for these features, particularly wireless charging. An alternative rumor to the Functional Bar suggest the iPhone 8 fingerprint scanner may be embedded underneath its screen and may be activated anywhere on its display. Another new iPhone 8 feature could be a facial recognition mechanism to rival features on the Galaxy S8. The 3D front camera rumored for the iPhone 8 may also be connected to an authentication function using facial recognition. Recent rumors have suggested the iPhone 8 may include a USB-C power port instead of Apple's proprietary Lightning port; however, follow up reports suggest Apple may introduce new cables that have Lightning port to connect to the phone and a USB-C port to connect to the opposite end. If accurate, the new cable configuration would allow iPhones to have direct compatibility with MacBooks once again. Rumors also suggest Apple may implement an augmented reality feature on the iPhone 8 as a preamble to VR headsets. The AR feature may also utilize the phone's rumored 3D camera. Apple has also acquired companies that work with AR software, which all lend toward an iPhone compatible feature.
Coupled with the home button removal, the Galaxy S8 fingerprint scanner may be moved to the back panel of the device. Such a feature isn't exactly new, but it is new for Samsung. Leaks and renders have shown supposed Galaxy S8 models with a button on its back panel, which is likely designated for its fingerprint scanner. Upgrades from the Galaxy Note 7, which allow for faster fingerprint detection may also make it onto the Galaxy S8. The Galaxy S8 may have an iris scanner and USB-C port, both of which are also features, originally introduced on the Galaxy Note 7. There are reports of the Galaxy S8 supporting an external S-Pen stylus, which may be sold separately. Features including water resistance and wireless charging are now commonplace on Samsung's smartphones. However, wireless chargers would also be upgraded to USB-C if the S8 gets the feature.
So far nothing is known about special features for the Galaxy Note 8. The device will likely also include features such as a rear fingerprint scanner, water resistance and USB-C. Note 8-specific features remain to be seen.
Price, Release Date And Availability
Reports suggest the rumored dual-edge curved OLED display iPhone model could exceed $1000 due to its design and features. Aspects including new internal storage options and wireless charging could quickly and easily add to the smartphone's price. However, it is possible that base models of the iPhone 8 may be cheaper, while premium models with higher memory and storage capacities would be more expensive. Currently, the 256GB iPhone 7 Plus is the most expensive in the current line, selling for $969. Apple's iPhone keynote is expected to remain in September, but a specific iPhone 8 release date has not yet been announced.
Rumors suggest the Galaxy S8 may sell for $849, while the Galaxy S8 Plus may sell for between $900 and $950. Their display size and shape and storage capacities may all contribute to the high price. Samsung has confirmed it will host an Unpacked event in New York City March 29 to announce a new smartphone. Reports suggest the device may be available for pre-order between April 10 and 13 and may release to the market between April 21 and 28.
The Galaxy Note 8 could similarly be in the $900 and $950 range, as it could favor the Galaxy S8 Plus in many aspects. However its price and release date details remain unknown. Analysts expect Samsung may keep the Galaxy Note 8 announcement and release date in a similar late-summer time frame. This remains to be seen as the manufacturer delayed the release of the Galaxy S8 from its usually February/March release time to between March and April. In the past Galaxy Note devices were announced and released in the September/October time frame.
FOR FREE to continue reading
✔️ Unlock the full content of International Business Times UK for free
offer available for a limited time only
✔️ Easily manage your Newsletters subscriptions and save your favourite articles
✔️ No payment method required
Already have an account?
Log in
© Copyright IBTimes 2023. All rights reserved.