An iPhone-Controlled Miniskirt? Wearable Tech Company, CuteCircuit, Debuts Light Up Clothes At New York Fashion Week [PHOTOS, VIDEO]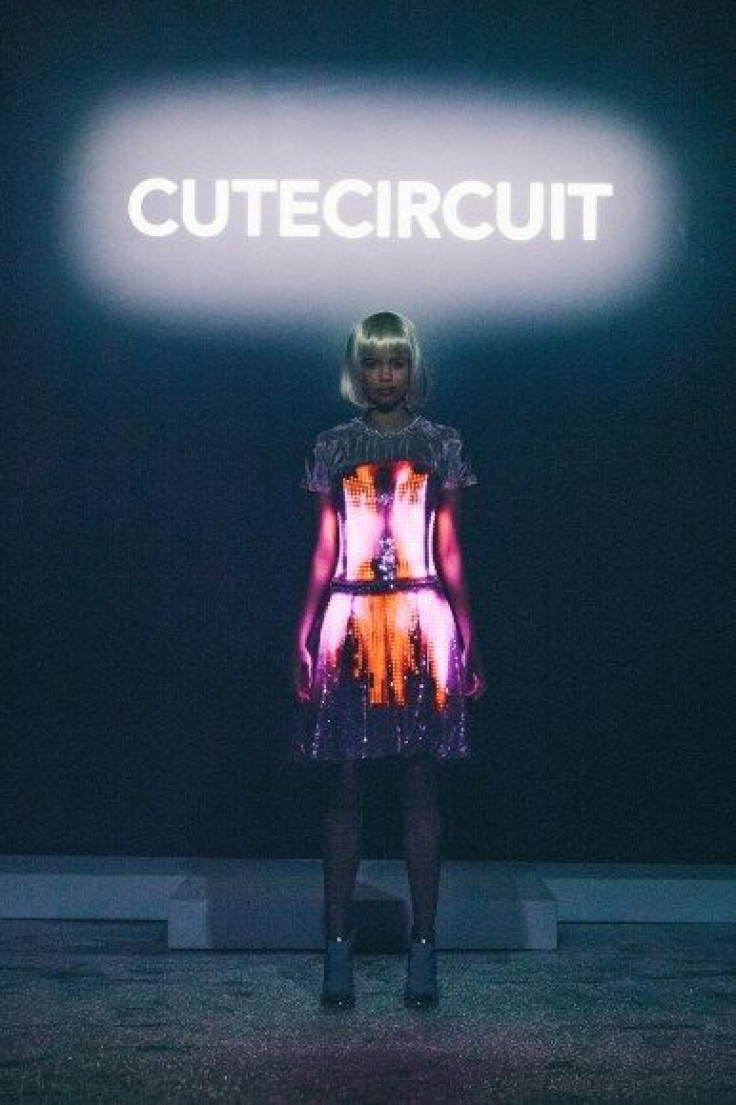 Ravers and tech enthusiasts rejoice: The future of fashion may be a tap on the iPhone away.
On Tuesday at New York Fashion Week, editors were treated to a different kind of show, one that merges runway with technology straight out of the movie "Tron" or "The Jetsons" with ready-to-wear LED light-up skirts, blazers and evening dresses by CuteCircuit.
The British design duo behind the wearable tech company, Francesca Rosella and Ryan Genz, have been working on the technology controlled by smartphones for over 10 years, but the tricky part was the "wearable" part.
"We always wanted to make things that weren't science fiction," Genz told The International Business Times after the show at The Hub at Hudson Hotel. "We wanted to make things that were really cool and magical but we want to make sure it can be integrated into clothes that people can actually wear."
"It's amazing that you cannot even feel it; it feels like a normal garment," Rosella said of the clothing. "It's been a long time coming."
The reality of it is very simple to understand, even if you're not tech savvy. Rosella explained to me that the garments are connected to a smartphone on a free app via Bluetooth. From there, the user has control of their garment and can alter the color or pattern.
"The mini skirt, for example, has something called the brain inside," she said. "The brain is Bluetooth blue energy as well and it has a very powerful chip on top that is like a computer. But it's really tiny. When your phone connects to the garment, you have an interface that allows you to change the pattern or color."
Genz said the app, which will be available on the Apple App Store in the near future, allows you to control "your whole wardrobe," whether it's the mini skirt, the light up handbag, blazer or evening gown, and even download new patterns.
And while it was their big debut during the Big Apple's Fashion Week, CuteCircuit already has celebrity clientele; Nicole Scherzinger famously wore its Twitter dress with live updates streaming across and Katy Perry wore a light-up gown by CuteCircuit to the 2010 Met Costume Institute gala.
"We love the Twitter dress," Rosella said. "I think it was really great because we brought the social network and people love celebrities on the red carpet so that's really, really fun."
CuteCircuit's design duo is hoping their creations will take over the market within the next few weeks, now that the public knows their wearable technology is possible and, well, wearable.
"Everything we do we sort of dream it first and then we try to make it turn into reality," Rosella said.
Check out video from the show and more photos below.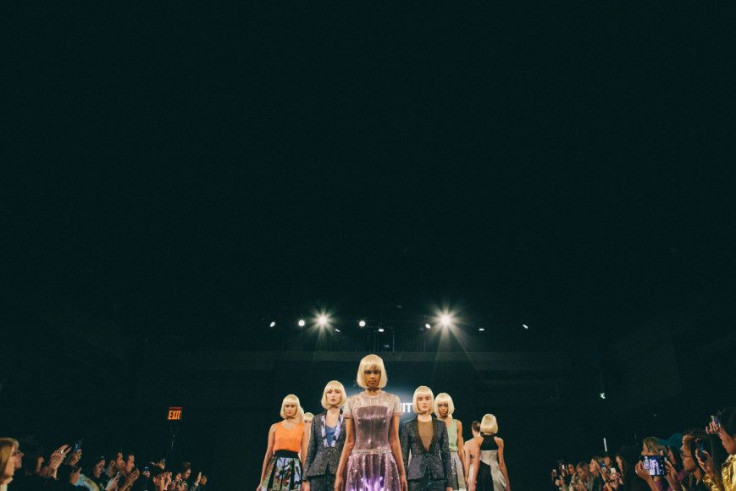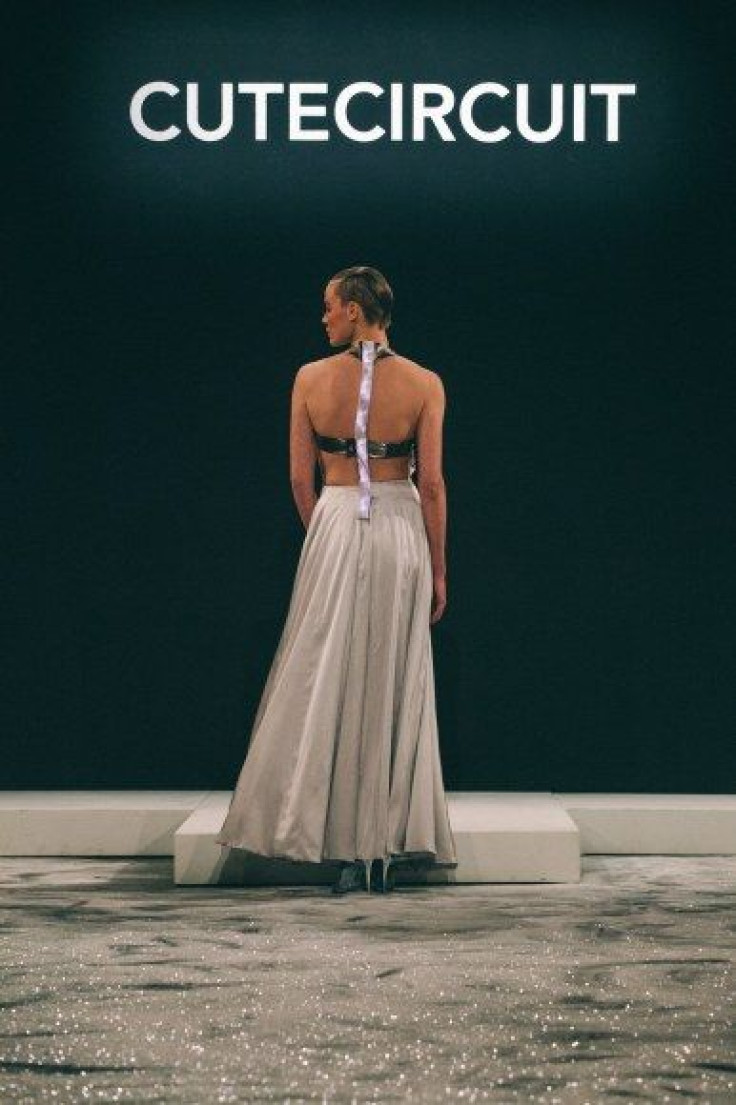 CuteCircuit NYFW 2014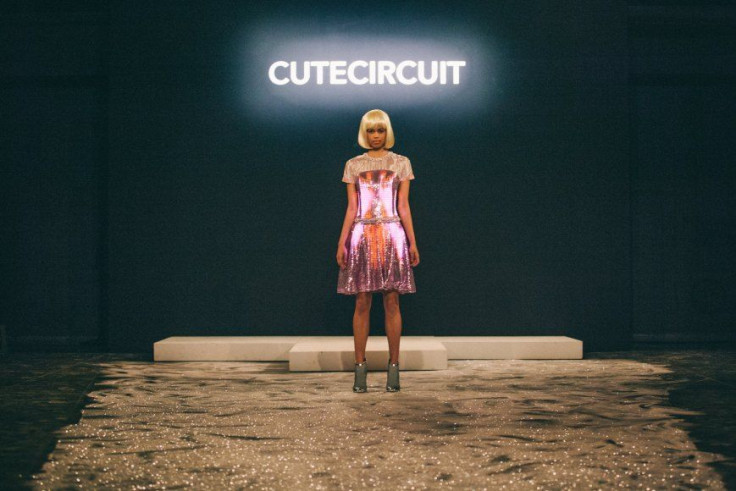 © Copyright IBTimes 2023. All rights reserved.