iPhone SE vs. iPhone 6: Three Reasons Why You Should Choose Apple Inc.'s 4-Inch Smartphone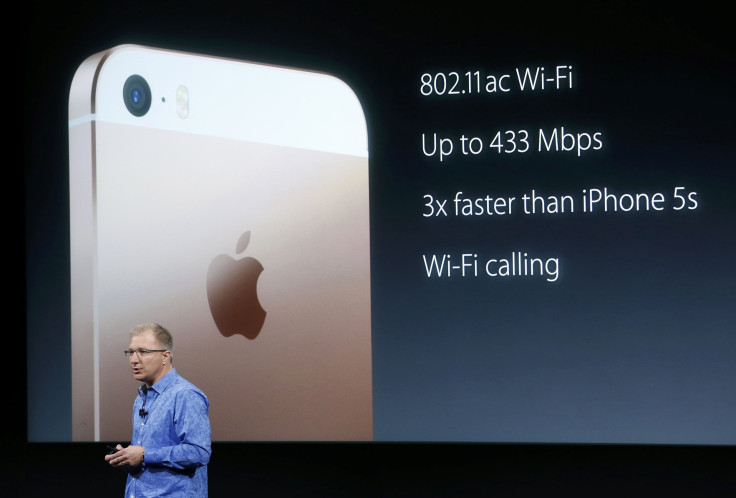 The iPhone SE, Apple's latest 4-inch iPhone, was unveiled to the world Monday with a super low starting price. iPhone shoppers may be tempted to skip the SE for the iPhone 6, which has a bigger and better display, but there are plenty of reasons to consider saving some money and opting for the SE.
On price, the iPhone SE blows the 6 out of the water. Starting at just $399 for the 16GB model, with a 64GB model priced at $499, the iPhone SE is $150 less than the iPhone 6 at both storage tiers.
Display-wise, it's no contest. The iPhone 6 sports a 4.7-inch display. It doesn't sound much bigger than the SE's 4-inch screen, but in reality those extra 0.7 inches make a big difference. The contrast ratio is also better on the 6, which means colors appear more vibrant, while dual-domain pixels mean better viewing angles. The SE will appeal to those that don't want a big screen, though, consumers who'd much rather have a smaller phone than more screen real estate.
But despite being $150 less than the iPhone 6, the SE comes with a far stronger processor. When it unveiled the iPhone 6s, Apple ranked its A9 chip as 70 percent faster than iPhone 6, with 90 percent more graphics speed. Apple is now using this same chip in the iPhone SE. Confusingly, those who want the best processor speeds for their money will be far better off with the cheaper iPhone.
The better processor also means SE owners can operate their phone with voice commands. The M9 motion coprocessor, built into the A9, enables users to say "Hey Siri" and get answers to a range of basic questions, all without touching the device.
The SE also has a better camera than the iPhone 6. Where the 6 has an 8-megapixel camera, the SE boosts this to 12, while also building in Live Photos support for moving photos. The SE also offers 4K video shooting, while the 6 supports only the lower-resolution 1080p standard.
On paper, it may seem like a no-brainer. The SE has a better camera, processor and new "Hey Siri" features. But the small screen of the SE, eclipsed by the iPhone 6, may be hard for consumers to swallow.
© Copyright IBTimes 2023. All rights reserved.
FOLLOW MORE IBT NEWS ON THE BELOW CHANNELS