iPhone X, iPhone 8 Price And Release Date Success Could Rely On Reviews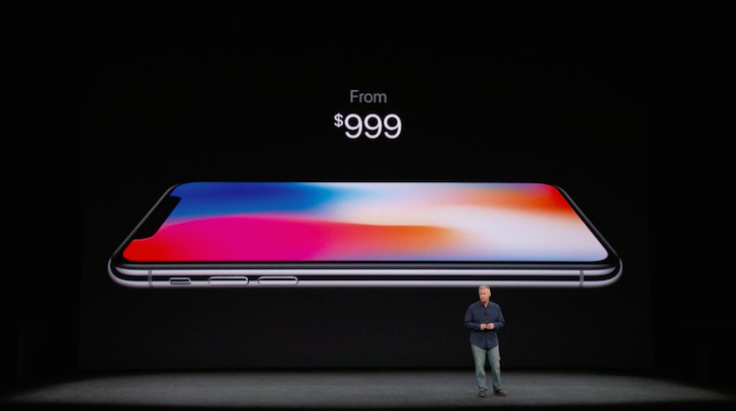 While the iPhone 8 and iPhone 8 Plus were made available for preorder Friday, the impending release of the new smartphones is an interesting turn for the tech giant, as its most interesting product, the iPhone X, won't be available, even for preorder for another month. Analysts previously had favorable projections for high shipping volumes of the iPhone X for the current quarter and 2017 as a whole. However, now that the super premium device has been confirmed for a Nov. 3 market release, shipping estimates for the iPhone X have gone from two to four million units to zero units, data firm, KGI Securities recently reported.
The iPhone X may not be on the market until after Apple announces its earnings results for the current quarter, which will likely take place in late October. This could be precarious for Apple as the company won't see immediate profits from the iPhone X. It could also see lower profits from the iPhone 8 and iPhone 8 Plus, which may sell in smaller volumes if consumers decide to wait for the iPhone X to release to decide which device they favor. To mitigate this, analysts suggest Apple showcase the iPhone X early and often, especially through reviews by press and influencers.
"Get it in the hands of reviewers quickly, so consumers can look at it and go, 'actually, I can spend less money [on the iPhone 8], I can spare the fingerprint sensor, I don't really need the bigger screen'," IHS Markit analyst, Ian Fogg told International Business Times. "They will go ahead and buy and iPhone 8 now, instead of waiting a month for the reviews of the iPhone X to come out and then make a decision."
Most reviews of the iPhone X have been first impression opinions from Apple's Tuesday launch event, but in-depth reviews have yet to surface. Currently, the biggest question is whether the iPhone X is worth its high starting price, which is several hundred dollars more expensive than Apple's other 2017 options. While the iPhone X offers many features, similar to the top Android devices on the market, it is unlike any other iPhone. This will continue to be Apple's selling point, regardless of when official reviews come out.
"When you look at the new iPhone X it delivers a bigger display, in a phone that's smaller and lighter than the iPhone 8 Plus or the iPhone 7 Plus," Fogg told IBT. "In some regards it's a return to the world we had before the iPhone, where the more expensive phones tend to be small and the cheaper phones tend to be large. Except here, you've got a smaller phone with a larger display. It's a compelling mix."
There will still be many who intentionally wait for the iPhone X, but the biggest shock about the device remains that its cheapest model is $999. However, Apple has had iPhone models approaching the $1000 range for some time. The iPhone 7 Plus, 256GB sold for approximately $969 unlocked in 2016, a mere $30 less than the iPhone X.
"If you're already spending about $1000 on a phone, what's another [$30] for a device you use several times a day every day," Fogg said.
Despite lower starting prices for standard iPhones, Apple's appeal has long been offering devices, for which consumers are willing to spend money. In recent years, the introduction of the Plus line and higher storage capacities have propelled iPhone prices upward. Additionally, with most purchasing options for the iPhone X being installment based, many likely won't even realize they are spending $1000 on the phone.
Flagship smartphones aren't getting any cheaper across the market. While Apple has broken through with one of the most expensive super premium products so far, competitors are close behind. The Samsung Galaxy Note 8 starts at $930. Fogg noted many manufacturers don't profit from device sales and heavy hitters, such as Apple and Samsung have been forced to raise product prices to ensure profits. Component costs, such as displays and flash storage, continue to increase, driving up device prices overall. This has even shifted the typical starting prices for standard iPhone and iPhone Plus models from $649 and $749 to $699 and $799.
© Copyright IBTimes 2023. All rights reserved.
FOLLOW MORE IBT NEWS ON THE BELOW CHANNELS