Samsung Galaxy Note 8 Review: A Benchmark For The Hefty And Expensive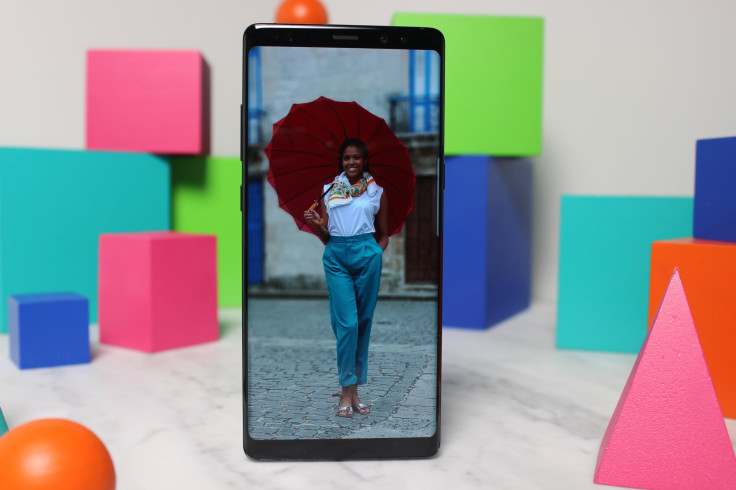 In comparison to the Galaxy Note 8, my everyday driver, a Galaxy S7 Edge, is minuscule. I got this device a year ago, but now, it may as well be a Sidekick from the early 2000s -- a relic that will soon be heavily discounted and may see its last hurrah during Black Friday.
An ever faithful companion, my Galaxy S7 Edge has been put through its paces. Next to the Galaxy Note 8, its cracks and smudges scream "I'm not worthy." As Samsung prepares to release the Galaxy Note 8 to market Sept. 15, it showcases a culmination of experiments and lessons, compacted into an understated handheld computer. The device itself is a timeline of all of the manufacturer's successes and failures between 2015 and now.
Coming full circle after a tumultuous year, Samsung has long proven that it, in fact, has the chops to recover from a devastating point in its premium device timeline. The Galaxy S8 and Galaxy S8+ released seamlessly in April and were hailed by the public and enthusiast communities. To Samsung's benefit, the Galaxy Note 8 does not speak for the shortcomings of the Galaxy Note 7 and should easily find its own story amid many devices that are transitioning into a new era of design and functionality. Here is my take on how the Galaxy Note 8 stands as Samsung's latest and greatest.
Display And Design
An interesting fact about the Galaxy Note 8 is that at 6.3-inches, its display is the same size as the screen on the 2013 Samsung Galaxy Mega, a whale of a device with 167.6 x 88 x 8 mm dimensions. The Galaxy Note 8 has 162.5 x 74.8 x 8.6 mm dimensions, accented by its dual-edge curved, infinity display, which it inherited from the Galaxy S8 and Galaxy S8+.
Samsung differentiates between the 2017 models by giving the Galaxy Note 8 a more boxy frame. I personally prefer the more rounded corners on the Galaxy S8 devices, but the symmetry of the Galaxy Note 8 is striking and screen real estate seems never ending. However, many applications, including YouTube and HBO Now are not optimized to take advantage of the full screen. Fortunately, Netflix is optimized, and also now supports HDR video playback for the device. The Quad HD+ display on the Galaxy Note 8 has been rated as the best on the market by Displaymate.
Much like its cousins, the Galaxy Note 8 is tall and thin, sporting an 18:9:5 aspect ratio and no physical home button. It must have also been to the gym during its development cycle because it has a considerable amount of weight to it at 195g. In comparison, the Galaxy S8+ weighs 173g, while the iPhone 7 Plus weighs 188g. It is possible that additional features, such as the S-Pen may contribute to a heavier device, but even with the stylus removed, the Galaxy Note 8 has a weighty feel.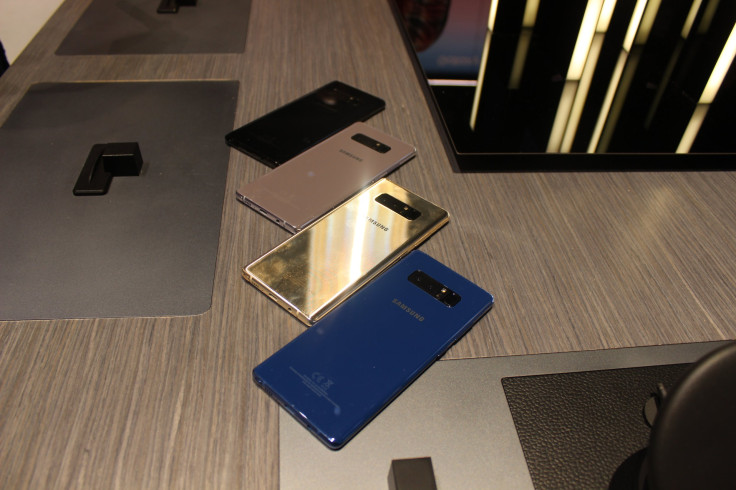 Color options for the Galaxy Note 8 include Orchid Grey and Midnight Black, which will be available in the U.S., as well as Deep Sea Blue and Maple Gold, which will be available internationally. Samsung also announced a Star Pink option, exclusively for Taiwan.
The manufacturer declined to comment on the absence of the popular Coral Blue color option, but fingers crossed that it will turn up eventually. With the distinctive Galaxy Note 8 colors relegated to the back of the device, I remain a fan of the sleek look of the black-on-black model. Without a Coral Blue model, I've begun to show favor to the Orchid Grey, which I wasn't a fan of on the Galaxy S8. Given the option, the shade, which is more lavender than anything would be my pick to purchase.
I'd very much recommend a clear case to protect the all-glass exterior while showing off your chosen color. The Galaxy Note 8 is likely even more fragile than the Galaxy S8 and Galaxy S8+, given how much larger and heavier it is in comparison.
Hardware And Battery
Samsung hasn't done anything extraordinary in terms of hardware. The Galaxy Note 8 runs the same Qualcomm Snapdragon 835 chip seen on the Galaxy S8 and Galaxy S8+. It does have a memory bump from 4GB to 6GB RAM, but honestly, that was to be expected, considering the last memory upgrade came with the Galaxy Note 5. Internal storage remains standard at 64GB with expandable storage up to 256GB.
It is not surprising, but still interesting that the Galaxy Note 8 houses a 3,300mAh battery, a smaller capacity than the 3,500mAh batteries featured on both the Galaxy S8+ and Galaxy Note 7. This move shows that the battery downfall of the Galaxy Note 7 is not completely forgotten; however, Samsung explained that with the optimization of both the processing chip and software on the Galaxy Note 8, consumers should have no issue with battery life. So far the handset appears to do well with moderate performance usage, including photography, browsing and streaming with display brightness at a higher level.
On average, I've seen roughly a 40 percent drop in battery life between early morning and early afternoon. On the day before the publishing of this review, the Galaxy Note 8 battery went from about 86 percent to 48 percent between 7 a.m. and 2 p.m. I've consistently seen a battery depletion of about just 10 percent with the device being left idle and discharged overnight. Fast charging can easily take the handset from about 50 percent to near fully charged (about 85 to 95 percent) in about one hour. I have yet to experience any battery warning or battery death situations.
Software And Performance
Interface performance on Samsung's devices has slowly improved with each iteration and the Galaxy Note 8 has similarly seen some upgrades. I've experienced minimal lag while opening applications and no crashes. The infinity display wallpapers, which move as the handset is moved have a level of novelty that hasn't yet worn off, at least not for me. The Galaxy Note 8 runs Android 7.1.1 Nougat with the Samsung Experience version 8.5 UX. There is no word on when the device will update to Android Oreo, but it will likely be among the first Samsung models to receive the new software.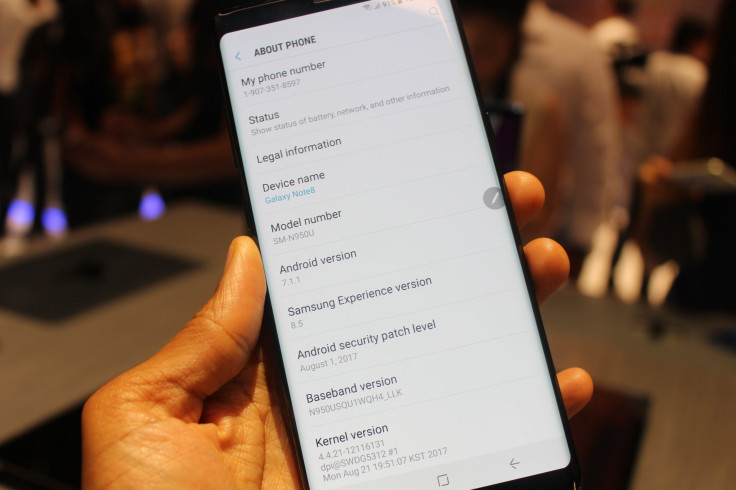 Having loaded applications backed up from an older device, my app drawer was a mess by the time the Galaxy Note 8 was set up. However, with about half an hour of organization, I had all of my applications set up as I like them. My aim is to keep all applications relegated to one page within the app drawer, but other users can organize their app drawers as they wish.
One interesting feature I enjoyed while setting up is that extra screen panels automatically disappear from the app drawer when all application icons are cleared from the panel. However, users must still manually delete empty panels from the home screen.
Bixby Voice
With nine folders set up in my app drawer to keep my applications organized, I've taken stock of how Samsung's AI assistant, Bixby could potentially be beneficial for easier navigation of the Galaxy Note 8. In practice; however, the feature seems no more challenging than manually searching for a specific application.
After a long delay, Bixby Voice has recently rolled out onto older premium Galaxy devices but comes standard on the Galaxy Note 8. Similar to features such as facial recognition and fingerprint scanning, users must set up their voice signature in order to use Bixby. Once set up, users are encouraged to practice using Bixby to have the assistant learn their patterns. They can also earn points and rewards.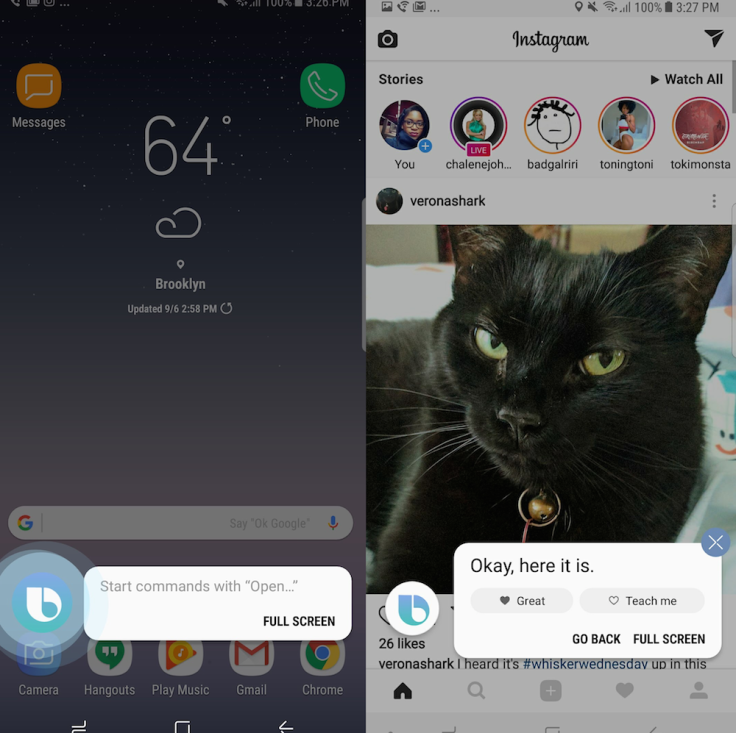 In use, it sometimes took several attempts of trying to say "Hello Bixby" in the exact inflection, in which I set up the feature to launch the assistant before moving forward to an actual request. But once alerted, commands, such as "Launch Instagram" or "Open Google Play Music," were easily understood. I imagine while still in its infancy, many Galaxy Note 8 users may have to make a conscious effort to use Bixby Voice as a primary mode of navigation. Surely placing commonly used applications on the home screen or other locations that are easy to access will remain an uncontested mode of device navigation for some time -- especially since the Galaxy Note 8 has more screen real estate to hold more app icons on the home screen and the main panel of the app drawer.
S-Pen And Other Special Features
Ever a Galaxy Note fan, I have never been more excited to have access to an S-Pen stylus once again. The S-Pen still does very little for my actual penmanship, but its pen point sensitivity is sharp as ever, supporting 4,096 pressure levels. Hovering the S-Pen about half an inch away from a handset, the Galaxy Note 8 will detect the stylus with a cursor on the screen.
Samsung's Screen Off Memo feature, which allows users write with the S-Pen on an idle screen, now supports up to 100 pages when a memo is saved into notes. The feature pretty much appears as endless scrolling -- or users can jump between pages with the on-screen tabs. Once accessed in notes, users can also continuously scroll through the memo.
A new novelty feature on the Galaxy Note 8 is Live Messages, which allows users to write stylized text messages with the S-Pen and send them as animated gifs. Users can also share the gifs through social media. The idea is quite fun, but I've found, once saved, the gif quality may not be as high when sent through certain mediums. Through text, Live Messages came out blurry and the animation was much faster than when originally saved. However, when sent to a Google Hangout chat and to Twitter the animation quality was comparable to the original gif.
To ensure we don't forget about Apps Edge, Samsung has added a new feature called App Pair, which allows users to open two applications at once in a split screen. Multi-Window is a loved feature, which has long been cumbersome to setup manually. App Pair addresses this issue, creating a double icon to launch two applications directly into Multi-Window. Users can pair any two applications and can organize which app will open on top and which will open on the bottom. Good pairs would perhaps be Maps and a Voice application or Camera and Gallery. Users will have free reign to decide their own pairs.
I wonder if App Pair will ever be moved from the Apps Edge to the main part of a Galaxy Note 8 or any other Samsung device. It would admittedly be a great way to ensure the Apps Edge gets some use, so I could see that feature being very specific for some time.
Biometrics
Much like the Galaxy S8 and Galaxy S8+, the Galaxy Note 8 includes a host of security features, including three biometrics features: fingerprint scanning, iris scanning, and facial recognition. Iris scanning and facial recognition are for all intents and purposes the same. The Galaxy Note 8 has also adopted that pesky rear fingerprint scanner placement introduced on the Galaxy S8.
Reviewers have spent an entire six months criticizing this fingerprint scanner placement on the Galaxy S8 and Galaxy S8+, noting that it is easy to miss the scanner altogether and end up touching the camera lens. Samsung's answer to this on the Galaxy Note 8 has been that there is a wider space separating the scanner from the camera and flash. Considering the height of the Galaxy Note 8, the fingerprint scanner remains ill-placed, especially for users with small hands. I used the fingerprint scanner minimally even on the much smaller Galaxy S8. I see myself similarly favoring the iris scanner in terms of biometric authentication.
Camera
Samsung has committed itself to camera improvements for several generations of both the Galaxy Note and Galaxy S lines. Recent devices have been hailed as having some of the best mobile cameras on the market and the Galaxy Note 8 should be no different. The device introduces a dual camera setup, which includes a 12-megapixel wide-angle lens with f/1.7 aperture and a 12-megapixel telephoto lens with f/2.4 aperture. Both lenses feature optical image stabilization and 2x optical zoom. The telephoto lens also features 10x digital zoom.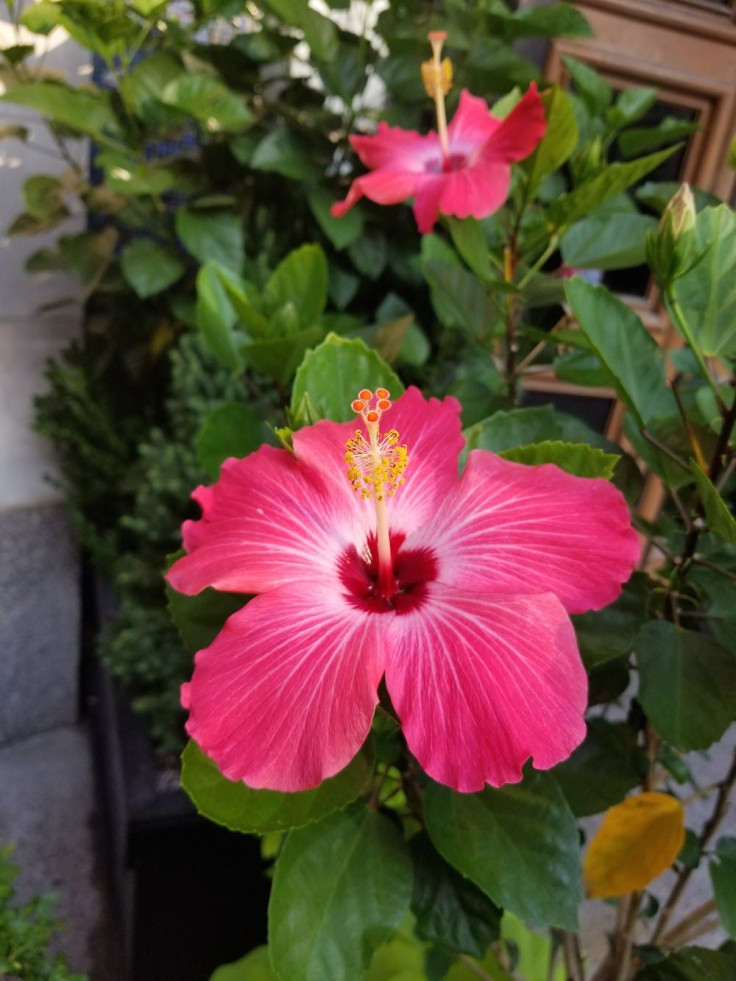 Propelling my obsession with flower photography, the Galaxy Note 8 produces sharp and color-rich images with little need for multiple shots. Improvements to the point focus within the camera application are easily apparent.
The highlight feature on the Galaxy Note 8 camera is Live Focus, which creates sharp foreground images contrasted as lightly or heavily against a blurred background as users would like. The feature is comparable to Portrait Mode on the iPhone 7 Plus, which also features a dual camera.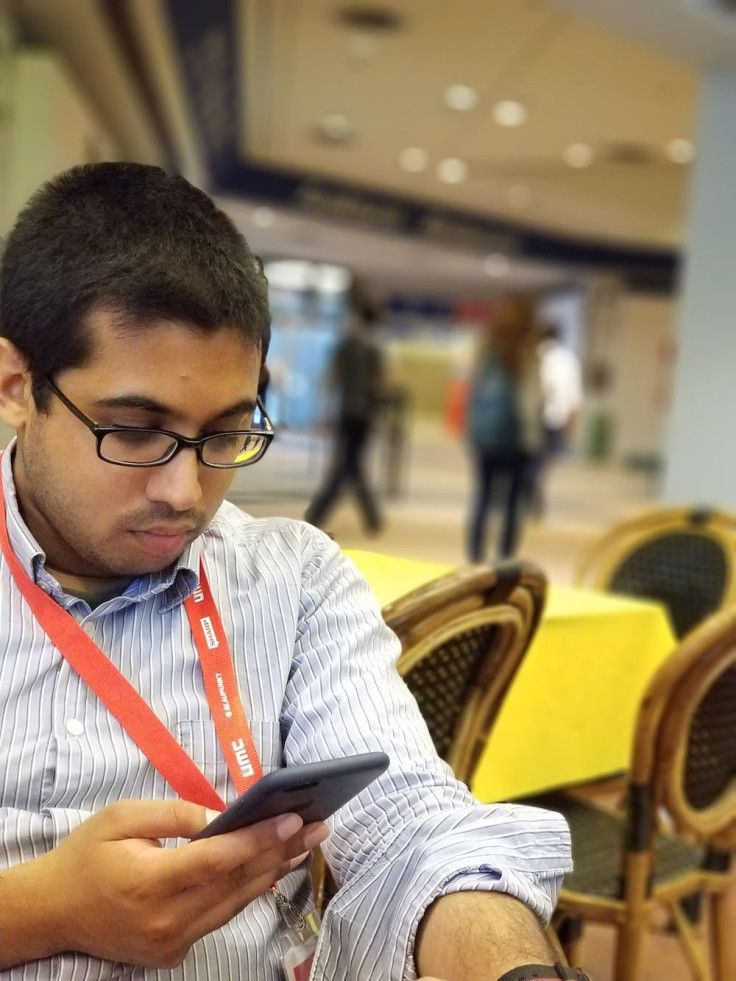 On the Galaxy Note 8 Live Focus captures multiple images and composites them into one contrasting shot. After an image is taken users can review both the close-up and wide angle shots and can adjust the level of blur in an image.
The ideal usage for Live Focus is taking a photo of a person against a blurred background. I found while attempting to take photos of an object against a blurred background, there were odd points of demarcation along the edges of the foreground object. The blur appears more seamlessly along the curvature of a person's features.
The Galaxy Note 8 also features an 8-megapixel front camera with f/1.7 aperture, which functions as well as any other Samsung selfie camera.
Verdict
There is a lot of say about the Galaxy Note 8, it has many high points and low points. It is an excellent device. It's beautiful and powerful, but honestly, it isn't a must buy.
The Galaxy Note 8 will set consumers back between $930 and $960 depending on the carrier or retailer. To spend that kind of money it would be ideal that a prospective owner be looking for a major upgrade from a much older device, such as the Galaxy S7, Galaxy S7 Edge or Galaxy Note 5.
Galaxy S8 or Galaxy S8+ owners may find there isn't much this device can do that their current drivers can't. Though many Note enthusiasts would likely just be glad to have the S-Pen back.
Many still await the long rumored on-screen fingerprint sensor feature and a more seamless AI experience, for which the Galaxy Note 8 may be a perfect set up. Samsung may find the device is more transitional in its line up than groundbreaking but overall a necessity in the Galaxy Note story.
If consumers would avoid the Galaxy Note 8 due to safety concerns, they should likely rest assured. No device is perfect, but for every critique of the Galaxy Note 8, I'd imagine those who purchase the device won't be disappointed.
© Copyright IBTimes 2023. All rights reserved.