iPhone X Release Date: People Rush Ahead To Trade In iPhone 8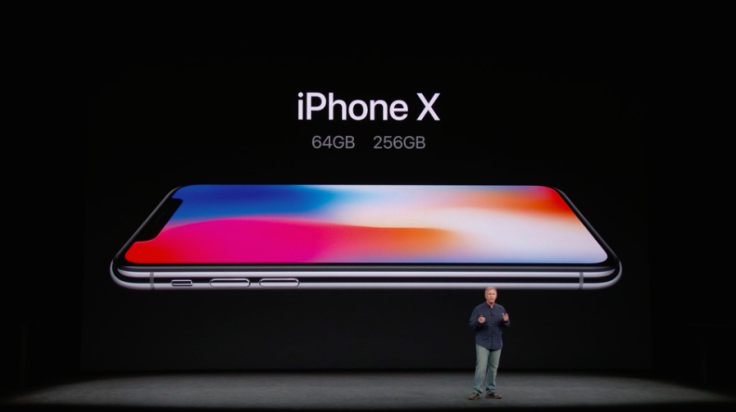 People are rushing to trade in their iPhone 8 and iPhone 8 Plus devices before the iPhone X releases on Nov. 3.
Decluttr, a site that buys electronics from consumers, said iPhone 8 trade-ins are "unusually high" as Apple gears up to launch the 10th anniversary device. Decluttr said it has seen more trade-ins of the 8 and 8 Plus received than any other previous new iPhone launched.
The iPhone 8 was released last month and was revealed alongside the iPhone X. The iPhone X has more features than the iPhone 8 and iPhone 8 Plus, like the Face ID and Animoji.
"Following the recent Apple launch, all the buzz and excitement has been around the iPhone X," Decluttr CMO Liam Howley said in a released statement. "The iPhone 8 has perhaps been less well received than previous handsets from what we're being told in the tech press and we're now actually seeing that for ourselves, through our own customers' trade-ins."
In the first month after the iPhone 8 was released, seven percent of what Decluttr is currently buying each day are iPhone 8s. The highest figure to that has previously been two percent, with the iPhone 6s.
"Many customers have obviously decided that they would prefer to sell the iPhone 8 while its value is at its highest, up to $630 for the 8 Plus, and put the money towards the new iPhone X which will cost $999 but comes with a host of new features, such as an edge-to-edge display, facial recognition, emoji's and OLED technology," said Howley. "Once a new phone enters the top of the market, all older phones will drop in price."
Howley said Decluttr always sees an increase in trade-ins before any new iPhone release and that the site expects to have their "busiest period of the year so far."
iPhone X Release Date, Pre-Order, Time
The iPhone X will be available for pre-order on Friday Oct. 27 at 12:01 a.m. PDT on apple.com and on the Apple Store app. The device will be available to walk-in customers at Apple Stores on Nov. 3 at 8 a.m. local times. Apple encouraged customers to arrive early to get their hands on the device.
The announcement comes after numerous reports and Wall Street analysts said the iPhone X will be released in limited quantities.
Countries The iPhone X Will Release
Apple listed countries and territories the iPhone X will be available in: Andorra, Australia, Austria, Bahrain, Belgium, Bulgaria, Canada, China, Croatia, Cyprus, Czech Republic, Denmark, Estonia, Finland, France, Germany, Greece, Greenland, Guernsey, Hong Kong, Hungary, Iceland, India, Ireland, Isle of Man, Italy, Japan, Jersey, Kuwait, Latvia, Liechtenstein, Lithuania, Luxembourg, Malta, Mexico, Monaco, Netherlands, New Zealand, Norway, Poland, Portugal, Puerto Rico, Qatar, Romania, Russia, Saudi Arabia, Singapore, Slovakia, Slovenia, Spain, Sweden, Switzerland, Taiwan, UAE, the UK, theUS and US Virgin Islands.
© Copyright IBTimes 2023. All rights reserved.