ISIS Beheadings: Afghanistan's Ethnic Hazara Protest Islamic State Group's Brutality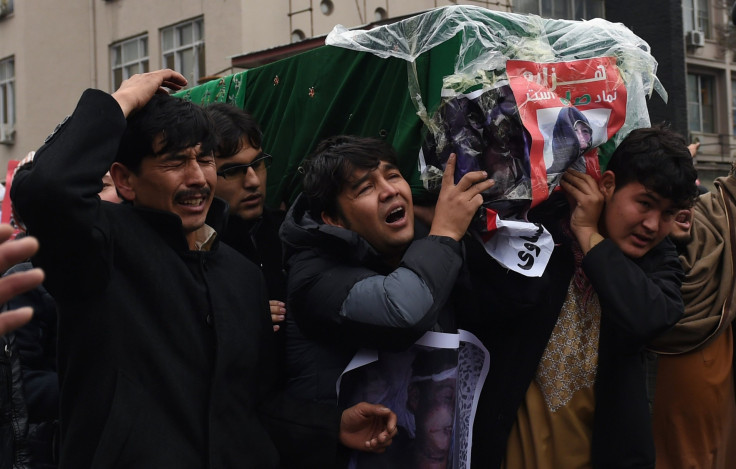 Thousands of people took to the streets of Kabul, Afghanistan, Wednesday to protest the beheadings of seven people from the Hazara ethnic minority by the Islamic State group, also known as ISIS. Demonstrators reportedly marched with coffins carrying the bodies of the seven Hazaras, including women and children.
The seven civilians, who were members of the minority Shiite community, were reportedly kidnapped by ISIS fighters more than a month ago. Their partially beheaded bodies were found over the weekend in southern Zabul province where tensions between rival Taliban factions has escalated over the last few days.
"The only way to prevent such crimes in the future is to take over all government offices until they wake up and make a decision," demonstrator Sayed Karim, one of thousands who were present at Mazari Square in western Kabul, told Reuters.
Most of Wednesday's protests were peaceful, but some demonstrators tried to scale the walls of a building near the president's palace, forcing police to fire warning shots, Reuters reported.
The protesters demanded justice over the beheadings by chanting "Down with Daesh," using the Arabic acronym for ISIS.
"We will continue to fight for the safety of our family," civil rights activist Shahzaman Hashemi told Al Jazeera. "This is our right to feel safe. Whatever happened to those women and children can happen to us as well."
The Afghan government announced a national day of mourning Wednesday over the killings, which have been condemned by President Ashraf Ghani, who promised an investigation into the incident.
The United Nations Assistance Mission in Afghanistan also condemned the killings. "These senseless murders may amount to war crimes and the perpetrators must be held accountable," Unama chief Nicholas Haysom reportedly said, in a statement.
© Copyright IBTimes 2022. All rights reserved.
FOLLOW MORE IBT NEWS ON THE BELOW CHANNELS