ISIS Celebrates Russian Plane Crash Video: Islamic State Militants Hand Out Sweets In Iraq Stronghold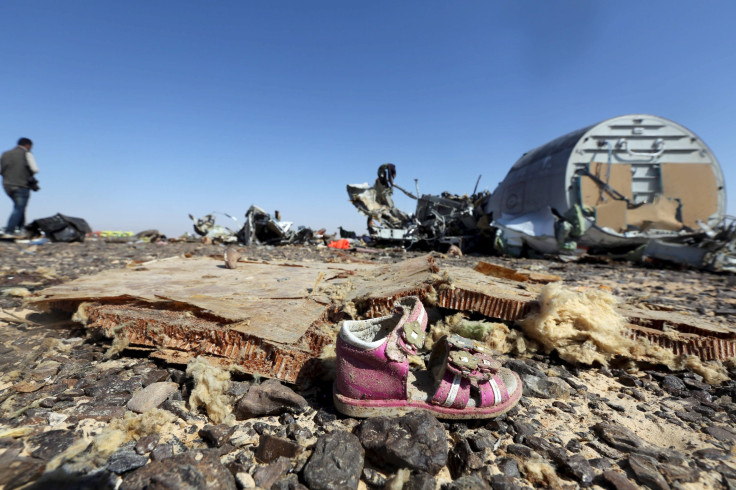 A new video released by the Islamic State militant group, also known as ISIS, appears to show sweets being handed out around a militant stronghold in celebration of the recent fatal explosion of a Russian aircraft. An ISIS affiliate in Sinai, Egypt, has claimed responsibility for the incident, which resulted in 224 deaths. Officials continue to investigate the cause of the crash.
The video shows men praising the alleged downing of Metrojet Airbus A321 while others brandish smiles and share bowls of candy around the city, according to the Daily Star. The video is believed to have been filmed in Ninevah, Iraq, an area ISIS militants conquered last year. At the end of the video, five men, including one who is believed to be Eastern European, praise ISIS' purportedly successful mission. The European fighter at one point pulls out a knife.
ISIS celebrating downing of Russian plane in Sinai - via @zaidbenjamin #Egypt #Metrojet9268 #Flight9268 #Russia pic.twitter.com/zdBsv5juZq

— Schillaci (@Shaqton) November 3, 2015

The Russian airline Kogalymavia flight was en route to Russia from a resort in Sharm el-Sheikh, Egypt, on the Red Sea. ISIS has taken credit for the attack, but Egyptian officials said Tuesday that any claim of responsibility by ISIS that it shot down the plane was "propaganda" and that it was too early to know the cause of the crash.
Egypt has fought militants in the restive Sinai region for years. The group Ansar Beit al-Maqdis emerged in 2011 and included in its goals the destruction of Israel and the establishment of an Islamic state in the Sinai. In November last year, the group pledged allegiance to ISIS, just months after the militants established a foothold in Iraq and Syria. The group changed its name to the Sinai Province and has been responsible for a series of deadly attacks.
U.S. officials said Tuesday they believed it unlikely that a terrorist group shot down the plane but said they would not yet rule out the possibility.
© Copyright IBTimes 2023. All rights reserved.