ISIS Weapons Growing In Number, Sophistication: A Soviet, Balkan And American Mix, But The Group Can't Use All Of Them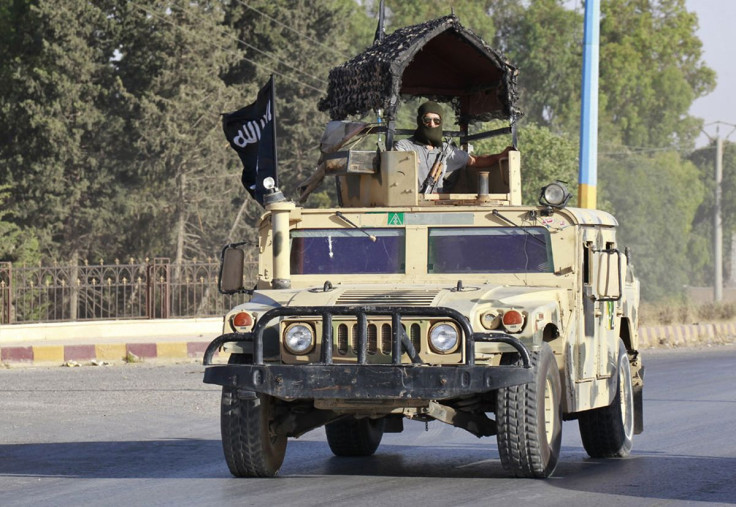 As the Islamic militant group ISIS absorbs U.S. airstrikes in northern Iraq, scrutiny is increasing around the weaponry, including heavy armor, the jihadist militia has been able to amass during its 16-month offensive in Syria and Iraq. Questions remain over where the weapons came from, and most of all, how effectively ISIS can use the powerful weapons it has acquired.
The armaments are predominantly a mix of veteran Soviet tanks; large, advanced U.S.-made systems; and black market arms.
"Arms transfers like this are a hallmark of these kind of insurgencies," said James Carafano, vice president for Foreign and Defense Policy Studies at the Heritage Foundation in Washington, D.C. "They often look for weapons from different sources, places like Saudi Arabia, Iraq, Syria and Eastern Europe."
The Islamic State (formerly known as ISIS) acquired tanks from the Syrian rebels, such as the T-72, a relatively modern Soviet design, and the T-55, an obsolete model from World War II. The group also has captured Chinese copies of Soviet field and anti-aircraft guns from the Iraqi and Syrian armies. Both countries are known to have bought directly from China over a decade ago, according to Jane's Army and Artillery Guide 2003 and 2004.
According to Brown Moses, a U.K.-based blog that has emerged during the Syrian civil war as the foremost authority on the weapons used in that conflict, ISIS has now obtained rocket launchers, grenade launchers and American-made M60 machine guns from Croatia through Saudi Arabia. After being sold to the Saudis, the weapons were, according to blog founder Eliot Higgins, flown to Turkey and then smuggled into Syria overland before being sold or given to ISIS.
Higgins' reconstruction of the flow of weapons into Syria is supported by a New York Times report from 2013 that examined air traffic data showing more than 160 flights by Jordanian, Saudi and Qatari cargo planes landing at Turkish airports. Those flights were loaded with arms destined for Syrian rebels, according to officials cited in the report. The report also showed data proving that Saudi military flights were going in and out of Croatia around the same time.
According to Carafano, this sort of arms movement between Eastern Europe, Gulf states and the Middle East is not unprecedented, and relies on a network of private arms merchants. There is no evidence that ISIS gets arms supplies directly from a supporting state, like Saudi Arabia or Qatar, according to Peter Wezeman, a senior researcher at the Stockholm International Peace Research Institute.
"It's often individuals that are working in the private sector of arms companies that are making these deals, so they are already in the business of logistics and moving stuff around," Carafano said.
It is far more significant, Carafano said, that ISIS has managed to infiltrate Iraqi bases in Mosul, gaining access to sophisticated U.S. weapons.
"They've apparently taken enough U.S. weapons from the Iraqi military in Mosul to put them in good shape for a long time," Carafano said. "But the question is, how do they use those weapons, how do they maintain them, where do they get spare parts from?"
According to various media reports, ISIS can't really use many of the modern U.S. weapons that fell into its possessions, and knows it.
"ISIS destroyed much of the heavy equipment it captured in Iraq: M1 tanks, M113 armored personnel carriers, MRAP heavy armored trucks, and other multi-million dollar pieces of equipment," said a Public Radio International report in June, as ISIS advanced to the point of capturing Mosul, the second-biggest city in Iraq. ISIS commanders knew they couldn't use the more advanced pieces of U.S. equipment and destroyed them so the Iraqi army couldn't use them in the future, according to that report.
The U.S. Department of Defense did not respond to questions from the International Business Times about exactly what weapons were stolen from the Iraqi bases, but footage of ISIS fighters driving U.S.-made Humvees and operating M198 howitzers and Stinger portable surface-to-air missiles shows that ISIS has some U.S.-made equipment that it can transport and use easily. That will enable them to remain a nimble and flexible force -- an important distinction from a government-run military that can use and maintain heavier weapons, Carafano said.
ISIS appears to have learned from many of the mistakes made by terrorists in the last 20 years, Carafano said, and has used that to train its 10,000-strong militia. "You name it, finances, social networking, arms trafficking, recruiting, making fear, even genocide," Carafano said. "They are reading the terrorist playbook and smart military strategy is certainly part of that."
© Copyright IBTimes 2023. All rights reserved.
FOLLOW MORE IBT NEWS ON THE BELOW CHANNELS