Israel Is Safer Than Before, General Says; Not For Long - The Top Security Threats Israel Faces Now In The Middle East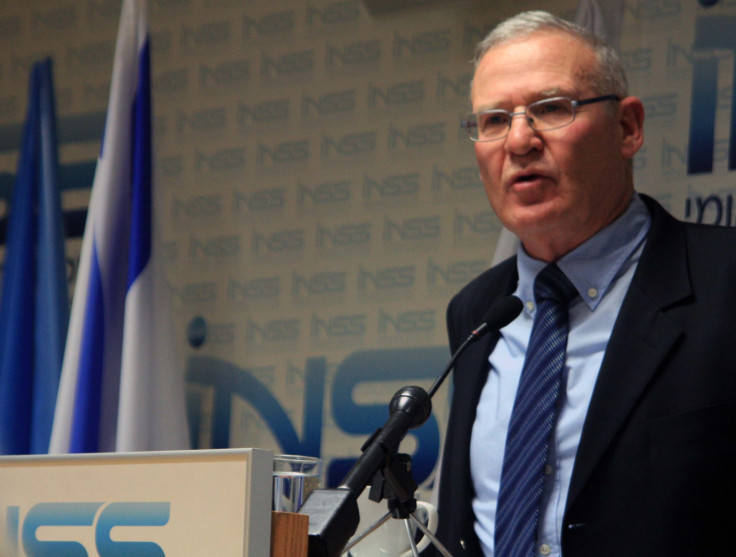 TEL AVIV -- Even as Israel faces a number of growing threats in the Middle East, it has actually become safer. That's according to Israel's own Institute of National Security Studies (INSS) in Tel Aviv, which concluded in a report that the country became more secure in 2012, dire forecasts notwithstanding.
In typically pragmatic Israeli style, the institute's director, Amos Yadlin, who is also a general in the Israel Defense Force (IDF) reserves, said that "dark and black" predictions of an impending nuclear Holocaust, a third Palestinian Intifada, and the Middle East disintegrating into flames as the Arab Spring degenerated did not take place, despite media hype.
When facts were separated from rhetoric, he said, they showed that Israel remained an island of stability in a tumultuous Middle East.
"If you look back to 2012, the borders were quiet. Israel still enjoys a huge deterrence vis-a-vis its enemies, whether they are states or non-state organizations. There was no big war, just a small operation in Gaza, and basically at the end of the year even that last front was very quiet," Yadlin said at a briefing last week.
Indeed, Israelis felt so secure last year, that they gave priority to domestic issues over safety when they voted in January's parliamentary election, Yadlin added. Some researchers at the institute, which advises Israel's government on policy, were so confident of Israel's strong position that they believed it was possible to cut the country's defense budget while still ensuring security. (Israel's defense budget, as a percentage of gross national product, is 6.5 percent, the fifth biggest in the world, according to the Stockholm International Peace Research Institute.)
This will be welcome news to Israel's finance ministry, which faces either unpopular tax hikes or significant cuts to its $15 billion defense outlays in order to balance the government's budget.
Still, the INSS's rose-colored report may be merely a picture of a momentary lapse in cold-and-hot hostilities in the region for Israel that will not be sustained. For example, it's impossible to ignore the fact that Israel still faces the specter of increasing Islamization in the region and new but unstable regimes in Egypt, Gaza and, perhaps soon, in Syria and Jordan that are even less accepting of the Jewish state than the governments in power before.
"It depends on what will be in Syria, but it's not that optimistic in my view," said Yoram Schweitzer, a former head of the Counter International Terror Section of the IDF and consultant on counter-terror strategies to the prime minister's office and the Ministry of Defense. "How can we identify the enemy when we don't know who he is? It may turn out to be more positive than it seems, but I think it has potential hazards, because those regimes are not stable enough."
Yadlin conceded that serious threats to Israel's security remained and he described 2013 as a "year of decisions" rather than one of using politics to procrastinate. "I think that the late spring, early summer, will be very challenging," said the general.
Here are the most pressing security threats and opportunities Israel will likely face in the next 10 months:
Iran
Iran faded from international headlines during the runup to the U.S. presidential election in November 2012 and the Israeli parliamentary elections in January 2013. However Yadlin said it was still No. 1 on the INSS's list of security threats this year.
According to INSS reports, Iran has everything it needs to make five to seven nuclear bombs: the uranium, 10,000 centrifuges, and the technology to spin them. It just hasn't enriched its uranium to weapons grade yet.
"If you have to choose between the two tough alternatives -- Iran with a nuclear bomb, or bombing Iran -- we are with the government. Bombing Iran is less dangerous to Israel than a nuclear Iran."
Ex-Mossad chief Meir Dagan, who retired in 2010, forcefully and publicly disagreed last year with the idea that Israel should attack Iran, going so far as to label the military option as "stupid." During an interview on CBS's 60 Minutes, he cautioned that Iranian retaliation would make daily life in Israel unbearable.
INSS researchers argue that the fallout from an Israeli attack on Iran would not result in a region-wide conflict. "The Iranian reaction will be calculated and limited because the Iranians know very well what will be the reaction to their reaction. And their capability is not as high as people tend to write in headlines," said Yadlin.
Meir Javendanfar, lecturer in contemporary Iranian politics at the Interdisciplinary Centre in Herzliya, Israel, said that the Iranian threat should not be ignored, but neither should it be exaggerated.
"Iran is a very rational regime. In its 34-year history it has not acted in a way that would endanger its own survival. I believe that all this talk of the Iranians being apocalyptic is propaganda and not based on fact."
Javendanfar said that Israel, in conjunction with the international community, had successfully contained Iran. Yadlin agreed that hard-hitting sanctions that targeted the energy and finance sectors in Iran appeared to have a substantial impact. Still, Iran needed to step back from the nuclear precipice, he said.
INSS's policy recommendation for Israel's incoming government was to attack Iran only with the support of the international community, or at least its main ally, the United States, when the options of diplomacy, sanctions and covert operations were exhausted.
Syria
Javendanfar argues that the real threat to Israel was closer to home: "If Syria collapses, we could have radical elements such as al-Qaeda on our northern border, or have Hezbollah trying to get weapons out of Syria to Lebanon. That would put Israel in a difficult position about when to intervene."
Yadlin said that Israel's criteria to attack was clear, and was laid out at a 2008 meeting he attended in his prior role as head of military intelligence. While he would not speak about the recent attack on an arms convoy en route from Syria to Hezbollah in Lebanon, allegedly destroyed by Israeli planes, he said there were four weapons systems that Israel had determined it would not allow to be transported: chemical weapons; advanced air defence systems; long-range Scud missiles, and long-range, precise land-to-sea missiles.
"If I understand well what happened a week ago, somebody crossed this red line and somebody else decided to stop it," he said. And even without admitting that Israel did it, the general said the lack of a reprisal for the attack proved that Syria and Hezbollah feared Israel.
Syria's civil war might actually play into Israel's hands.
"We are pointing to the fact that the Syrian Army, which is a modern and formidable army with Scud missiles, long-range rockets, advanced air defense with the best Russian batteries, a very good commander and a very good army, is now basically destroying itself," said Yadlin.
Whatever the outcome in Syria -- whether Bashar Assad's regime remained; the civil war continued; Syria disintegrated into separate states; the opposition emerged victorious; or it became a failed state -- it would be "a positive strategic development, because the main army on our nearest border is weakening."
The Peace Process With The Palestinians
The INSS highlighted the necessity of reviving peace talks with the Palestinians as a key security priority in 2013. The potential collapse of the Palestinian Authority and the risk that the Islamic radical movement Hamas would win in the West Bank, should elections be held, necessitated hasty action, according to Yadlin.
Israel should submit a decent, fair and generous proposal to the Palestinians, based on the "Clinton parameters" proposed by then-U.S. President Bill Clinton in late 2000, in order to regain the moral high ground in the international opinion.
"We have no illusions. We think that the chances that we have a partner for reaching a final resolution of the conflict are very low, especially when now Abu Mazen [Palestinian President Mahmoud Abbas] is aligned with Hamas," said Yadlin.
"If they refuse, as we think they will, then at least we win the blame game and we can continue to shape our borders by ourselves, without the need to wait for the Palestinians to agree with it."
The institute has developed a concept of coordinated unilateral shaping of Israel's borders that it will submit to the government this year. It recommends withdrawal to the security barrier that separates Israel from the West Bank, with the assistance of the international community. It proposes retaining the Jordan Valley and some settlement blocks to dissuade the flow of weapons into Palestinian territory.
David Ha'Ivri, executive director of the Shomron Liaison Office, a group that represents settlers in the West Bank, countered that attempts to establish the Palestinian Authority as a stable governmental entity had failed, and that handing over the West Bank was "another Gaza" waiting to happen.
What To Do?
Among the vulnerabilities, substantial opportunities remain for Israel, according to the INSS' strategic survey for Israel 2012-2013.
If Syria falls, the axis of radical ideology against Israel that flows from Iran, to Syria, and through to Hezbollah and Hamas, will be effectively hamstrung.
If Israel reengages in the peace process with the Palestinians, there is opportunity to improve relations with Sunni Arab states such as Saudi Arabia, the United Arab Emirates, Kuwait and Qatar, thus creating a balancing block to Iran.
INSS recommended that the new Israeli government improve tepid relations with the United States through a clearer and better understanding on Iran. This includes a clearer definition of what is a "red line" and what constitutes a breach of it that would require action.
As for Egypt and Jordan, the two Arab states that have signed peace treaties with Israel, it recommended keeping the status quo. Despite Egyptian President Mohammed Morsi's anti-Israel rhetoric, the past year proved that keeping the peace was in Egypt's national interest, said Yadlin.
But then there was what Yadlin described as the "Achilles' heel of Israel's security in recent years," and "more challenging than the military challenge": Israel's diplomatic fight. The country must improve its image abroad to curb plummeting popularity in the international community in order to ensure it has support to act militarily when needed.
"Courageous decisions are needed to change negative trends," said Yadlin of the state of Israel's security in 2013.
FOR FREE to continue reading
✔️ Unlock the full content of International Business Times UK for free
offer available for a limited time only
✔️ Easily manage your Newsletters subscriptions and save your favourite articles
✔️ No payment method required
Already have an account? Log in
© Copyright IBTimes 2023. All rights reserved.