Is It Safe To Fly In Asia? After AirAsia Crash, Some Tourists Not Deterred From Traveling Across Region By Plane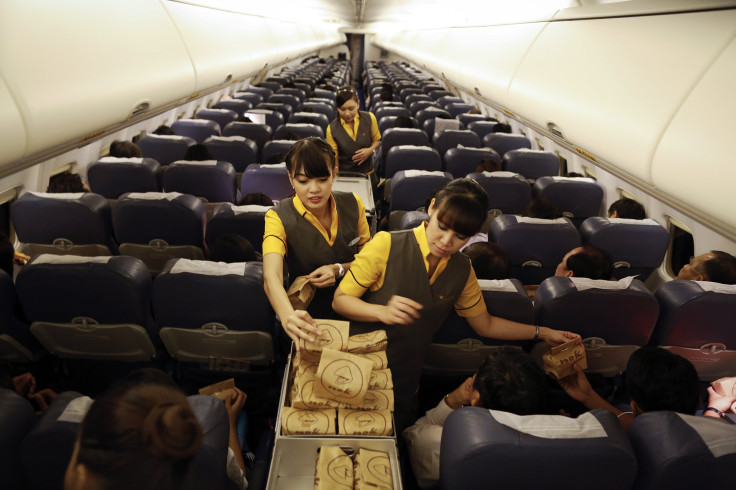 Asia's rapidly growing tourism market likely won't be too wounded by a series of recent airplane crashes and disappearances, according to veteran travelers and aviation experts. Despite global concerns about aviation standards in Asia after the recent AirAsia Flight QZ8501 crash, many said the region was still safe for tourists traveling by plane.
Travelers' biggest concerns when flying with any airline, budget or otherwise, is usually not the plane's safety, travel writer Johnny Jet said. "They're held to an international standard," he said. "If there are concerns to stay away from an airline, it would be for things like excessive charge for bags."
Asia's travel and tourism industry is expected to grow by more than 6 percent each year over the next decade, according to the World Travel & Tourism Council. That represents the fastest expansion rate of any region in the world, according to Forbes. At the same time, budget carriers such as AirAsia have become increasingly popular in recent years.
"The budget carriers in Asia are the fastest way to jump between the countries, and they often offer extremely competitive prices," travel writer Shannon O'Donnell said. "Though I often traveled overland shorter distances, I often used AirAsia and Nok Air to quickly move around between the countries." O'Donnell said budget carriers offer lower prices not because they skimp on safety, but because they offer fewer amenities and use cheaper, smaller airports.
While many have drawn parallels between the AirAsia plane disaster and the missing Malaysian Airlines Flight 370 and downed Malaysian Airlines Flight 17 incidents from earlier this year, some travelers said the aviation crises were isolated and that the AirAsia and Malaysia Airline flights just happened to be in the wrong place at the wrong time. AirAsia reported a missing Indonesia to Singapore flight with 162 people on board on Sunday, igniting a frantic search in the Java Sea and leading to the discovery of the wreckage of the plane on Tuesday. Malaysia Airlines Flight 17 was shot down earlier in July when it traveled from Amsterdam to Kuala Lumpur when it flew over pro-Russian separatist-controlled territory. In March, Malaysia Airlines Flight 370 disappeared over the South China Sea with 239 on board, and the plane has yet to be found.
"This is a bit unsettling, because of how many times it's happened to us. It looks like a Malaysia problem now," Daniel Lim, a 26-year-old financial executive who flew on two domestic Malaysian AirAsia flights in the past week, told Reuters. "With MAS [Malaysia Airlines], I thought it was the exception, but this is the third incident and I'm a bit worried about flying on any Malaysian airline now."
Some have speculated that a massive expansion of carriers in the region might have resulted in lapses in safety standards. But professional traveler Stephanie Be said she hadn't been deterred from flying around Asia. "Budget carriers tend to cut costs in multiple ways," she said, citing limits on in-flight entertainment or meal services. "However, it's not as if the plane technology is of any lesser quality."
She said the AirAsia incident should have little impact on travelers' booking plans. "Unless it's at a remarkably inconvenient time," she said, "People tend to just book the cheapest and most convenient flights, regardless of airlines."
While some of her friends have expressed concerns about flying in Asia, she said, "The thing to do is to look at these fears and see if they're rational or not."
There are now about 50 budget carriers serving 16 countries in Asia and Oceania, and that number of regional airlines and flights is set to grow. Budget airlines alone account for more than 25 percent of the traffic in Asia these days, a big jump from 9 percent in 2006. The Asia-Pacific region tops the global air travel market with a 30 percent share of passengers in 2011, while North America had 29 percent and Europe a 27.5 percent share of the market.
A global shortage of pilots has led to Asian and Middle Eastern airlines poaching pilots from the United States, Europe, Canada, and Australia, David Greenberg, a former Delta Air Lines executive, told the Associated Press. Aircraft manufacturer Boeing projects that the Asia-Pacific region will need 216,000 new pilots in the next 20 years, more than any region in the world, according to AP.
"Airlines have every incentive to save costs," Jan Brueckner, an economics professor at University of California, Irvine, and an aviation expert, said. "However, they know they have no incentive when it comes to skimping on safety," Brueckner said, adding that the last thing any airline wants is a crash because of safety issues.
© Copyright IBTimes 2022. All rights reserved.
FOLLOW MORE IBT NEWS ON THE BELOW CHANNELS