Ivana Trump Net Worth Before Her Death; Divorce Settlement With Donald Revealed
KEY POINTS
Ivana married Donald Trump in 1977
The exes finalized their divorce in 1992
She launched two companies after the divorce
Ivana Trump, the ex-wife of former United States President Donald Trump, died Thursday at her home in Manhattan. She was 73.
At the time of her death, Ivana was worth an estimated $100 million, according to Celebrity Net Worth. How did she amass her massive fortune? Here's the answer to that and more about Ivana.
Ivana was born on Feb. 20, 1949, in what is now Zlin, in the Czech Republic. Her father was an electrical engineer, and her mother worked as a telephone operator.
She began skiing at four and eventually joined the junior national ski team.
In 1971, she married Austrian ski instructor Alfred Winklmayr. After divorcing him in 1973, she moved to Canada.
Years later, Ivana started a career in modeling. Throughout the 1970s, she worked for the Audrey Morris agency. In 1976, the agency brought her to New York City to promote the 1976 Olympic Games in Montreal. It was during this time that she met Donald Trump.
They married in 1977 and divorced in 1992, after 15 years of marriage. Donald's infidelity reportedly led to his divorce from Ivana.
Throughout her 15-year marriage with Donald, Ivana held key managerial positions in The Trump Organization.
As vice president for interior design at the Trump Organization, she was instrumental in developing Trump Tower and the Trump Taj Mahal casino in Atlantic City.
Under their final divorce agreement, Ivana was given $25 million plus their mansion in Greenwich, Connecticut, according to Celebrity Net Worth.
She had the option of a $22 million cash payment for a new house if the Greenwich house got sold before their divorce was finalized. Additionally, she was awarded $650,000 in annual child support for all their three children: Donald Trump Jr., Ivanka Trump and Eric Trump, until they reached 18.
Donald was reportedly in debt at the time of the divorce, so he was forced to pay for the settlement through bank loans.
The total payment Ivana received from Donald after the divorce is worth around $100 million today.
After her divorce from Donald, she established her designer fashion line and cosmetics companies, Ivana, Inc. and Ivana Haute Couture.
Ivana also continued to invest in real estate, both in the U.S. and Europe.
Outside her businesses, Ivana enjoyed a modest writing career.
Among the books she penned were "The Best Is Yet to Come: Coping With Divorce and Enjoying Life Again," her autobiography "Raising Trump," "Ask Ivana" and her lifestyle magazine Ivana's Living in Style.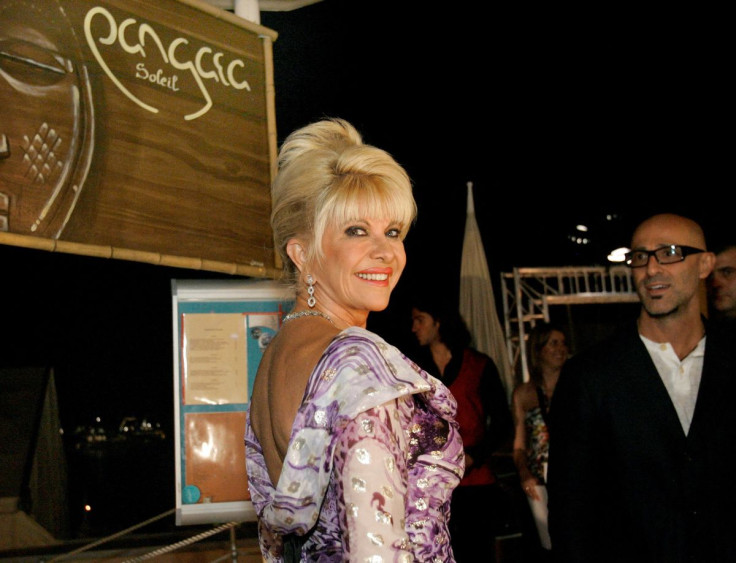 © Copyright IBTimes 2023. All rights reserved.