James Holmes' Rampage: A Colorado Problem Or Human Problem?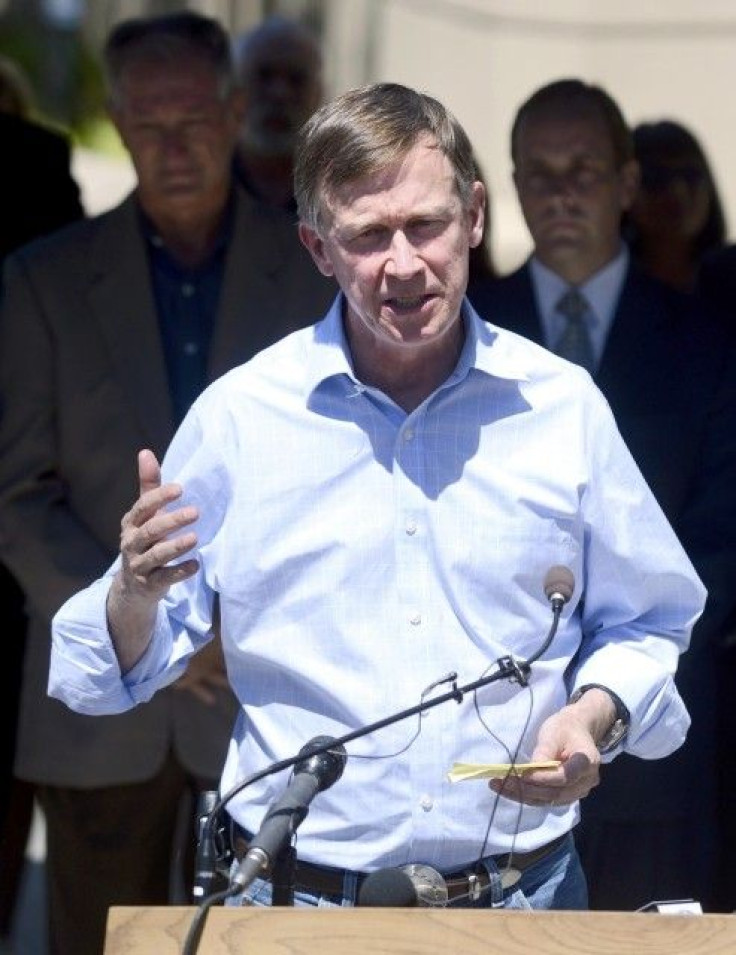 When James Holmes stood before peers at a science camp at Miramar College in San Diego six years ago, his passion for ideas was evident.
At 18, he was able to talk at great length about temporal illusions. This, he said, is a form of alteration in a person's sensory perception prompted when there is a short time between the occurrence of two or more events.
Over the course of the summer I've been working with a temporal illusion, Holmes said in an old video footage obtained by ABC News. It's an illusion that allows you to change the past.
In an introduction at the seminar, Holmes peers learned his goals were to become a researcher and make scientific discoveries. He enjoyed playing soccer and strategy games. Holmes' dream, at the time, was to own a Slurpee machine. This odd, but cute bit of information about the boy genius made seminar attendees chuckle.
Now, at the age of 24, Holmes is a graduate school dropout and the only suspect in a slaughter in a Colorado movie theater, which is being called the largest of its kind in U.S. in the past 15 years. Holmes, honors student and Ph.D. candidate at the University of Colorado Anschutz Medical Campus, is accused of going on a shooting rampage at the Century 16 Movie Theater in Aurora, purposely discharging automatic weapons into the crowd after stunning them with tear gas.
Twelve people lost their lives during the midnight premier of The Dark Knight Rises Friday -- the youngest was six, the oldest 51 -- and 58 people were wounded, about 30 of them still hospitalized.
Holmes was arrested at the scene. No one knows exactly what happened and what set him off. What authorities do know at this time is that Holmes received a number of packages at his apartment at 1690 Paris St. and at his school address, which may have contained ammunition and weapons accessories. Police said these were bought on the Internet.
Holmes' apartment also appeared to be a death trap, with what police said were major threats inside. Those threats, which included booby traps, trip wires, incendiaries, accelerants and IEDs, have since been eliminated. Since no human could safely enter, police had to send a bomb squad robot into the apartment.
It appears that the suspect set up the booby traps to kill or seriously injure whoever walked through the door first, indicating the intention of possibly attempting to kill a police officer, Aurora police said.
An inevitable question when court proceedings begin on Monday is Holmes' sanity. Prior to the killings police had little reasons to see Holmes as a threat. He hadn't any criminal record.
Friday's death toll was just three shy of the 15 people killed in the 1999 massacre at Columbine High School in Littleton, Colo., some 20 miles away from Aurora. Many reports have said the shooting is somewhat reminiscent of Columbine.
Not A Colorado Problem
Appearing on ABC's This Week on Sunday, Colorado Gov. John Hickenlooper said that if Holmes had not had access to the high-powered weapons he was found with, he would have found some other way to have created chaos.
He has described Holmes as a kind of terrorist, even though police said they don't believe terrorism was behind the killing.
His intent maybe wasn't political, Hickenlooper said on This Week. But what he was, clearly, deranged, twisted, demonic, someway. and he wanted to create fear, intense fear. He wanted to create terror. (Watch Hickenlooper's interview here.)
There is mounting debate as to whether such tragedy could have been avoided. Some are saying that Colorado's gun laws need another look. New York Mayor Michael Bloomberg was among those calling for tougher gun laws.
In Colorado, people are allowed to carry a loaded or unloaded firearm in a vehicle if it is being used for lawful protection of that individual or property.
When asked if the law needs reviewing, Hickenlooper said he's sure that is going to happen.
This wasn't a Colorado problem, Hickenlooper said. This is a human problem and how we can have such a warped individual and no one around be aware. ... Even if he didn't have access to guns, this guy was diabolical, right. He would have found explosives. He would have found something or some sort of poisonous gas. He would have done something to create this horror.
Aurora Mayor Steve Hogan said Holmes appeared normal to everyone.
He just by every standard appeared normal, Hogan said. Clearly there is something wrong here. He did have friends. He had made connections. He had people he went drinking with on Friday nights and all the comments to date are 'normal guy'. Just something very seriously wrong.
'Sane' National Discussion On Gun Control
Sen. Dianne Feinstein, D-Calif. -- who became mayor of San Francisco as a result of a spectacular City Hall double murder in 1978 -- told Fox News Sunday that a sane, national conversation is needed on guns.
My thoughts are these -- pure and simple -- weapons of war don't belong on the streets, she said. This is a powerful weapon. He had a hundred-round drum. This is a man who planned it, who went in and his purpose was to kill as many people as he could in a sold out theater.
Along with the 100-round drum magazine, Aurora police said they found 3,020 .223 rounds, 3,550 40 caliber rounds and 350 12-gauge rounds and multiple .223 magazines at Holmes' place.
I think -- you know, we've got to sit down and really come to grips with what is sold to the average citizen in America, Feinstein said, according to a Fox News transcript. I have no problem with people being licensed and buying a firearm. But these are weapons that you are only going to be using to kill people in close combat. That's the purpose of that weapon.
I think that these weapons ought to be stopped, she added.
© Copyright IBTimes 2023. All rights reserved.