Jammu And Kashmir: Second Attack In 2 Days Leaves 3 Injured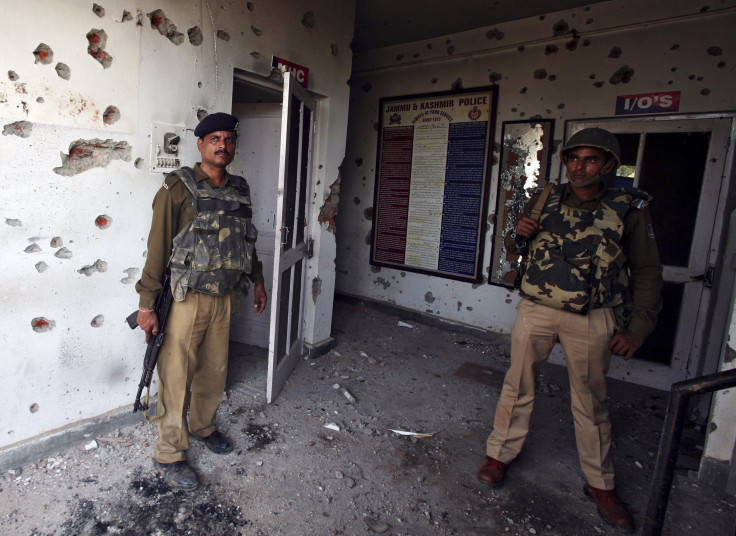 Two militants opened fire at an army camp in Samba district in the northern Indian state of Jammu and Kashmir on Saturday, just a day after an attack on a police outpost in the state led to the deaths of six people. Three people were injured in Saturday's attack while one of the militants was killed, according to local media reports.
"They (militants) could not breach the entrance of the Army camp and then went and hid in the bushes where the gun battle took place and is still on," Manish Mehta, a senior Indian army official, reportedly said. "Terrorists opened fire from the road and our guard retaliated. We have cordoned the area." The fate of the second militant is not yet known.
"Two army soldiers have also sustained minor injuries in this attack so far," a police officer reportedly said.
Jammu and Kashmir's Deputy Chief Minister Nirmal Singh said a bigger attack in Samba had been prevented as security forces were in a state of high alert following Friday's attack in Kathua district, according to media reports. Two militants, whose affiliations are not yet known, were also killed in the attack that targeted a police station.
In the past, India has blamed Pakistan-based Sunni militant group Lashkar-e-Taiba for carrying out attacks in the state. Saturday's attack is the second major incident of violence since a coalition of the Bharatiya Janata Party (BJP) and the Peoples Democratic Party (PDP), a local political party, came to power in the state earlier this month.
The Indian state of Jammu and Kashmir, which borders China in the north and west, and Pakistan in the east, has witnessed frequent clashes between Indian and Pakistani army soldiers in recent months. Both sides have accused the other of initiating hostilities that have only increased in frequency since the Narendra Modi-led BJP government came to power in New Delhi in May last year.
"This year we have neutralized 24 to 26 terrorists until now," Manohar Parrikar, India's defense minister, reportedly said.
© Copyright IBTimes 2023. All rights reserved.