Japan's Nikkei Rises 2%, But Europe Selling Caps Rally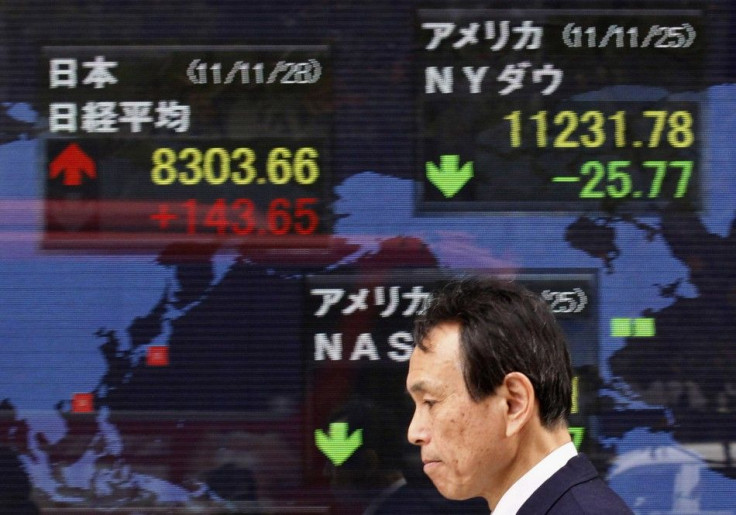 (REUTERS) -- The Nikkei average climbed more than 2 percent on Tuesday, closing at a two-week high on hopes that euro zone leaders were readying steps to ease the debt crisis and that a robust U.S. holiday shopping season was underway.
This week's rally has been driven by short-covering after four weeks of losses, but market participants said selling from European investors capped gains and that the upside was limited as it will take time before any evidence of progress in the debt crisis emerges.
For the time being, investors are taking heart from efforts by France and Germany towards a fiscal union, increasingly seen by investors as a last chance to avert a breakdown of the singlecurrency zone, while an agreement on bolstering the European bailout fund is expected later in the day.
Today's market move is solely based on sentiment and not actual news. What the specific points of agreement will be in the finance leaders' meeting and whether there is something tosupport this sentiment is something yet be seen, said Hiroyuki Fukunaga, CEO of Investrust.
The benchmark Nikkei rose 2.3 percent to 8,477.82, gaining for a second straight day, in part due to record U.S. sales over the long Thanksgiving weekend and moving away from a
2-1/2 year low hit last week.
The broader Topix index gained 2 percent to 729.68. Still, many investors said they were not ready to buy given the huge uncertainty over Europe and say that European investors may continue to sell risk assets like Japanese shares. The Japanese market is supported by attractive valuations,
with both indexes trading below book value, with last week's low of 8,135 being cited as a key support.
Markets expectations for earnings per share for the Topix index have fallen about 23 percent from this year's peak in May, much more than the 13 percent decline for the U.S. Standard and Poor's index, suggesting limited downside for Tokyo shares, said Ryota Sakagami, chief strategist at Nikko SMBC Securities.
Volume climbed to its highest level in nearly three weeks, with 1.57 billion shares changing hands on the main board, up from 1.36 billion shares on Monday.
Advancers outnumbered decliners by more than 12 times.
SHIPPERS, STEELMAKERS LEAD GAINS
Shippers and steelmakers lead gains after a massive selloff until last week. The Tokyo Stock Exchange's shippers subindex rose 4.9 percent while steelmakers rose 4.1 percent.
Japan's securities sector logged gains with Nomura Holdings adding 2.5 percent and Daiwa Securities rising 4.1 percent. Nomura announced on Monday that it had slashed its exposure to Italy by more than 80 percent in a move to reduce its risk in the region's debt crisis.
KDDI Corp dropped 1.5 percent to 513,000 yen was the second heaviest traded share by turnover on the main board after the company said it would sell up to 200 billion yen of convertible bonds and use the money to buy back its own shares from Tokyo Electric Power Co, the operator of the crippled Fukushima nuclear plant.
Daido Steel, a maker of specialty steel, jumped 8.3 percent to 497 yen after it said it will team up with Mitsubishi Corp and U.S. mining company Molycorp to make powerful magnets used in electric cars, reducing use of rare-earth content by half.
© Copyright Thomson Reuters 2023. All rights reserved.