Japan's Trade Deficit: Apple Inc.'s (AAPL) iPhone Playing An Increasingly Important Role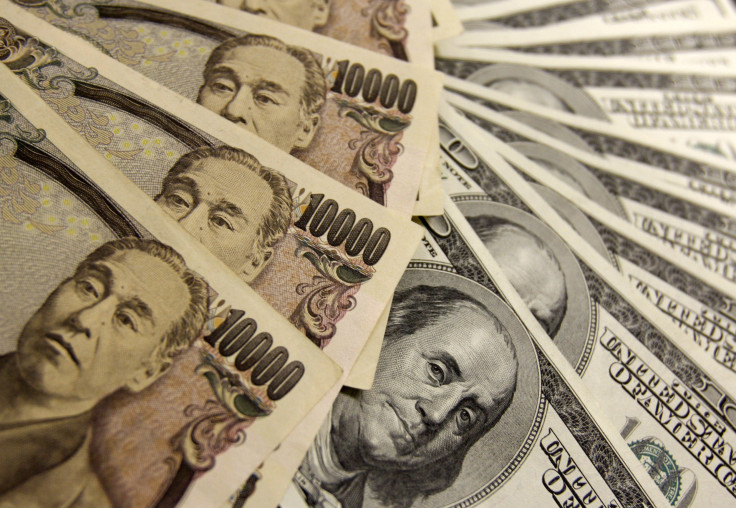 Sky-high energy bills from imports of pricey fossil fuels – made more expensive by the weak yen -- isn't the only factor that made Japan log a 15th consecutive month of trade deficit in September, the longest stretch on record. Drilling down further, Barclays' economists noticed a sharp increase in mobile phone imports.
"Japan has shown chronic trade deficits since the March 2011 earthquake began to drive up oil and LNG imports. Now it has lost its surplus in electrical equipment due to a surge in mobile phone imports, which could persist given the penetration of smart phones," Barclays Chief Economist Kyohei Morita wrote in a note to clients.
Japan's trade balance slipped into the red after the Great East Japan Earthquake of March 2011, and the deficit has continued to widen ever since. In part, this is an export story. Exports, which dropped sharply after the earthquake, have only recovered to pre-quake levels in the latest data.
But mainly, the trade deficit has been driven by increasing imports, which are now about 1.7 trillion yen ($20 billion) per month above pre-earthquake levels. This is due primarily to demand for LNG and oil to run Japan's thermal power plants following the shutdown of its nuclear reactors, along with elevated resource prices and the yen's depreciation.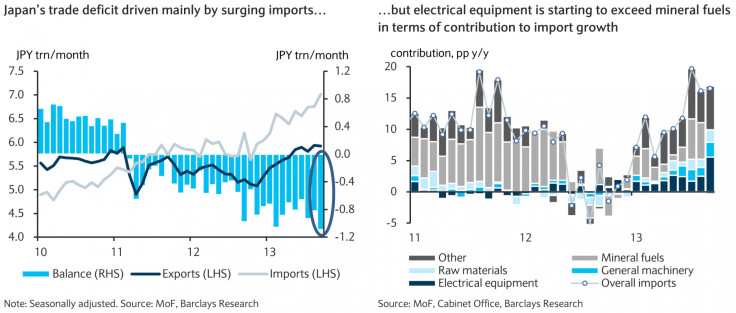 More recently, however, there has also been a sharp increase in imports of electrical equipment.
Morita pointed out that in terms of contribution to the year-over-year change in imports, electrical equipment actually replaced mineral fuels as the main driver in September. In the process, Japan saw its trade surplus in electrical equipment disappear for the first time ever, according to Morita's estimate.
Within electrical equipment imports, communications equipment surpassed electronic components such as semiconductors in 2011 and became the leading import.
Drilling down further, Morita noticed a sharp increase in mobile phone imports. In the revised trade data for September, released on Oct. 30, such imports climbed to a seasonally adjusted 221 billion yen, sharply exceeding the previous record of 169 billion yen reached in May 2013.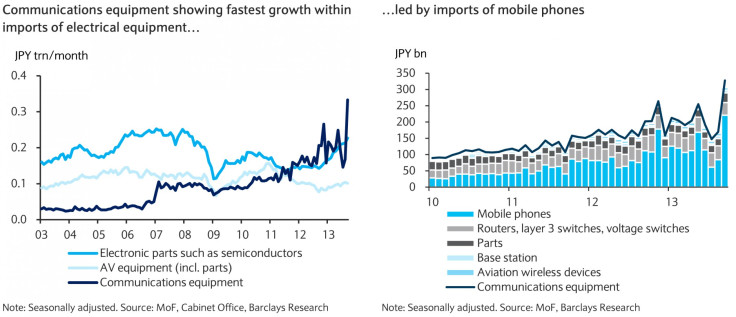 "This can be attributed in part to the penetration of smart phones, which are more expensive than ordinary mobile phones," Morita said.
At the end of September, smart phone subscribers totaled 50.2 million, accounting for 42.2 percent of mobile phone subscribers, up 4.9 points from the end of March. Smart phone subscribers are projected to account for nearly 70 percent of all mobile phone subscribers by the end of March 2018, according to MM Research Institute.
Apple's iPhones, the top-selling brand in Japan, were first sold by Softbank in July 2008, then by au in October 2011 and NTT DoCoMo in September 2013. Now that all three major mobile phone providers are handling the product, sales might be expected to increase further. In the process, the smart phone market as a whole could pick up momentum, which should further affect imports of mobile phones, according to Morita.
Mobile phones are replaced every two-three years on average, regardless of the product's lifespan, which is a shorter cycle than for most consumer electronics. "If new iPhone models continue to be released every year and replaced every two-three years, it could give Japanese imports a boost, the trade balance a downward push, separate from the increase in energy-related imports linked to the earthquake," Morita said.
© Copyright IBTimes 2023. All rights reserved.