Jeff Bezos Pledges $2.5 Million In Support Of Gay Marriage: Is Amazon Joining Chick-Fil-A And Kraft Foods In The Culture Wars?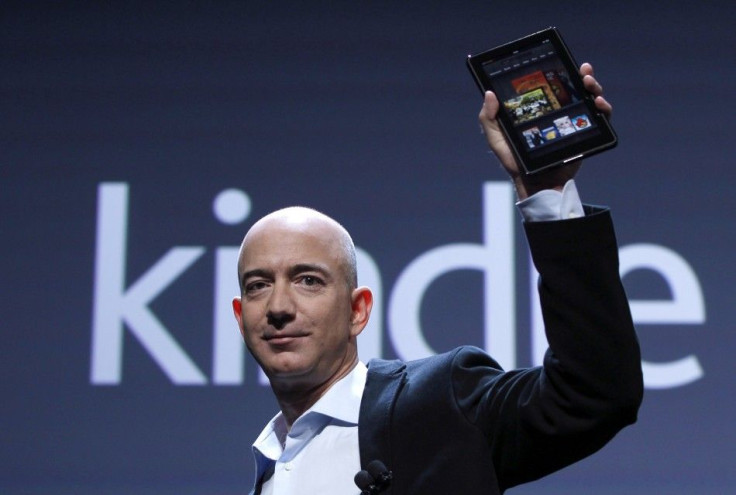 Jeff Bezos, the billionaire founder of online retailer Amazon.com Inc. (Nasdaq: AMZN), and his wife Mackenzie Bezos have pledged $2.5 million to help defend same-sex marriage in Washington state.
Their decision came after Washington Referendum 74, or R-74, was put on the Nov. 6 general-election ballot. R-74 will allow voters to either approve or disapprove a bill passed by the state Legislature and signed by Gov. Chris Gregoire that would have legalized same-sex marriage.
The referendum was certified last month, shortly before the bill was to become law. The advocacy group Preserve Marriage Washington collected 247,331 signatures to put the referendum on the ballot as part of its campaign in opposition to the same-sex marriage measure.
On its website, the group claims "the definition of marriage in Washington is under attack" and contends that "if this law goes unchallenged, voters would have no say and marriage would be changed for every person in our state from being the union of one man and one woman to being a genderless institution."
The Bezos' pledge represents almost one-half of the contributions made to Washington United for Marriage, which is leading a campaign in support of the same-sex marriage measure. Counting this pledge, the organization has now raised more than $5 million, according to its website
The Bezos' pledge was made about a month after Steve Ballmer, CEO of the Microsoft Corp. (Nasdaq: MSFT), and Bill Gates, co-founder of the high-technology behemoth based in Redmond, Wash., each expressed their support of the same-sex marriage measure by donating $100,000 to the cause.
Bezos is famously private and reserved, so it is unsurprising that neither he nor his wife have commented on the pledge to the press. However, the New York Times reported that Bezos was emailed by Jennifer Cast, one of Seattle-based Amazon.com's first employees and a lesbian mother of four children. Now 50 and no longer employed at Amazon.com, Cast is currently working as Washington United for Marriage's volunteer finance co-chair.
"We need help from straight people," Cast wrote in her email to Bezos. "To be very frank, we need help from wealthy straight people who care about us and who want to help us win."
Cast allegedly requested $100,000 to $200,000 in her message -- figures that pale in comparison to the Bezos' pledge.
"Jeff, I suspect you support marriage equality," Cast wrote. "I beg you not to sit on the sidelines and hope the vote goes our way. Help us make it so."
News of the Bezos' pledge follows the controversy centered on the privately held Chick-fil-A Inc. restaurant chain in the wake of criticisms of gay marriage made by Dan T. Cathy, chief operating officer and president of the family-owned company based in Atlanta.
Cathy's word choice attracted the usual political fervor of both intense supporters (such as former Arkansas Gov. Mike Huckabee) and detractors (such as Boston Mayor Thomas Menino), but what was most interesting about the story was the ferocity of the way it promoted its own bizarre form of brand competition. Soon after the story broke, Chick-fil-A opponents began accusing the company of fabricating a Facebook fan base for itself. Gay activist and sex-advice columnist Dan Savage launched a T-shirt line overnight on Twitter once he chose to enter the fray.
Have companies all of a sudden decided to take part in the culture wars? Or are activists and onlookers alike more content to sit back and let their favorite brands do the fighting for them? Let's not forget the Oreo fiasco Kraft Foods Inc. (Nasdaq: KFT) weathered last month when it posted a single picture on the cookie's Facebook page. The Northfield, Ill.-based company swiftly removed the photo, but, like Chick-fil-A's unsavory experience, it left a bad taste in everybody's mouth.
It is too early to assess the ramifications of the Bezos' pledge for Amazon.com itself -- especially given the company's lackluster earnings report last week -- but if the Chick-fil-A and Kraft controversies are sign of things to come, we can expect gay marriage to become a battleground as much for brands as it is for people.
© Copyright IBTimes 2023. All rights reserved.