Jeff Bezos Was Urged To Resolve Issues With Wife MacKenzie At Hawaii Retreat Amid Affair Reports
Those around Amazon CEO Jeff Bezos reportedly tried to mend his marriage to his wife of 25 years, MacKenzie, after it was revealed that he was having a steamy affair with broadcaster Lauren Sanchez.
Bezo's head of security, Gavin de Becker, encouraged him to take MacKenzie to Maui Intensives for a 30-day break from Sanchez, according to Vanity Fair. The retreat, which is run by therapists Judy Gabriel and Rae Ariel, costs $12,500 a week.
Bezos' affair with Sanchez, who was also in a committed relationship at the time, was made public due to texts leaked to the National Enquirer. There have been reports that Sanchez's brother, Michael Sanchez, leaked the text messages, though he has denied it.
"Once Judy and Rae were hired, I told Lauren, 'Watch out. We're f----d. Gavin is going to get Jeff back together with MacKenzie,'" Michael Sanchez is quoted as saying.
According to the report, Michael Sanchez said that de Becker had "been trying to break Sanchez and Bezos up to protect MacKenzie Bezos, a close de Becker friend."
Racy text messages from Bezos to Lauren Sanchez read, "I want to smell you, I want to breathe you in. I want to hold you tight … I want to kiss your lips ... I love you. I am in love with you," according to the Enquirer.
Three weeks later, he sent her a shirtless photo with a text reading, "You know what I want? I want to get a little drunk with you tonight. Not falling down. Just a little drunk. I want to talk to you and plan with you. Listen and laugh."
Another text read: "I like it when you're strong, and I like it when you're vulnerable. Everything. The only thing I don't like is not being with you. All of this is just straight from my heart. I love everything about you."
"It's a legendary romance that will blow your mind as to just how in love they are," Michael Sanchez told Vanity Fair on Feb. 14 about the relationship between Bezos and Lauren Sanchez.
Jeff and MacKenzie Bezos announced on their divorce on Jan. 9. The couple married in 1993 and have three sons and one daughter.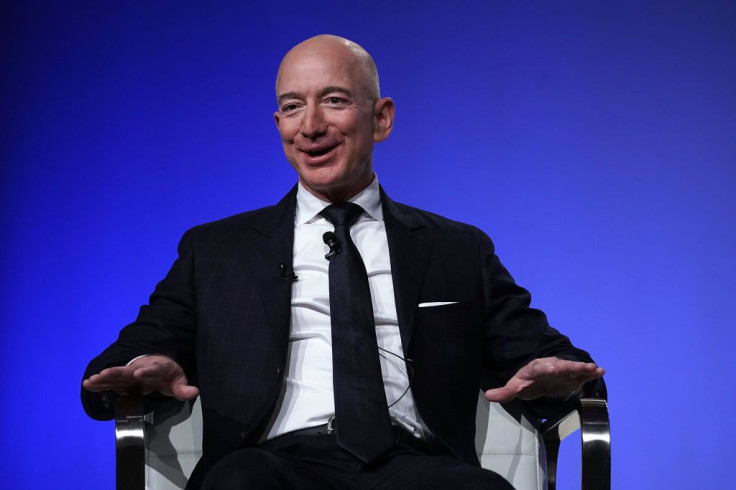 © Copyright IBTimes 2023. All rights reserved.