Jennifer Aniston's 'First Pandemic' Christmas Ornament Sparks Debate: Insensitive Or Funny?
KEY POINTS
Jennifer Aniston shared a photo of a Christmas ornament with the words, "Our first pandemic 2020"
Some critics found her post to be insensitive and tone-deaf
Others came to Aniston's defense, saying it was just a joke
Jennifer Aniston has sparked controversy this Christmas after sharing her COVID-19-themed tree ornament.
On Friday, Aniston took to her Instagram Stories to show off her Christmas tree and zeroed in on a wooden decoration that read, "Our first pandemic 2020." However, critics found the post to be insensitive and tone-deaf.
"All celebrities have done during this pandemic is show how out of touch & just f----g oblivious they are to anything that doesn't have to do with them. Some people's ENTIRE FAMILY HAVE DIED, but at least Jennifer Aniston is showing how quirky she can be & gets a kick out of it," one person tweeted.
"Jennifer Aniston is a damn fool for posting that ornament on her story… celebrities are ditzy af," another wrote. "'Cheers to our first pandemic of 2020, where millions of people died! Let's celebrate that on a Christmas ornament!'"
However, others came to Aniston's defense, saying it was just a joke. Some pointed out that Aniston did her part during the lockdowns by promoting COVID-19 safety measures, encouraging mask-wearing, donating to relief funds and giving local restaurants shoutouts.
"Nothing wrong but is funny," one person commented. "Humor is a way to cope," another wrote.
"jen aniston was one of the few celebrities that used her platform to ask people to support small businesses all around the US during christmas eve (while others were busy posting their fancy dinners) and she really got hate over ONE ornament? what??" a third user tweeted.
"It's not a celebration. It's about 'we survived' it's one of those if we don't laugh we cry things. I know plenty that have died and are very sick, but we are asio surviving the quarantine. It sucks for literally everyone on different levels," another wrote.
Some said Christmas ornaments are made each year to mark the year, regardless if it was good or bad. One user shared that she had an ornament made in honor of her sister who died of lung cancer and she cherished it.
Several just laughed about the matter because they also own a similar ornament.
Meanwhile, the creators of the COVID-19-themed ornament said that it was "designed to spread some holiday cheer (with a rustic flair) during these challenging times," USA Today reported.
Brittany Sutton, co-owner of the custom sign shop Rustic Raleigh, also said that she and her husband were "delighted that Jennifer Aniston decided to decorate with one of our good-natured ornaments."
The U.S. has recorded more than 19 million cases and 332,700 deaths as of Sunday, according to Johns Hopkins data.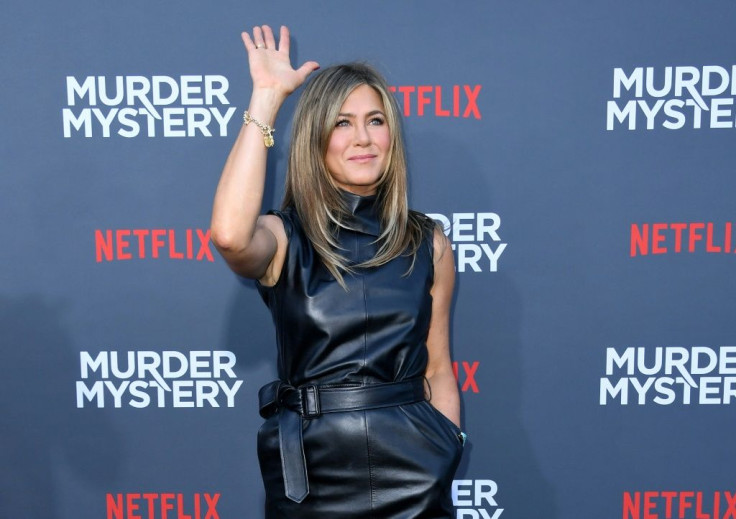 © Copyright IBTimes 2023. All rights reserved.