Jerry Sandusky Verdict: Former Penn State Assistant Coach Found Guilty Of Child Sexual Abuse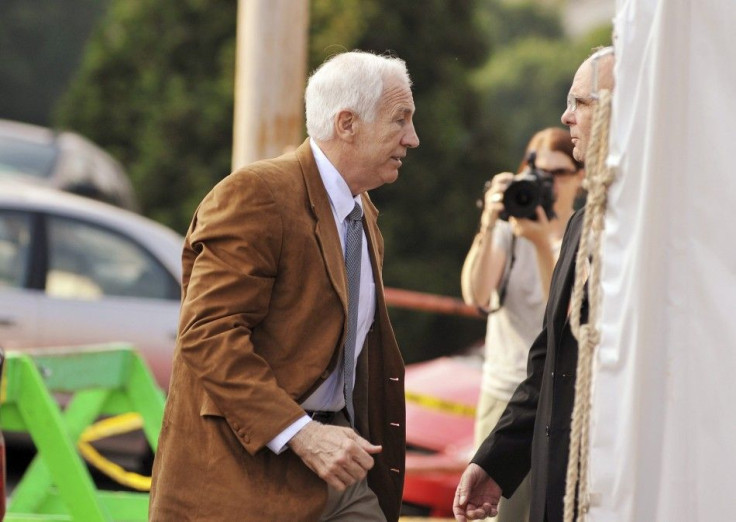 Jerry Sandusky -- a former assistant coach of the Pennsylvania State University football team -- was found guilty on 45 of 48 counts of child sexual abuse Friday night. The Centre County jury of seven women and five men reached the verdicts after two days of deliberation.
Sandusky was found guilty on 25 felonies and 14 first-degree felonies, according to the New York Daily News. He can be sentenced to a maximum of 442 years in prison for the convictions, but the exact number of years will be known when he is sentenced. The convictions apparently ensure he will die in prison, as the minimum number of years will be far greater than the expected life span of the 68-year-old.
Sandusky was taken into custody immediately, and a motion from his lawyer that he be allowed to remain under house arrest was denied.
Reports from inside the courtroom indicated Sandusky, his wife, and two of his children showed no emotion as the verdicts were read aloud to the court. However, his adopted son, Jon Sandusky, reportedly collapsed and held his head in his hands.
A crowd of several hundred people who gathered on the Centre County Courthouse steps cheered as word of the verdicts leaked out to them.
Sandusky, the former defensive coordinator at Penn State and the head of a charity for underprivileged children, Second Mile, repeatedly abused at least eight children over a 10-year period, the jury found. He committed some of the abuse on Penn State campus facilities and on Penn State football trips.
The convictions bring to a close one of the worst scandals in the history of college football, at least in terms of criminal prosecutions. Civil lawsuits by Sandusky's victims against Penn State and certain members of its administration are likely.
© Copyright IBTimes 2023. All rights reserved.
FOLLOW MORE IBT NEWS ON THE BELOW CHANNELS