Jerusalem Synagogue Attack: Motivation Was Not Religion But Revenge For 1948 Massacre, Says PFLP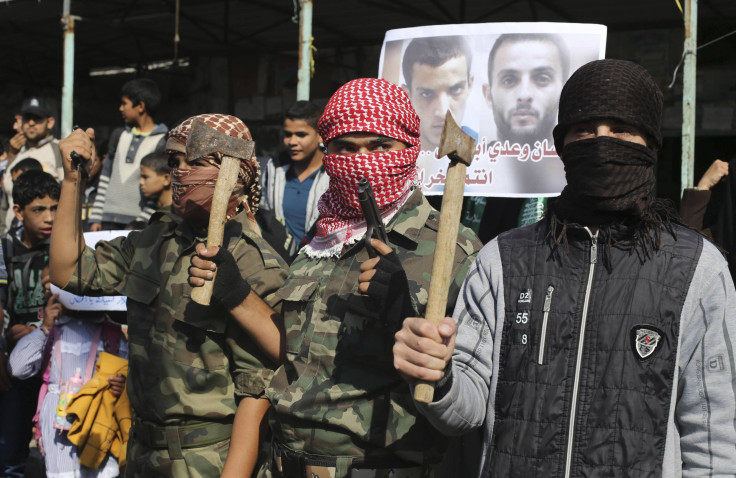 The attack on a Jerusalem synagogue that killed four rabbis was not motivated by religious differences, said members of the Palestinian faction that claimed responsibility. The Popular Front for the Liberation of Palestine (PFLP) said the attack was a response to growing Palestinian frustration that will continue to express itself violently and ultimately unite the many factions of Palestinian "resistance."
"Look, Palestinian youth in Jerusalem, they don't just wake up one morning and grab a knife and say, 'I want to kill the first Israeli that I see,'" said Khalid Maqdesi, spokesperson and member of the PFLP's Central Committee. "This is the result of daily oppression that Palestinians are facing every hour, every minute of their life. … They're going to resist and that's how we read this operation."
Two men who were reportedly members of the PFLP's armed wing, the Abu Ali Mustafa Brigades, attacked the synagogue during morning prayers with meat cleavers and a gun Tuesday.
"This synagogue is an institution we don't look at it from a religious perspective. This institution was built on confiscated Palestinian land," Maqdesi said. "Settlers and soldiers are legitimate targets as far as the PFLP is concerned."
The synagogue is just minutes away from a former Palestinian village, now remembered as the site of the "Deir Yassin massacre." An Israeli offensive in 1948 killed more than 100 of the village's estimated 400 residents. The massacre happened during a time of Palestinian unity and is remembered as a turning point in the conflict. It is not known if the attackers were aware of the synagogue's history.
The response to Tuesday's attack could signal increasing unity among Palestinian factions.
"Praise from both Hamas and Islamic Jihad indicates growing solidarity in opposition to Israel, a solidarity that will use 'people's operations' as [a] preferred tactic. A third intifada is not likely -- as seen in missile and rocket attacks -- but an intifada at street level could be a reality," said Jasmine Opperman, director of African Operations at the Terrorism Research and Analysis Consortium. "For the PFLP, this is the ideal vehicle to reintroduce itself."
The PFLP is opposed to any two-state solution. Their goal is to abolish the State of Israel and create a unified Marxist government that would include members from all Palestinian factions -- including Islamist groups like Hamas and the Islamic Jihad -- and Jews. The best way to achieve this, according to the PFLP, is through armed resistance.
"The occupiers must understand that their occupation to the land is going to be very costly," Maqdesi said. "You call it violence, we call it revolutionary violence. Some people call it terrorism, we call it armed resistance."
The secular Marxist group hasn't made headlines in several years but has not been dormant. Maqdesi couldn't give numbers "for security reasons" but contended the party is nearly the largest faction in the Palestinian Liberation Organization, second only to Palestine's ruling Fatah party. The PFLP was also a member of the first Palestinian delegation sent to Cairo in ceasefire negotiations with Israel during the Gaza war during the summer.
Although Palestinians have a broad spectrum of political and social ideologies, the PLFP said the resistance is stronger when every faction is united.
"If you live the same conditions that Palestinians live, you are going to act like a Palestinian," Maqdesi said. "We want to live as normal people. As one of our poets described us: Not heroes, not cowards, just normal."
© Copyright IBTimes 2023. All rights reserved.