Jerusalem's Temple Mount Could Reopen To Jews, Christians And Other Non-Muslim Visitors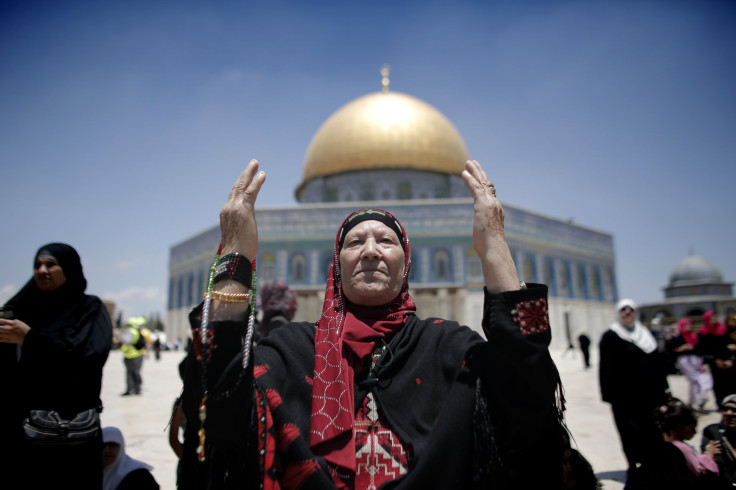 The religious sites on the Temple Mount in Jerusalem's Old City could be reopened to Jewish and Christian visitors more than 15 years after they were shut out. For months, Israel and Jordan have been secretly discussing the possibility of readmitting non-Muslim visitors to the Dome of the Rock, Al-Aqsa Mosque and Islamic Museum on the mount, according to Haaretz.
Details of the secret negotiations were revealed in a report by the International Crisis Group in Brussels, which concluded that reopening the sites to non-Muslims could help keep peace on the Temple Mount. But an agreement could be harder to reach with Israel's new government led by Prime Minister Benjamin Netanyahu's center-right Likud party.
Some Israeli leaders have said opening the site to paying visits would give the Jordanian-influenced Waqf, an Islamic trust that oversees the daily religious affairs in and around the mosque, an incentive to maintain peace on the contested holy site. However, an official in Netanyahu's office said, "There are no negotiations and no change in the status quo at the Temple Mount," Haaretz reported.
Jewish and Christian visitors were allowed to purchase a ticket and enter the Dome of the Rock, Al-Aqsa Mosque and Islamic Museum on the mount until 2000, when the second Palestinian uprising against Israel erupted after then-opposition leader Ariel Sharon visited the site in September. The Israeli government, which manages the mount's security and admission, subsequently banned Jews and tourists altogether from the Temple Mount. In 2003, the sites were reopened to Jews and tourists despite opposition from the Jordanian government and the Muslim Waqf.
Today, the Temple Mount is the site of frequent and sometimes violent clashes between Muslim visitors and Jews who wish to pray there. Defense officials said the violence has partly caused an upsurge in terror attacks in Jerusalem and the occupied West Bank, where some terrorists have openly dedicated their attacks in defense of the Temple Mount.
For Jews, the mount was the location of the great Temple of Jerusalem, one of the holiest sites in Judaism. For Muslims, it is the Noble Sanctuary and the site of the Prophet Muhammad's journey to heaven as described in the Koran. For Christians, it was a place frequently visited by Jesus and is central to the end of days' events.
© Copyright IBTimes 2023. All rights reserved.