Jessa Seewald Shares New Photos Of Her Firstborn Son Bonding With Jim Bob Duggar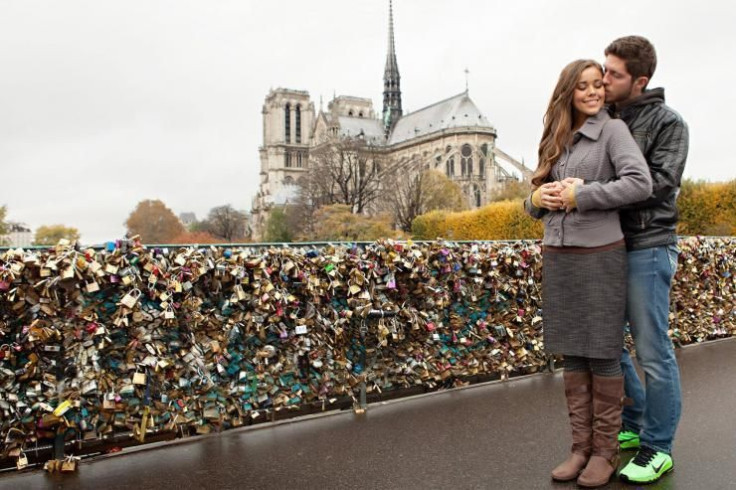 The long-awaited child of Jessa and Ben Seewald is finally here, and it appears the new parents could not be more excited about their son. Since his birth Thursday evening, they have posted online several photographs of their baby boy, but none have been more adorable than those in their most recently shared batch.
Jessa, 23, and Ben, 20, uploaded Friday six photos on the Seewalds: Ben & Jessa website featuring the newest addition to the Seewald clan. Two of the images show their adorable little man getting used to the real world. The others feature guest appearances by several members of the Seewald and Duggar families. In one of the snapshots, Ben can be seen holding the baby while looking on in admiration. In another, the infant, whose name has yet to be made public, is introduced to Jessa's grandmother for the first time. Another first meeting captured by Ben and Jessa: Baby Quincy, as they so affectionately nicknamed him before his birth, and Jessa's father, Jim Bob Duggar. The proud grandfather can be seen smiling for the camera while cradling his sixth grandbaby in his arms.
The first image of the new arrival was released to People Friday morning. The photo shows the sleeping baby wrapped in a furry brown blanket sucking on a finger while sleeping peacefully. The publication reported that more information and photos would become available in time.
Jessa's willingness to share photos of her son, who is just hours old, should come as no surprise to anybody who has been following along with her and Ben throughout the entirety of her pregnancy. Like her older sister, Jill Dillard, Jessa shared frequent photos of her baby bump and documented her month-to-month progress online. She shared her final bump selfie Nov. 2, sharing with fans that she was "feeling as big as a barn" and could hardly wait to meet her baby.
© Copyright IBTimes 2023. All rights reserved.