Jillian Michaels Gushes Over Fiancée DeShanna Marie Minuto After Engagement: 'Thank God For This Person'
KEY POINTS
Jillian Michaels shared a photo of fiancée DeShanna Marie Minuto rocking her engagement ring on Instagram
The fitness guru gushed over Minuto, saying she's beautiful, smart, funny, passionate and more
Michaels added that Minuto is wise beyond her years and she's "grateful to officially call her mine"
Jillian Michaels is now engaged to DeShanna Marie Minuto.
Michaels, 47, and Minuto, 36, got engaged Saturday. In an exclusive interview with People, the American personal trainer gushed over her fiancée and spoke about the qualities she loved about her the most.
"DeShanna is 'all the things' — beautiful, smart, funny, creative, quirky, passionate ... I could run down the list of adjectives. Those characteristics obviously attract you to someone. But it's the quality of their character that makes you think 'Thank God for this person [lying] next to me' every night when you fall asleep," Michaels told the outlet.
She added that it is easy for couples to stay together when everything is great, but when things get messy and scary, many will leave in real life. She stressed that Minuto is different.
"And this woman has revealed herself to be strong beyond measure, wise beyond her years, and loving beyond my wildest dreams. I am so grateful to officially call her mine," Michaels added.
The Fitness App by Jillian Michaels creator proposed to Minuto with a 7-carat, emerald-cut diamond featuring two single carats, trapezoid diamonds on each side. The bling was crafted by a family friend and jeweler at H&H Jewels in Miami.
Michaels shared a photo of Minuto rocking the diamond ring she gave her on Instagram Sunday. "1153 days... here's to thousands more. She said 'yes,'" she wrote in the caption.
Michaels and Minuto have been together for three years already. In October 2020, Michaels shared a clip from their various trips to mark their second anniversary as a couple.
"I can't believe it's been two years. @deshannamarie thank you for showing me how much love gives and how hard it works," the fitness guru wrote. "Thank you for teaching me something new every day. Thank you for making me a better person. Thank you for being you and sharing yourself with me. I love you more... Happy Anniversary babe [red heart emoji]."
Last month, Michaels commemorated the event again by sharing a photo of them on the bed. "We are all asleep until we fall in love. Happy Anniversary @deshannamarie [red heart emoji] I adore you," she wrote in the caption.
Michaels and Minuto started dating in 2018. The former previously opened up about their romance with People, telling the outlet that they work out together, but even her fiancée, who is "very fit and very lean," found her workout routines difficult.
"I gave her a little routine and she was like, 'I can't walk, I've been zombified, I hate you,' and then, over a couple of weeks … she's like, I just ran my mile in seven minutes and 15 seconds," Michaels shared.
Michaels was previously engaged to Heidi Rhoades. They called off their engagement in 2018. The exes share two kids — daughter Lukensia, 11, whom Rhoades adopted in May 2012, and Phoenix, 9, whom Rhoades gave birth to the same month and year, People reported.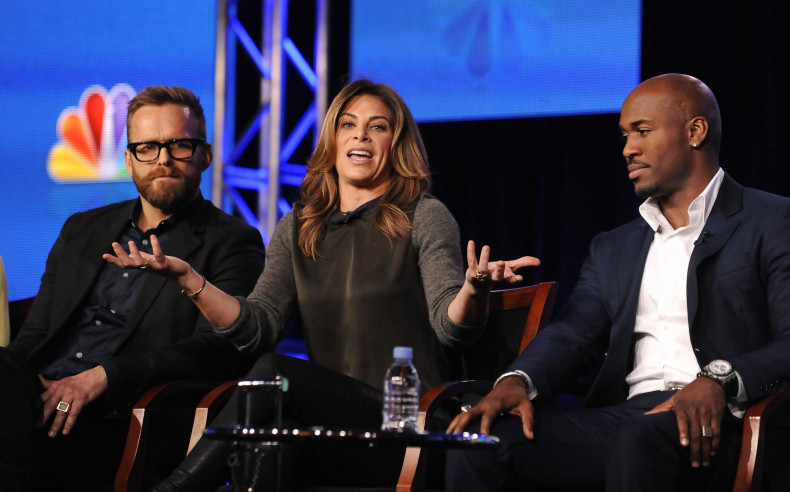 © Copyright IBTimes 2022. All rights reserved.