Josh Duggar Will Most Likely Not Be Joining His Family For 'Big Christmas' Plans This Year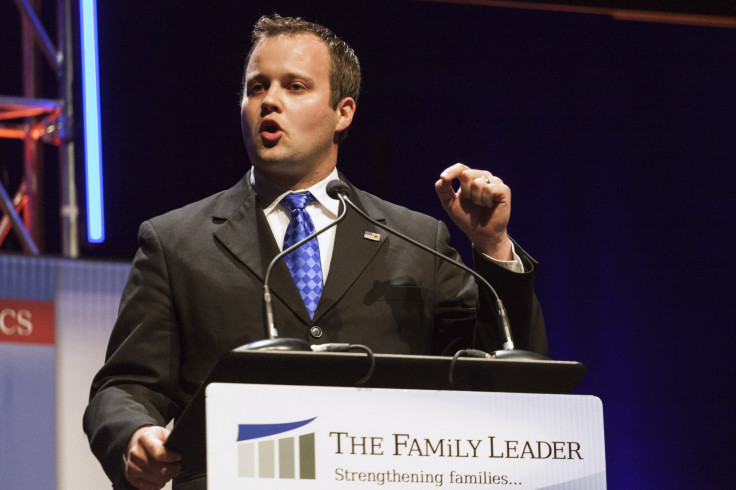 The Duggar family has some big plans for Christmas 2015, but sadly, it seems one family member will be watching from the sidelines. One report suggests Josh Duggar does not plan to return home from rehab for the holidays. His family, which rose to fame on TLC's now-canceled series "19 Kids and Counting," isn't letting his absence keep them from having a holly jolly holiday, however.
According to Entertainment Tonight, Josh, 27, has made no mention of returning home to Arkansas from his faith-based rehabilitation program in Illinois for the holidays. Sources say he still has "a lot of issues to work through" following his cheating scandal in August, and it is probably in his best interest to stay. Although the father of four most likely won't be around, the Duggars have plans to have a "big Christmas." Sources tell ET they're gathering the entire family together for a celebration of epic proportions.
"[I] have not heard Josh is getting out in time for Christmas. I imagine he still has a lot of issues to work through and it's better he stay there," a source said. "The Duggars, including Anna and her kids, are planning a big Christmas this year with the whole family together. Regardless of all the negativity that has happened in the past few months, we are going to be positive and celebrate Christmas."
Despite the fact that they're not spending the holidays together, Josh and his wife Anna, 27, are thought to be in a good place. During a recent episode of TLC's "Jill & Jessa: Counting On," Anna revealed to viewers that she hopes their marriage will last. She recalled the vows she and Josh made on their wedding day, adding that she's been praying for the best. Anna went on to say that she and Josh are both putting their trust on God, hoping he will "work through our hearts."
Josh may not be coming home for the holidays, but he was recently gifted with an opportunity to see his wife for the first time since August. According to reports Anna visited Josh at Reformers Unanimous in early December. She reportedly arrived at the facility with just her youngest child, Meredith. Sources claimed Anna "had a lot" to talk to her husband about, including his alleged sexual relationship with adult film star Danica Dillon.
© Copyright IBTimes 2023. All rights reserved.