Journal News Gun Map Backfire Continues With Anthrax Scare, Armed Guards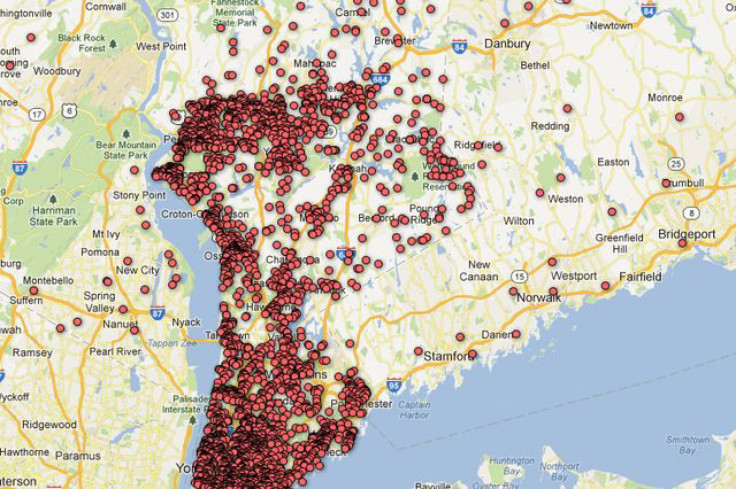 Update: Jan. 3, 8:20 p.m. An earlier version of this report stated erroneously, based on a Metro report, that the Journal News was subject to a staff-wide evacuation on Wednesday. The Journal News has since reported there was no staff evacuation.
Employees of the Journal News, the Westchester County, N.Y., newspaper that made international headlines when it published an interactive map of local gun permit holders in late December, were subject to an anthrax scare on Wednesday. White Plains Police Commissioner David Chong confirmed to Metro that an envelope containing suspicious white powder was discovered Wednesday morning. A Thursday Lohud.com report said the employee who recieved the mail "underwent decontamination procedures" and that normal operations had since resumed.
The Gannett-owned Journal News has been under intense scrutiny since a Dec. 23 article, supplemented by the interactive map, detailed the prevalence of gun owners in Westchester and Rockland counties. While the Journal News did not violate any laws by publishing the names and addresses of gun permit owners it requested under the Freedom of Information law, critics feel that publishing the personal data was an egregious breach of journalistic ethics. The controversy was compounded this week after a competitor reported that the Journal News had installed armed security at its Westchester headquarters. Meanwhile, officials in neighboring Putnam County have refused to hand over requested gun permit information to the Journal News, backtracking on an earlier assurance that the data was being compiled.
In an article titled "The Journal News is Armed and Dangerous," rival publication the Rockland County News reported on Tuesday that armed security guards had been dispatched to the Journal News offices. The article was based on a Dec. 28 police report confirming that the newspaper had hired security guards from RGA Investigations in response to "negative correspondence" prompted by the publication of the gun ownership map. According to the article, police records show that Journal News Rockland Editor Caryn A. McBride had filed two police reports in response to perceived security threats -- before the anthrax scare.
As reported on Tuesday by the Poughkeepsie Journal, also owned by Gannett, Putnam County has changed its plans to cooperate with the Journal News. The article, "Putnam vows to withhold gun data," was also published on the Journal News' digital arm, Lohud.com. The report quoted a vitriolic statement made by New York state Sen. Greg Ball, who stands behind Putnam County's refusal to provide the Journal News with the records, and who last week called the publication of the gun permit records "asinine."
"The county clerk has my full support to protect these law-abiding citizens, and if the Journal News thinks they can intimidate Putnam, they are sorely mistaken," Ball said in a statement excerpted by the Poughkeepsie Journal. "Before I waver, the egghead editors at the Journal News can kiss my white, Irish behind."
Repeated attempts to solicit comments and clarifications from editorial staff at the Journal News and the Poughkeepsie Journal have been unsuccessful and strongly suggestive of a companywide gag order. Reached by phone on Wednesday, Poughkeepsie Journal reporter John W. Barry apologetically declined to provide requested specifics relating to the aforementioned article about Putnam County's change of heart. Barry directed us to Gannett's corporate communications office but was unable to provide names or contact information of anyone who might be able to field inquiries.
IBTimes was able to reach Robert Freeman of the New York State Committee on Open Government, who was quoted in Barry's story as critical of Putnam County's decision to withhold the records, and who confirmed some details of a 1979 court case briefly mentioned in the article -- a battle that resulted from the New York City Police Department's refusal to provide the Wall Street Journal with gun permit holder data. The Wall Street Journal did not immediately respond to an inquiry seeking the article(s) that resulted from the court's decision entitling it to publish the data.
Freeman is firmly on the side of the publication of gun permit data as a matter of public record.
"Never has an issue or incident precipitated as many calls and email requests" as the Journal News vs. Putnam County controversy, Freeman said. "It's odd," he continued, "because the law is crystal clear." Freeman equated Putnam County officials' refusal to provide gun permit holder data to a shopper stealing a dress from a department store.
In an interview with the New York Times, Putnam County Clerk Dennis Sant said the privacy and protection of citizens takes precedence over legislation he feels is out of date.
"In Putnam County, I have over 11,000 pistol permit holders, and I refuse to put their lives and their families' lives in danger," Sant told the Times. "When these laws were conceived, there was no social media, there was no Google Maps."
Freeman, too, noted the changing climate of public vs. private information, but feels that our expectations – not Freedom of Information laws -- are what need to be updated. "It does not seem to me that we can have the same expectation of privacy as we had many years ago," he said.
FOR FREE to continue reading
✔️ Unlock the full content of International Business Times UK for free
offer available for a limited time only
✔️ Easily manage your Newsletters subscriptions and save your favourite articles
✔️ No payment method required
Already have an account?
Log in
© Copyright IBTimes 2023. All rights reserved.