From 'Jurassic World' Movie Torrents To Early YIFY Leaks, Here's Everything You Need To Know About Blockbuster Season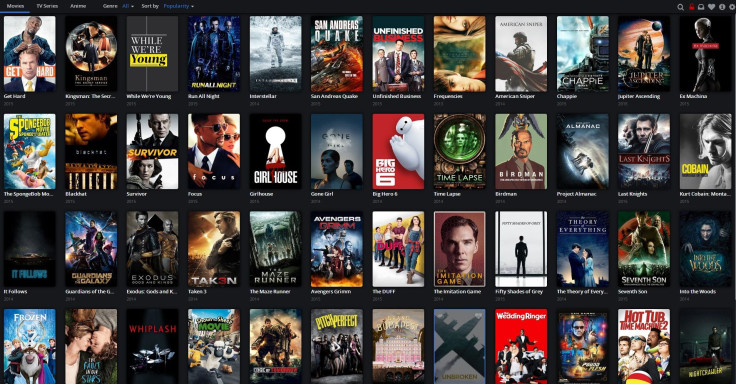 The sun is out and the weather's warming up, meaning there's no better time to plop down in a dark room and watch a movie. Leaked copies of "Jurassic World" are already dominating the piracy box office, with a full schedule of summer movies making it certain that the biggest summer releases won't be far behind.
"Jurassic World," the dinosaur movie that generated the most opening weekend revenue in history, leaked to the Internet days after it was released. Rather than leaking DVD screeners or Blu-Ray copies, though, impatient pirates had to suffer through copies of the movie recorded on a video camera by someone watching the movie in theaters. While thousands are willing to endure the jumpy audio and shoddy video, the rest of the Internet will have to wait for months to watch high quality copies of "Jurassic World" free.
Until then, here's what you need to know as the piracy blockbuster season jumps into full swing.
Movies Won't Appear on YIFY or Popcorn Time for Months
No one likes shelling out $12 for a movie ticket, or the average 1,275% popcorn markup, but there's a reason cinemas remain a popular summer destination: there are usually good (or at least new) movies playing. That's not the case with torrent providers like Popcorn Time, which waits for the mysterious YIFY group to upload movies before distributing that file to Popcorn Time's user base of millions.
The problem for pirates is that YIFY waits until the movie is printed on a Blu-Ray disc, then copies that file and posts it online. It's a process that takes months, meaning someone keen on downloading a summer blockbuster would need to wait until fall to watch for free. Of the most recent releases listed "Get Hard" was released in theaters on March 27 and "Kingsman: The Secret Service" on February 13.
Watch Out For Mockbusters and Malware
Mockbusters are the low-budget movies meant to trick customers who are actually looking for something else. For every "Transformers" there's a "Transmorphers," or "Snakes On A Train" instead of "Snakes On a Plane." And it's no accident that the DVD covers and promotional material are often exactly the same.
The situation is even more serious on many torrent sites. Mockbusters do exist, but bad actors have utilized their strategy of disguise to target unsuspecting users, infecting their computer with malware if they click on an errant link or download the wrong file.
The Pirate Bay, for instance, prominently featured ads laden with viruses. Clicking on an ad that promised, say, the ability to webcam with a young Russian girl would lead to a phishing attempt or automatic virus download. Popcorn Time has yet to attract that kind of malicious attention, though many Popcorn Time users who watched "Dallas Buyers Club" were identified by a Danish law firm earlier this year.
A few tips: avoid downloading any "specific player" claiming you don't already have to proper software to play a file, don't use Internet Explorer (weak security settings), check the comments, and try to download anonymously.
Consider Using CouchPotato
CouchPotato is a browser extension that scours Usenet and torrent websites for the movies of a user's choosing. The free service asks users to plug in their most desired movies, the quality and other factors that help it narrow down the search for the right movie and simply begin downloading. It works with the uTorrent, Transmission, Synology and SABNZBd download programs.
Reviews are mixed, but CouchPotato might be the essential addition to any movie pirate's summer. It lets anyone skip the annoying process of surfing through endless search results and myriad video qualities, and instead spend time on the beach or over a grill.
"Last night I thought of a movie I wanted to watch while lying in bed," one Reddit user wrote in a post praising the service. "Ten minutes later I had an alert […] on my phone telling me the movie had already been downloaded…We live in amazing times."
© Copyright IBTimes 2023. All rights reserved.