Justin Bieber Defaces His VMA Seating Placard, Kisses Britney Spears' Photo In Behind-The-Scenes Video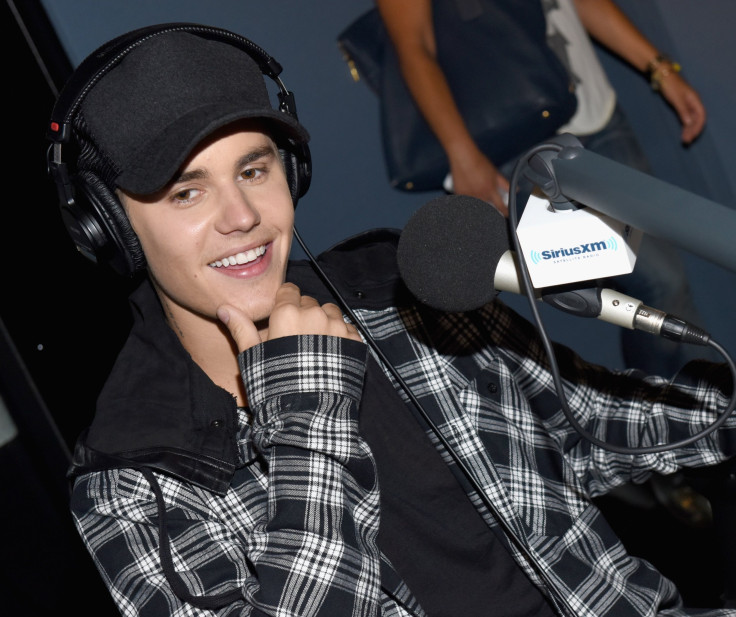 Justin Bieber had a little fun with his assigned-seating placard at the 2015 MTV Video Music Awards presentation Sunday, just a few hours before the awards show. The singer took to Twitter to share videos of himself jokingly defacing his placard, kissing a photograph of Britney Spears and stroking an image of Kanye West's face.
In the videos, the 21-year-old pop star is seen drawing a funny goatee, lips, thick eyebrows and wild hair on the photograph on his seating placard. "Just doing some glam beauty on my picture," Bieber says in the video. He then moves on to a placard with a photo Bruno Mars, and as he gets close to the image, he says, "One thing I'd do for you: Catch a grenade." When Bieber strokes West's picture, he tells the rapper, "Don't let the bed bugs bite."
The "Boyfriend" singer also tells Billy Ray Cyrus he broke his "achy breaky heart," and when he gets close to the photo on Spears' seating placard, he whispers: "I just like that look that you gave me. I know you feel what I feel."
Also in the videos, Bieber adds a teardrop tattoo and stitches to West's photo and then does a Spider-Man kiss with Spears' picture. "Britney I'm back #vmas #WhatDoYouMean? Part 2," read one of Bieber's video captions.
Bieber posted a 15-second clip of his "What Do You Mean?" video Friday, advising his fans that the full video will premiere after the VMAs presentation Sunday night. In the teaser, the singer is seen kissing Playboy model Xenia Deli and getting kidnapped by a masked intruder. Actor John Leguizamo also makes a cameo.
Bieber will also perform his new song live for the first time at the VMAs show, where he's nominated in four categories for his electronic-dance-music collaboration with Skrillex and Diplo, "Where Are U Now." Check out Bieber's behind-the-scenes videos below.
Tonight. #vmas with these guys. #WhatDoYouMean part 1 :) pic.twitter.com/j3k593BRvr

— Justin Bieber (@justinbieber) August 30, 2015
Britney I'm back. #vmas #WhatDoYouMean? Part 2 pic.twitter.com/ixPjYYnInY

— Justin Bieber (@justinbieber) August 30, 2015
© Copyright IBTimes 2023. All rights reserved.