K-Pop Group Aespa Attends UN Forum, Urges Youth To Work Toward Sustainability [Video]
K-pop idols Giselle, Karina, Winter and Ningning have urged the younger generation to "urgently" follow the United Nations' sustainable development goals to protect the world amid advancements in the metaverse space.
Dressed in matching black suits, the group, collectively known as Aespa, attended the UN's 2022 High-level Political Forum for Sustainable Development in New York on Tuesday.
The "Life's Too Short" group is one of the first K-pop bands to venture into virtual reality. The members' "virtual counterparts" often feature in their music videos.
"People are paying more attention to creating the best possible metaverse world," Giselle said at the event. "It transcends many boundaries — reality and virtual reality, time and space, and genres and generations. As the metaverse accelerates, we have to ask the question: 'Are we working just as hard to create the best possible real world?'"
The 22-year-old Japanese-Korean K-pop idol asked the youth to support the sustainable development goals, which she said were "urgent" and imperative if we want to preserve the world.
"Without sustainable ecosystems or equal opportunities for quality living, there will be no real world to be mirrored. The topic of sustainable development is urgent, and we believe that the next generation must support sustainable development goals in order to protect the world that we live in," she said.
The group also performed their 2021 hit, "Next Level," at the event.
The high-level political forum is a subsidiary body of the U.N. that reviews progress made by countries regarding the 2030 agenda for sustainable development and the sustainable development goals (SDGs). This year's forum was to review SDGs on quality education, gender equality, life below water, life on land and the impacts of COVID-19.
On Tuesday, Aespa's music label, SM Entertainment, became the first Korean entertainment company to join the United Nations Global Compact. The label tweeted a photo of its executives holding a copy of their agreement with the UN-based movement and wrote, "#SM becomes the first Korean entertainment company to join the #UNGC (United Nations Global Compact) for social responsibility! SM is to make efforts to internalize global norms throughout its business activities and actively fulfill corporate social responsibilities."
The United Nations Global Compact promotes sustainable corporate practices including the 10 principles on human rights, labor, environment and anti-corruption.
BTS was the first K-pop group to address a forum at the United Nations. Last year, the global sensation returned to the U.N. for the third time and spoke about the struggles of the youth and the importance of receiving COVID-19 vaccinations. Following their speech, BTS performed a special version of "Permission To Dance" at the U.N. General Assembly Hall in New York.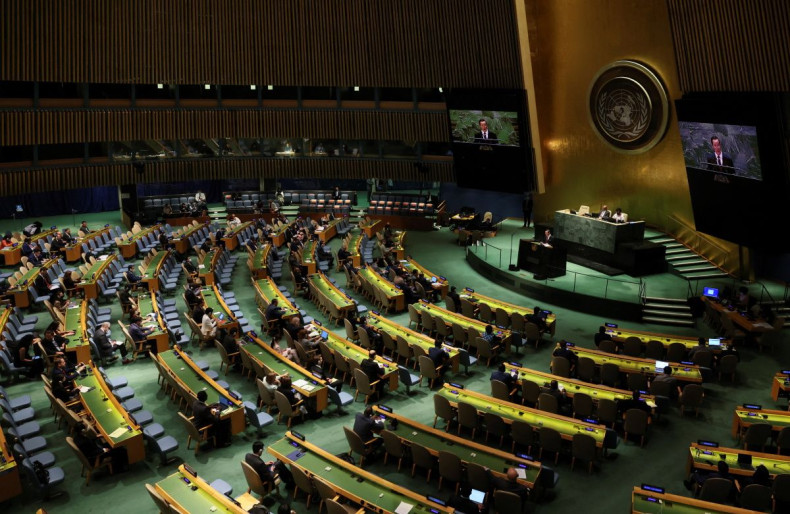 © Copyright IBTimes 2022. All rights reserved.