Kanye West Returns To Instagram Nearly 4 Months After The 24-Hour Ban
KEY POINTS
Kanye West returned to Instagram on Thursday to share about his call with Gap executive chairman Bob Martin
West said the call happened on what would have been his late mother Donda West's 73rd birthday
The rapper said Martin was one of the inspiring people he met in the business world
Kanye West made his return on Instagram after several months.
The "Donda" artist wiped out his Instagram feed nearly four months ago after getting banned from the platform for 24 hours. But on Thursday, he returned on the social media platform to honor his later mother, Donda West, on what would have been her 73rd birthday.
"On my moms [sic] birthday I was able for the first time to sit in on a Gap call with Bob Martin, Bob Fisher and other leads of the company," he wrote.
West described Martin, the executive Chairman at Gap, as "one of the inspiring people" he has spoken to in business. The Grammy winner shared some details about their call.
"Bob Martin was one of the most inspiring people I've heard speak in business. He kept saying go to the stores on the call," West continued.
Kim Kardashian's ex-husband said he came to Gap to offer good products directly in stores and they had two of the biggest sales in day Gap history since he joined.
"We sold 14 million dollars worth of the perfect black hoodie at 80 dollars a hoodie off of a television commercial that was run one time. I came to Gap to bring good quality products to the people at all times. Bob, I need to meet with you as soon as possible," West added.
West's mom passed away in 2007 due to heart disease while suffering complications after plastic surgery. She was 58. In an interview with Q Magazine, West was asked what he had to sacrifice for his success, and he responded, "my mom."
"If I had never moved to L.A. she'd be alive," he said. "I don't want to go far into it because it will bring me to tears."
The "Gold Digger" rapper was suspended from Instagram for 24 hours in March due to posts that reportedly violated the platform's policies on hate speech, harassment and bullying. The suspension disabled him from posting, commenting, or sending DMs.
At the time, West made several posts attacking Kim Kardashian's boyfriend Pete Davidson. In one post, he mentioned the "King of Staten Island" star's arm tattoo of Hillary Clinton and wrote, "Look at this d—head, I wonder if Instagram [is] gonna shut down my page for dissing [Hillary] Clinton's ex-boyfriend."
West also made online tirades against Kardashian and Trevor Noah, who voiced support for his ex-wife. An unnamed source said the Skims founder found his suspension "fair" because "all of Kanye's posts have been exhausting for her."
West had been inactive on Instagram for months after the suspension until his most recent post about Gap.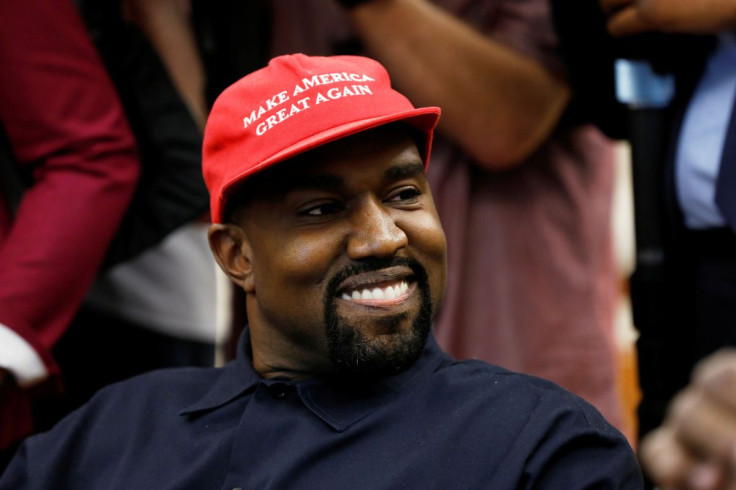 © Copyright IBTimes 2023. All rights reserved.