Kate Gosselin Already Looking Forward To Being A Grandmother Despite Her Eldest Children Being Just 15 Years Old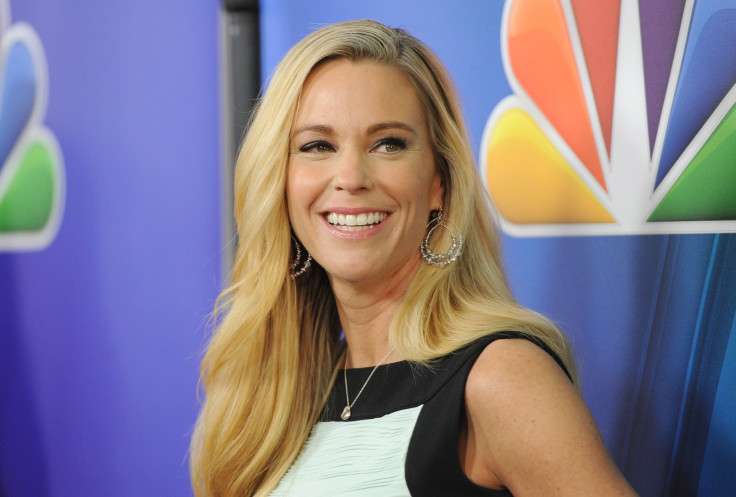 While some may think being the mother of twins and a set of sextuplets may be overwhelming, Kate Gosselin — who became a household name with the 2007 premiere of "Jon & Kate Plus Eight" — welcomes the challenge.
The mother of eight recently opened up about her children getting older, revealing to People magazine that the prospect of being a grandmother is most exciting to her. Gosselin joked that in an ideal world her sextuplets — Aaden, Alexis, Collin, Hannah, Leah and Joel — could all welcome children within a year of one another. The reality star likened being a grandmother to six kids to her experience as a mother of six, suggesting that it would be like starting all over again. Gosselin, 41, added that she expects that her kids will look to her to babysit, given her impressive parenting resume. Another reason she is cherishing the thought of being a grandma? Gosselin told People she was an "uptight" parent and looks forward to letting loose and being "more laidback."
"Six of my kids could have babies in the same year — I could essentially have sextuplets all over again," she said. "And you just know my kids will all say, 'Oh, you've handled more than this, you can babysit, you're fine.'"
Gosselin may have mothered with an iron fist, but her and her kids still have a strong relationship — which is more than Jon Gosselin, her ex husband, can say. Twins Cara and Madelyn opened up about their strained relationship with Jon, 39, on Wednesday, telling People they aren't keen on some of the things their father's been saying in the press. The publication reports that Cara stayed quiet through most of the interview, but that Maddelyn or Mady, as she's come to be called, held nothing back. She revealed that her father continually makes it sound as though he is being prevented from seeing his children, which Mady claims is not the case. The teen then suggested that her father look inside himself and try and recall the reason his kids don't enjoy spending time with him.
"He makes it seem like we're being kept from him, which is insane," Mady said. "He should maybe spend some time thinking about why we don't want to see him, and maybe realize that if he ever does want a relationship with us, talking about us on TV is not the way to make that happen."
Although Kate remains close and in custody of her kids, she did recently reveal that she was forced to send one of her children away to get help. Collin, who is one of her six 12-year-olds, is said to be getting professional help. Kate said her son "has special needs," but did not reveal exactly what those needs are. When talking about his diagnosis she said it's "fairly fluid," but said that his doctors have come up with a treatment plan and she has every confidence in them helping her son to live a healthy and happy life. Sending Collin away was not an easy decision and continues to affect Kate and the rest of the Gosselin children.
"[There's] a fairly fluid diagnosis of what those needs are, but he needs to learn certain strategies to help him deal with things. This has been a struggle we've had for a long time, and it's one I've dealt with on my own. I've felt very alone in this. By the same token, it's not something that has only impacted me or him, our entire family has been impacted," she said (Via People).
© Copyright IBTimes 2023. All rights reserved.