Kate Middleton 'Cherishes' Playtime With George, Charlotte, Skips Prince Charles' Garden Party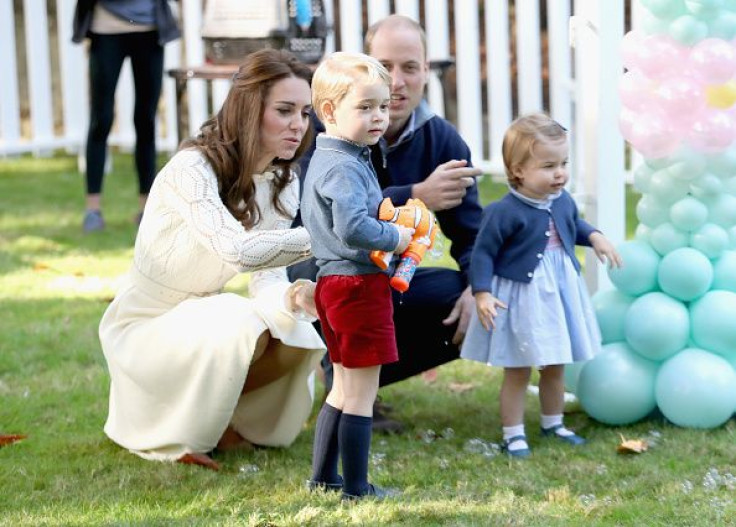 Kate Middleton's pleasurable moments include those times she plays with her kids, Prince George and Princess Charlotte.
The Duchess of Cambridge is the patron of East Anglia's Children Hospices (EACH) since 2012. Together for Short Lives, an umbrella charity for children's palliative, organized the Children's Hospice Week with a theme: "Life's Short so make the most of those small moments." To show her support for the charity, Middleton penned a letter.
"I am touched that children and young people are sharing what they love most in life and reminding us of how precious time is for everyone," Middleton, who met a number of dying children through the charity, wrote (via Express). "By supporting Children's Hospice Week we can help them spread joy and positivity across the UK, encouraging everyone to make the most of moments that matter."
"Spending quality time together is such an important aspect of family life and for me, as a mother, it is the simple family moments like playing outside together that I cherish," the duchess continued.
Graham Butland, EACH Chief Executive, was very glad for Middleton's support. "We're privileged to have the continued support of Her Royal Highness, who has done so much to raise awareness of not only EACH, but children's hospices right across the country," he said.
"This most recent show of support emphasises what an important role we play when time is short, helping families make the most of their precious time together and create memories that last forever," Butland added.
The Duchess of Cambridge is still on maternity leave after delivering Prince Louis and missed Prince Charles' garden party. Just days ahead of the royal wedding, Middleton was spotted with Princess Charlotte and Prince Louis having a walk in Kensington Park Gardens.
According to an eyewitness, the little princess enjoyed their outing and headed towards the other direction when they were about to leave. "No come this way, Charlotte," Middleton told her daughter and she reportedly complied.
Middleton won't be returning to her royal duties anytime soon. However, according to royal biographer Duncan Larcombe, the Duchess might make an appearance in some occasions.
"It is traditional for new royal mums to take a six-month break from official engagements," Larcombe told Harper's Bazaar. "The wedding doesn't count because it was a 'family affair' but other than that, she will pick and choose her engagements. If she wanted, Kate could disappear into the background until October!"
© Copyright IBTimes 2023. All rights reserved.