Kate Middleton Expected To Deliver Late For This Reason, Royal Expert Says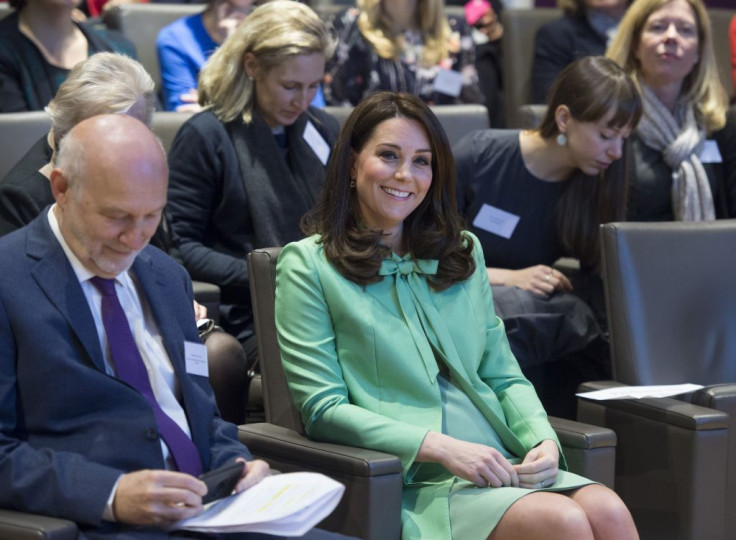 Kate Middleton is due to deliver her third bundle of joy any minute now, but many are convinced that she will be overdue.
The Duchess of Cambridge's is expected to give birth on April 23. However, some experts think that the new addition to the family of four will arrive at a later time.
"Kate is due on St George's Day which is the 23rd of April," Emily Andrews said on ITV's "Lorraine" (via Express). "She was late with George and Charlotte but I would imagine the baby will be arriving in the last week of April."
According to the recent poll, Middleton's third baby might arrive next week, Monday, Tuesday or Wednesday.
"With Kate thought to be overdue during her first two pregnancies, it looks like the nation could be kept to wait for a third time, but as far as the odds are concerned the Royal Baby will enter the world next week," Jessica Bridge of Ladbrokes said.
In 2013, days after Prince George was born, the Duke of Cambridge joked about his eldest's "tardiness" for arriving later than the expected due date. Middleton's due date at that time was "mid-July," but she delivered the little prince on July 22.
"I'll remind him [Prince George] of his tardiness when he's a bit older," Prince William said.
In related news, a psychic predicted that Middleton would give birth to a baby boy last Monday. "I think she will give birth today," Katie Helliwell told Express. "She will have a beautiful baby boy weighing 8 pound 1 ounce."
The psychic got it wrong as Middleton did not deliver her child on that day. Aside from guessing the Duchess' delivery date, Helliwell suggested how Prince William and Middleton would name their third baby.
"Kate's grandad is with her and trying to support her," the psychic continued. "I feel the baby will be named after him and he will be similar in personality."
At the time, Alice has become the new favorite name again. It can be remembered that it topped the betting in January but was outranked by Mary in the previous months.
"Alice has now been cut to 4/1 and is comfortably ahead of Mary and Victoria in the betting," OddsMonkey spokesman Peter Watton said. "However, the big move has been for a boy's name in the shape of Arthur – that is now into 5/1 after Bookmakers reported substantial money coming in – yet still the public fully believe that it will be a girl."
If the Duke and Duchess of Cambridge are indeed having a girl, Victoria Arbiter believes that the name Alice is fitting. Prince Philip's mom is Princess Alice of Greece.
"Will and Kate have been keen to pay tribute to both sides of the family, so I would love to see Alice, which is undergoing a resurgence in terms of being cool," Arbiter said. "And Prince Philip's mother was quite an extraordinary woman, so it would be a lovely tribute."
© Copyright IBTimes 2023. All rights reserved.